By now you're probably sick of looking at my jar of sourdough starter – and the good news is that I won't bore you with it again today! Truth be told there isn't much change to show off anyway; though I'm very excited that we're ready to start baking tomorrow. Wish me luck!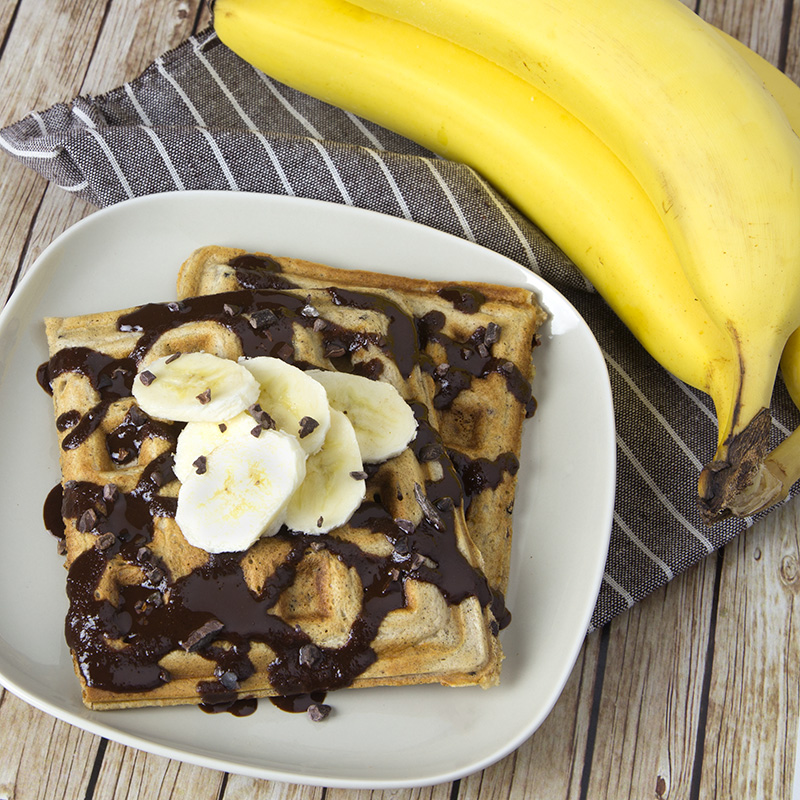 Today we're going to start using the discarded amount of starter in recipes – no more throwing it away, woohoo! This is a great way to start tasting our starter culture, and getting used to planning regular baking to take advantage of our living jar of probiotic goodness. The possibilities of baking with your sourdough are endless and the key is finding recipes that fit in with your lifestyle. I tend to leave baking loaves of bread for weekends (when I have time to tend to it ever few hours for different stages of the baking process) which leaves me with recipes like these waffles for other days when I'm more time poor.
This recipe in particular is one I've been thinking about all week and it's just as good as I was planning in my mind. Banana and chocolate can never do you wrong as a flavour combo in my opinion and I could eat this over and over without boredom. I might just have to too, as this recipe makes 12 waffles worth in my waffle maker. You can also freeze these little babies, just wrap them in aluminium foil and they will keep for up to 3 months. Thaw again in the toaster on the 'defrost' setting in the morning – with some berries, bananas and Greek yoghurt, they'd be perfect for a breakfast on the go.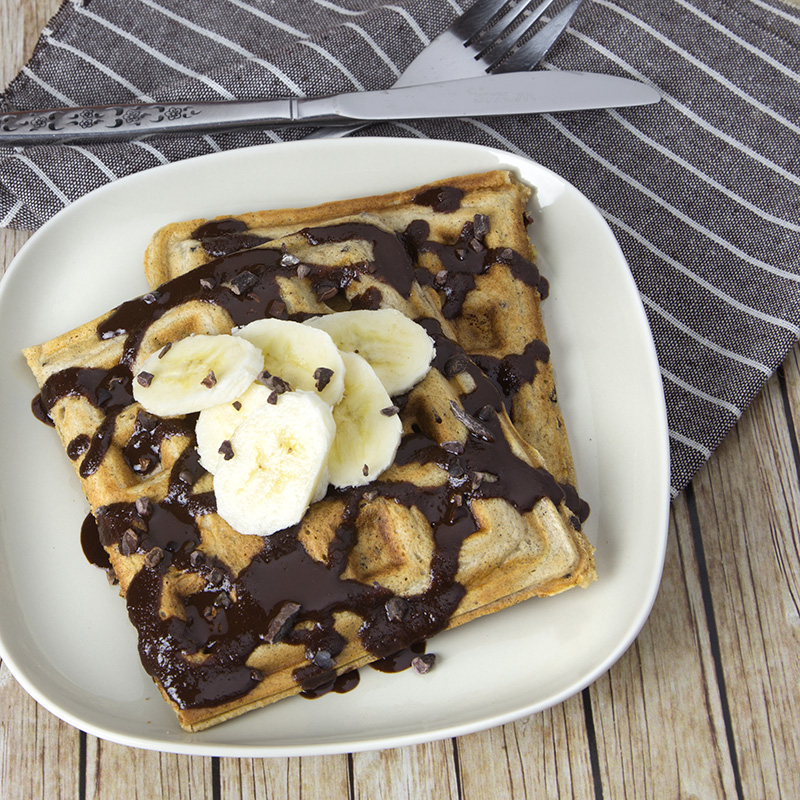 Sourdough Banana Choc Nib Pancakes
Recipe type:
Breakfast, Fermented
Cuisine:
Nut-free, soy-free, wheat-free, vegetarian. Dairy-free, egg-free or vegan with ingredient choice.
Ingredients
1 cup sourdough starter
¾ cup milk of choice (raw or organic full-fat daily milk OR for vegan waffles nut or coconut milk)
1 medium ripe banana, mashed
2 eggs, or 2 chia gel eggs (for egg-free and vegan waffles)
1 tsp vanilla extract
1 tbsp maple syrup or coconut sugar
1 cup whole spelt flour
¼ cup cacao nibs (or chocolate chips)
1 tsp ground cinnamon
2 tsp baking powder
1 tsp aluminium free baking soda
½ tsp salt
Healthier Chocolate Sauce (see recipe below)
Instructions
Preheat waffle maker/iron. Mix the sourdough starter, milk, banana, eggs, maple syrup and vanilla in a large glass bowl (not metal). Combine the flower, cacao nibs, cinnamon, baking powder, soda and salt in another.
Pour the dry ingredients into the sourdough mixture and fold in until well combined. Spoon ¼ cup of batter per waffle into waffle maker. Cook until browned, form and cooked through. Makes 10-12 waffles (depending on waffle maker).
Stack on a plate, on top of each other to keep warm. Alternatively wrap in foil, or place on a plate in an oven preheated to 60C to keep warm. Serve immediately with toppings of choice (including Chocolate Sauce recipe below) or with yoghurt, berries, sliced banana etc.
Healthier Chocolate Sauce
This superfood chocolate sauce is simple to make and a much healthier option to the cane sugar and additive laden options at the supermarket. Refrigerate for a longer shelf life, warming over simmering water to melt when you're ready to use.
Author:
Alison Murray @ Om Nom Ally
Cuisine:
Dairy-free, egg-free, gluten-free, grain-free, nut-free, soy-free, wheat-free, vegan, raw.
Ingredients
¼ cup coconut oil, melted
¼ cup maple syrup
⅓ cup raw cacao powder
1 tbsp lucuma powder (optional, gives sauce a 'creamy' texture)
Instructions
Bring a small pot of water to a simmer. Combine all ingredients in a bowl and suspend over simmering water, stirring until melted.
Drizzle over waffles, pancakes, ice cream etc and enjoy. Can be refrigerated (will harden) to melt again later for use.
 Day 7
Your sourdough starter is getting stronger and stronger every day! We're following the same feeding schedule as yesterday, and if you aren't using some starter in this waffle recipe then you will need to discard 1/4 – 1/2 of your starter culture before feeding. You should have about 1/2 cup starter in your jar before you feed again.

Making a Sourdough Starter From Scratch - Day 7
Author:
Alison Murray @ Om Nom Ally
Ingredients
100g (approx. ¾ cup) flour
100g (100ml) spring or filtered water.
Instructions
Stir in the hooch 1-2 times daily. Remove ½ - ¾ of the starter (for baking, or just to discard) and then mix in the flour and water. Scrape down the sides of the jar, replace the cover and leave for 24 hours in a warm place.
All Posts in This Series (will be updated as we create our starter culture)