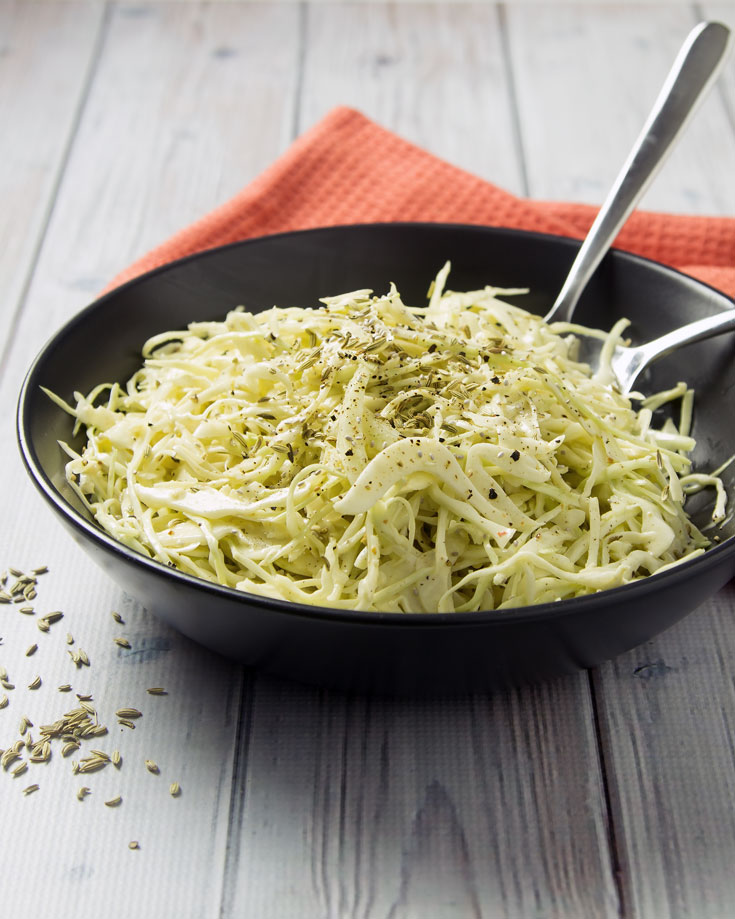 Can you believe that originally I wanted this to be a brightly purple-coloured, low carb slaw recipe? Well it's true, though that plan hit a bit of a snafu when I couldn't find any at the local grocer (unless it was moldy, ew). The green cabbage coleslaw you see above was therefore my backup creation, but you'd be mistaken for thinking of it as the consolation prize of this story.
After all, it's not often I have such a monochromatic dish on the table – green cabbage (white), fennel (white), mayonnaise, fennel seeds, chia seeds… all white. So sure, let's acknowledge that there's a generally lack of colour in the bowl, but it's all made up by the mouthfuls of flavour and health benefits to be enjoyed – phew!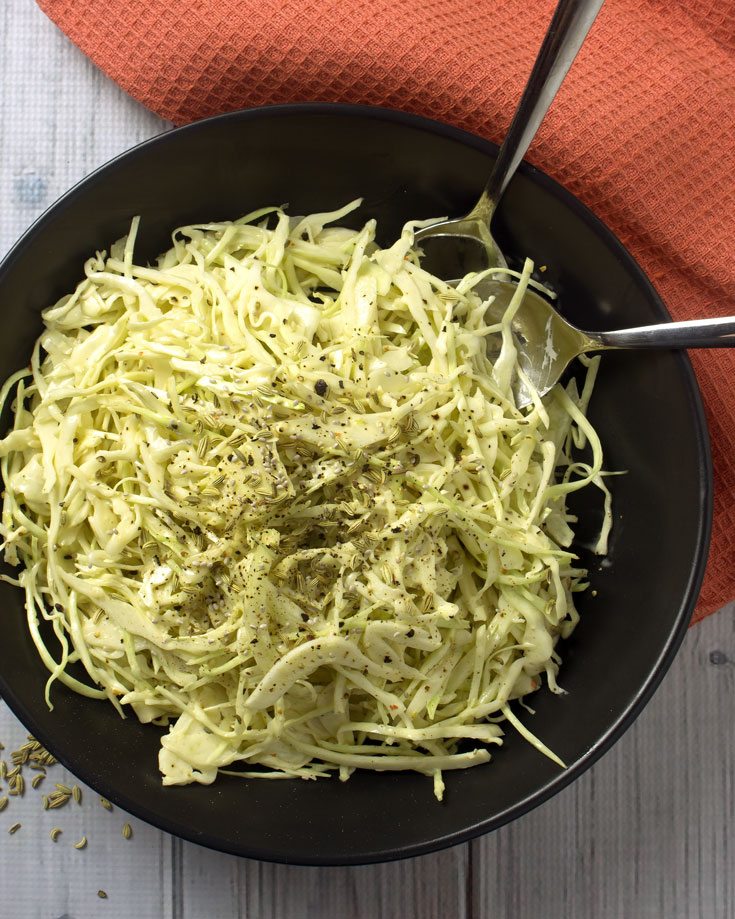 One thing I should let you know upfront is that I don't like 'sweet', sugary coleslaw, in fact I've hardly eaten coleslaw before I started making my own for this reason. That's why this is a green cabbage and fennel slaw – as fennel bulbs and seeds have their own natural sweet and mildly anise flavour that negates the addition of sugar or low carb sweetener (though if it's a must-have for you, I've marked it as optional in the recipe details). That fennel also pairs well with the pungent dressing we've whipped up for our slaw – think tangy and with a little bit of Tabasco fiery heat. Intrigued yet?
Well, like all good slaw recipes, this low carb coleslaw has a mayonnaise base and (as mentioned above) has some very tangy and acidic ingredients to bump up it's flavour profile. Particularly worth mentioning is the addition of apple cider vinegar (also used in my mayo-making itself) as not only is it a probiotic, fermented food, but it is also gut healing and an overall digestive tonic. Even more exciting is ketosis-supporting effects I've been reading about. Perfect for Kam and the ketogenic diet he's currently following.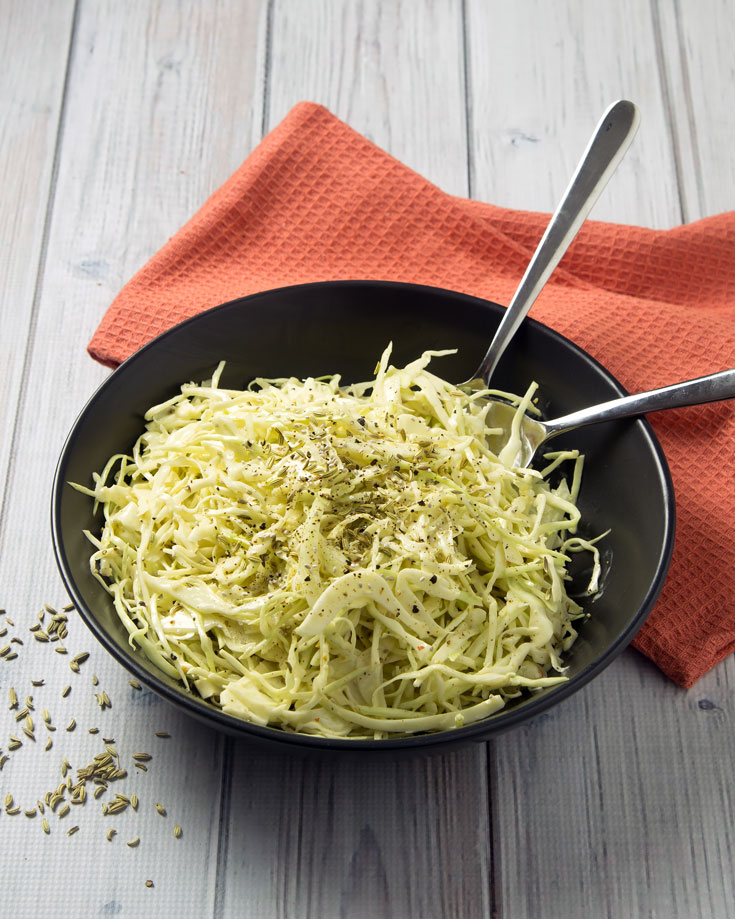 There's only 3.3g carbs (and a satisfying 10.5g fat) per serve in this recipe, so low carb and keto followers will find this an especially delicious side dish alongside their dinner. We went ahead and popped it next to some kangaroo burgers as a simple, crunchy salad, but if you chill and ferment this slaw in the fridge for a few days you could even enjoy it as a quick-pickled, sauerkraut-like condiment.
When serving I've recommended to top this slaw with with lots of fennel and chia seeds, with a flourish of cracked pepper. Not only will this add a little more crunch and flavour again but you can totally mix this up with any manner of salad toppings that come to mind. Think crumbled walnuts, pecans or almonds, possibly a sprinkling of pepitas, black sesame or nigella seeds. Maybe even some fried and crumbled bacon? Bacon, now that's an idea for next time…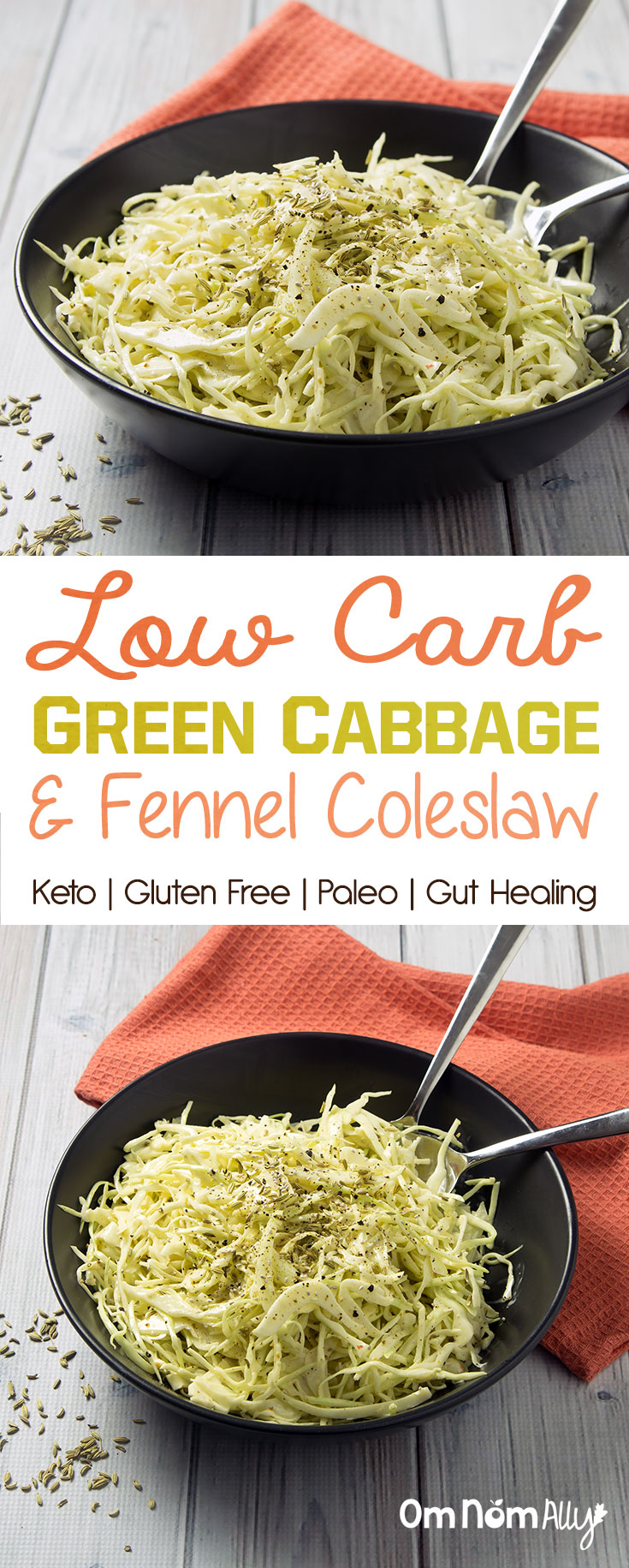 Low Carb Green Cabbage & Fennel Coleslaw
This quick and easy, low carb slaw is ketogenic, gluten-free, dairy-free and paleo, with the gut healing benefits of raw apple cider vinegar.
Author:
Alison Murray @ Om Nom Ally | www.omnomally.com
Recipe type:
Sides, Salads
Cuisine:
Dairy-free, Gluten-free, Nut-free. Paleo, Low Carb, Keto, Vegetarian.
Ingredients
4 cups green cabbage, finely shredded
½ medium fennel bulb, finely shredded

Slaw Dressing:
½ cup whole egg mayonnaise
3 tbsp apple cider vinegar
4-6 shakes Tabasco sauce
1 tsp fennel seeds
1 tsp chia seeds
½ tsp Celtic sea salt
¼ tsp cracked black pepper
(optional) 1 tsp low carb, erithritol-based sweetener - Nutiva, Swerve or similar
Instructions
In a large bowl, mix shredded cabbage and fennel together. Put aside.
In another, smaller bowl, mix together remainder of ingredients for slaw dressing. Once fully combined and creamy, spoon over shredded cabbage mixture and use two large spoons or salad utensils to coat evenly. Cover bowl and refrigerate for 15min, or overnight.
Serve approximately ½ cup as a side dish or condiment, topping with a extra sprinkle of fennel and chia seeds and plenty of freshly cracked black pepper.
Nutrition Information
Calories:
105
Fat:
10g
Carbohydrates:
4g net
Fiber:
1.5g