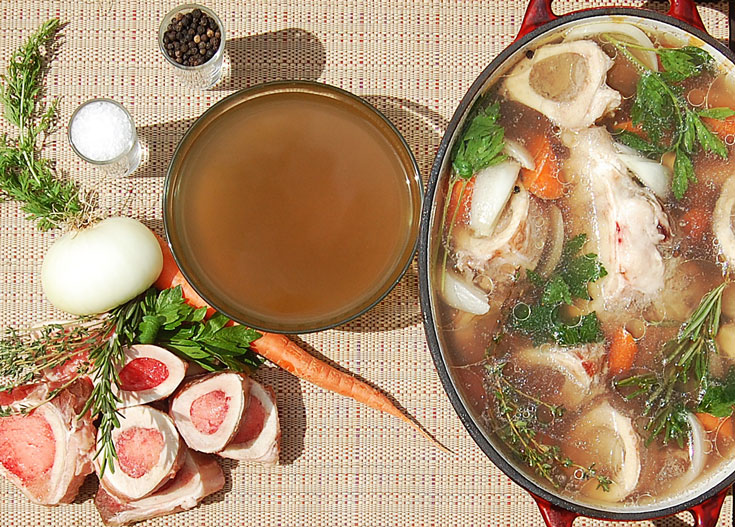 In previous posts, we've explored making all kinds of stocks: chicken, beef, vegetable and even from your garden herbs. But, if you are looking for something that is more nutritious and perfect to sip on its own – you're going to adore this bone broth recipe! Even more exciting is that a) this is a video recipe to make it super easy to follow and b) all the cooking can be done in your slow cooker. Perfect for people like me who get anxious about running the stove all day and night 😉 
Now, I know what you're about to ask – the main difference between bone broth and stock is the cooking times. With bone broth, the animal bones are simmered in water for around 12-24 hours. This breaks down the collagen in the bones into a more digestible form called gelatin. This gelatin is full of amino acids like glutamine which is known to help repair the linings in your gut and minimize joint inflammation. It's like a big cup of gut healing magic!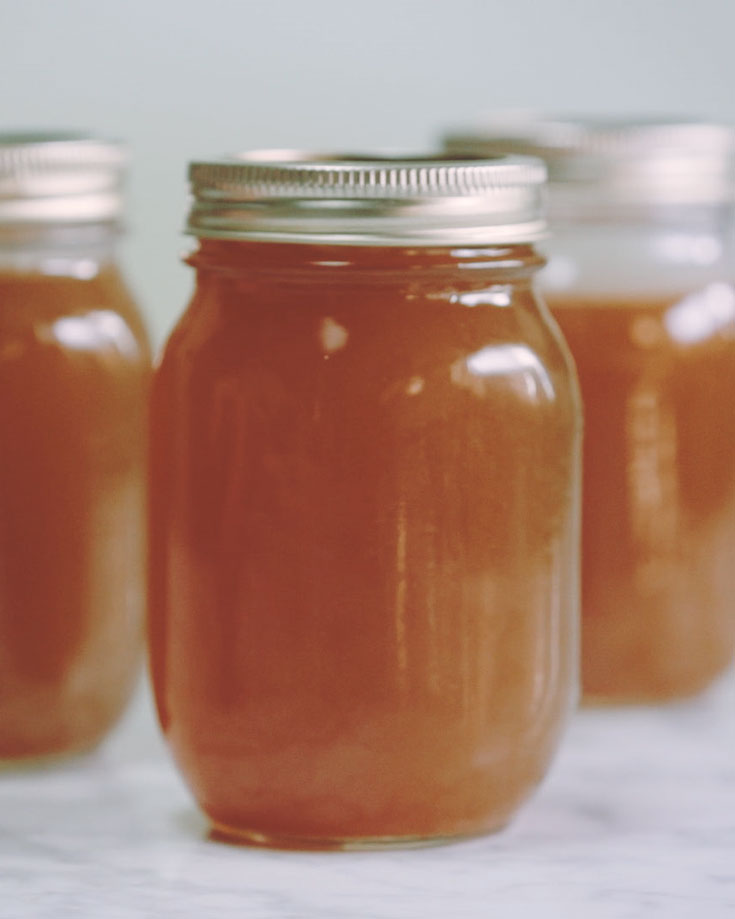 As with homemade stock making, bone broth is a frugal endeavor that is best suited for the weekend. In fact, I personally like to make a big batch on Sundays which I store in little mason jars which lasts me for most of the week. Instead of using it as a base in my other recipes, I normally just heat up the broth and drink it plain out of a mug. It's the perfect drink for boosting our immune system function and will fight off all manner of sniffles, colds and flus. It's also a great base for all your favourite soups and stews – just like using homemade stock but even more nutritious…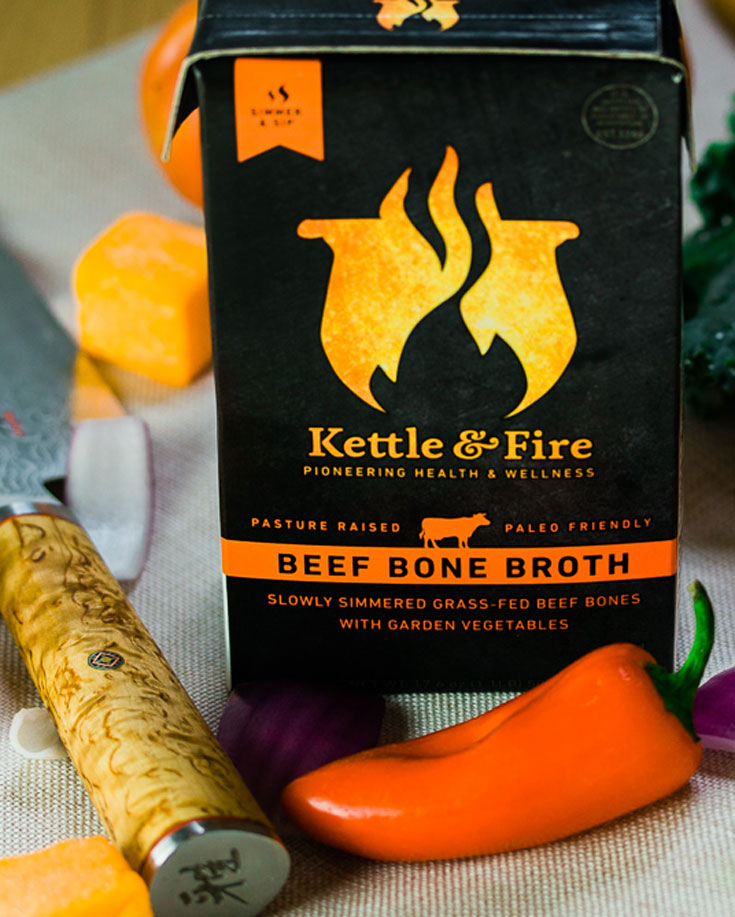 What if you don't want to make bone stock from scratch though? If you don't have the time or have trouble sourcing grass-fed beef bones, there are a few brands out on the market and my personal favourite is Kettle & Fire's Beef Bone Broth. They use organic ingredients and grass-fed bones – only the good stuff!. Since they're also non-frozen & shelf stable, I have their broth on hand for when I'm short on time. They even helped me with this video recipe post today (thanks you guys!), You can buy their bone broth online, and if you use the promo code "OMNOMALLY15", you'll get 15% off your first order. That's how much I want you to enjoy bone broth!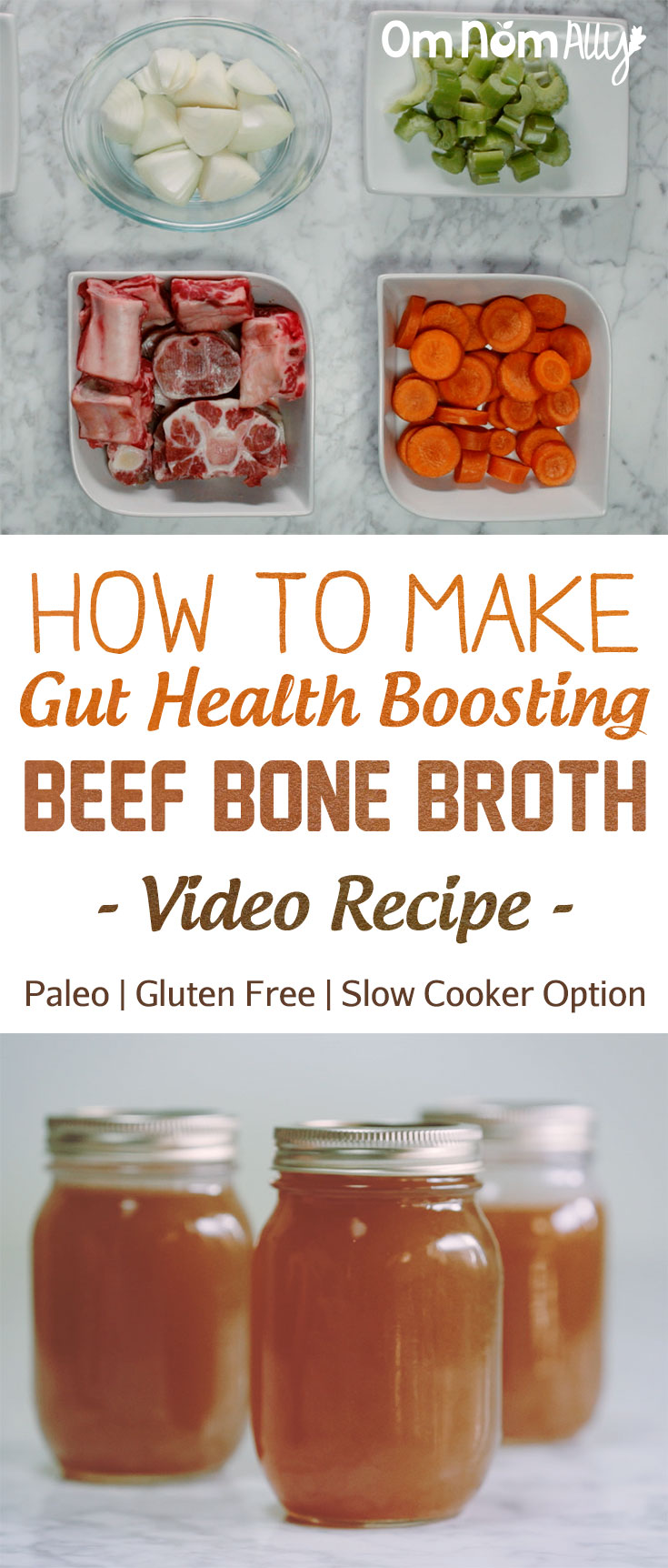 Now, are you ready to see how easy it is to make your own? With just a few simple ingredients and some patience, you can experience the incredible flavors of beef broth! Check out the video below and let me know what you think. Cheers to that 🙂
xx Ally
How to Make Beef Bone Broth
Author:
Alison Murray @ Om Nom Ally | www.omnomally.com
Cuisine:
Paleo, Gluten-Free, Dairy-Free, Egg-Free
Ingredients
3-4 lbs of mixed beef bones (oxtail, knuckles, neckbones and/or short ribs)
2 medium carrots (coarsely chopped)
3 celery stalks (coarsely chopped)
2 medium onions (coarsely chopped)
1 tablespoon of olive oil
2 tablespoons apple cider vinegar
1 bay leaf
Instructions
Preheat oven to 400 F. Place bones in a single layer on a sheet or roasting pan. Drizzle with olive oil to evenly coat. Roast for 30 minutes, then, flip each bone over and roast for an additional 30 minutes.
Chop the vegetables while the bones are roasted and put them with the bones, bay leaf and cider vinegar in a large crock pot or soup pot. Cover completely with water and bring to a high simmer. Once you have a high simmer, reduce the heat to low and let simmer for 12-24 hours. Throughout simmering, add water as needed to keep all the ingredients submerged.
Once the broth has reached a dark rich brown color, remove from heat. Discard the bones, vegetables and bay leaf and strain through a cheesecloth. Cool the pot to room temperature. Once at room temperature pour into jars and let cool in the refrigerator for at least 1 hour.
When you are ready to serve, skim the condensed fat off the top of the broth and heat to the desired temperature.