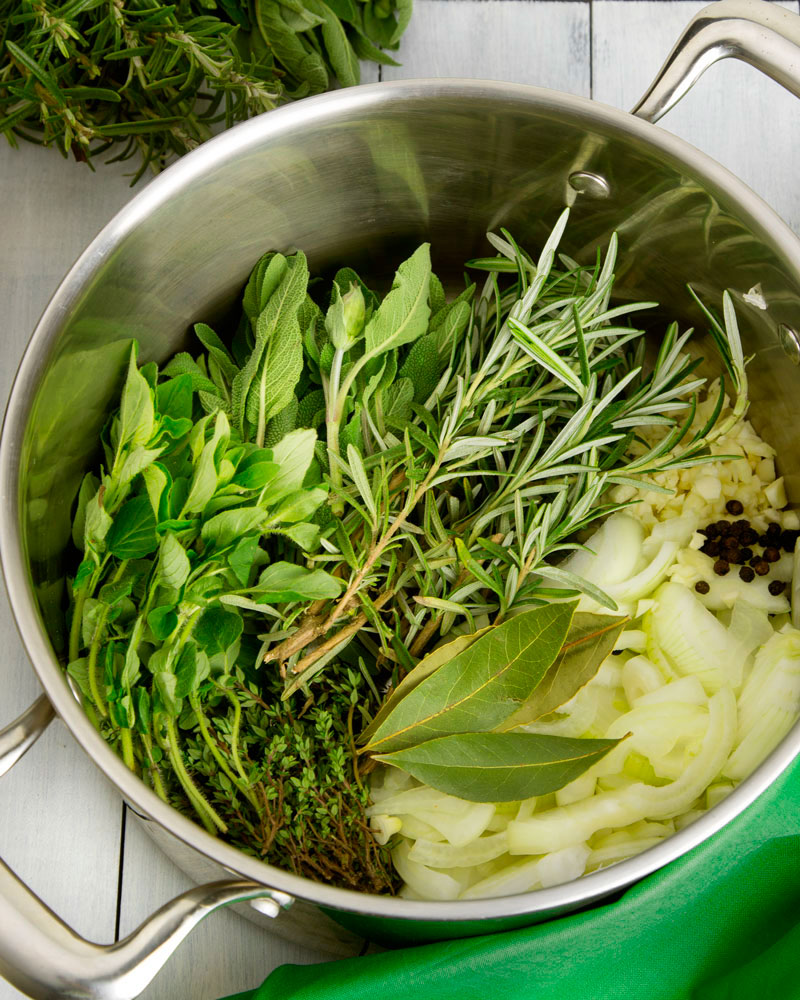 There is nothing more of a sialagogue than a pot of stock simmering away on the stovetop and this vegan garden herb stock is a recipe you will definitely want to make again and again. I made the mistake of making this fast stock recipe one morning before a late start at work – I swear all I could smell the whole shift was the combination of rosemary and garlic, it's deliciousness permeating into my pores and trapped in my sinuses. I'm not complaining, honestly, but it did make me incredibly hungry for the entire day as I kept imagining what meals I would be using it as a base for!
You could actually also call this recipe 'herb leftovers' stock, or 'herb garden clippings' stock if you wanted, as it's a perfect way to utilise the remaining part of store-bought herb bunches or to use bits and pieces of plants you're already growing in your kitchen garden. However, while each of the herbs in this recipes does help create a flavourful stock for meal bases, they also possess powerful antimicrobial, diaphoretic or antiinflammatory actions, making this an effective immune system tonic. Hence, this isn't any old stock recipe, it's actually my 'immune boosting' herbal decoction – consider it a little bit of herbal medicine you can whip up in your kitchen pharmacy.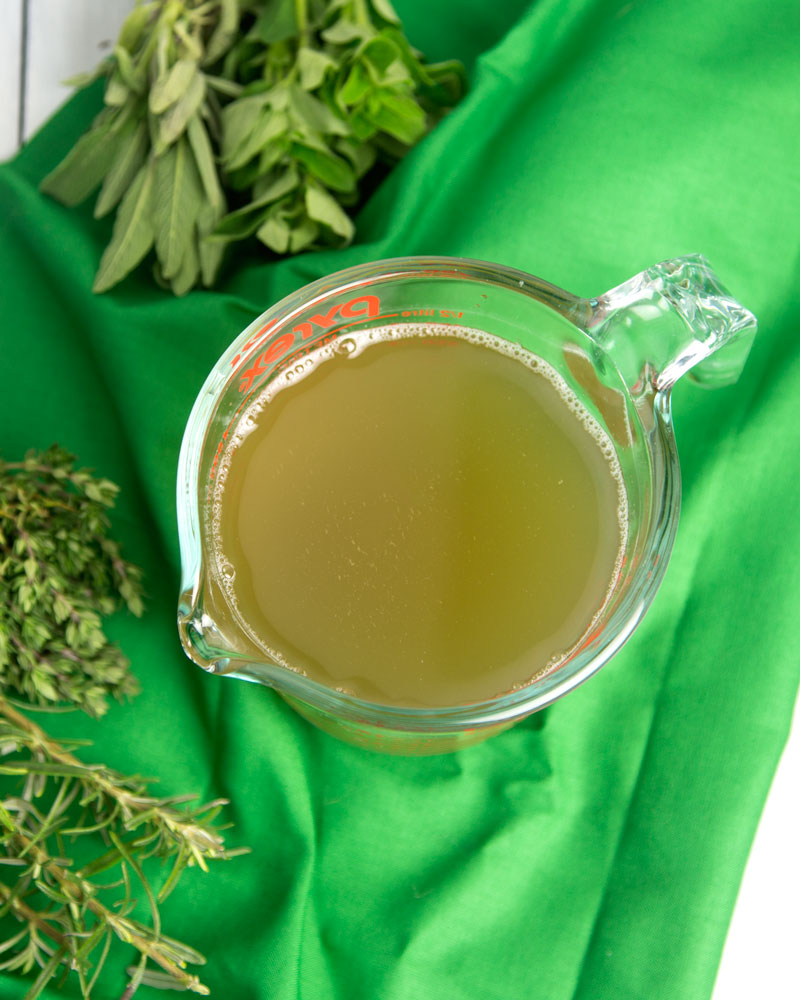 While bone broths are rich in nutrients and amino acids due to the breakdown of collagen, decoction-style vegetable or herb-based broths are suitable for vegans, vegetarian and omnivores alike – with plenty of health benefits to enjoy! We shouldn't just think of our homemade stock as a flavourful meal base afterall, as traditionally we would often drink stocks or broth for their health-giving properties. There's a reason that homemade, from-scratch soup made us feel better when we were sick little kiddies – that reason is stock! Using this little bit of herbal medicine as a base for delicious soups and stews (or on it's own, slowly sipped warm from a mug) is a simple way to help build your immune system strength. Couldn't we all use a little tonic to combat the colds and coughs that sneak up on us now and then?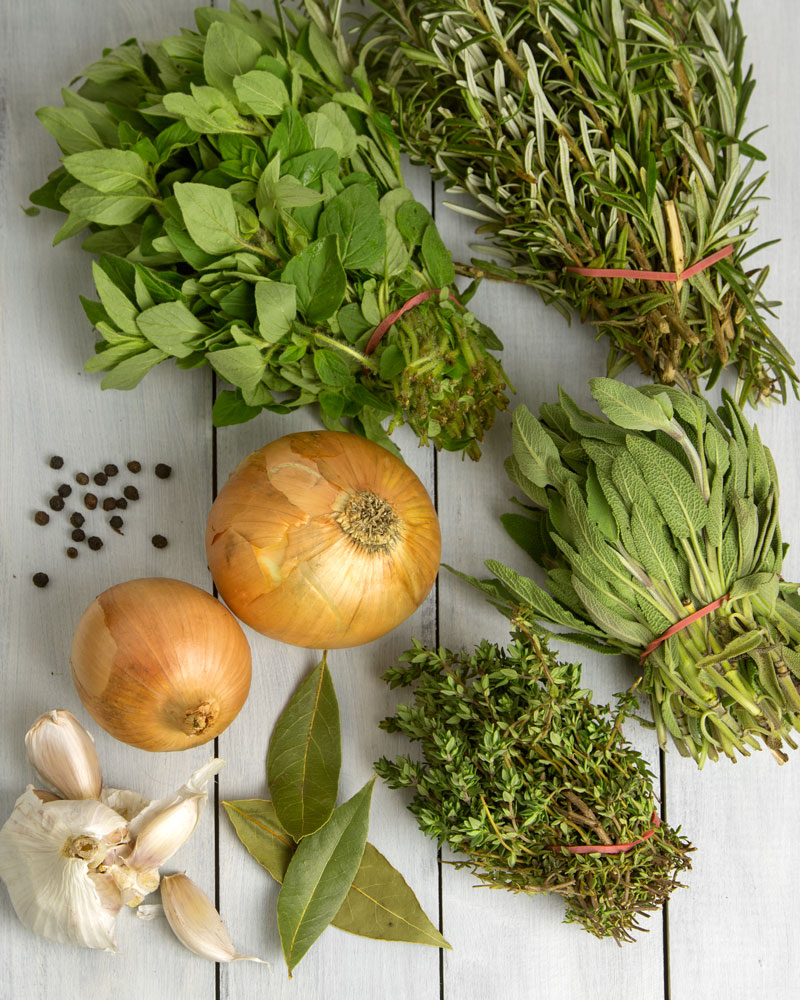 This garden herb stock contains seven herbs (and one spice) in total, all pictured above, clockwise from top left: Oregano, Rosemary, Sage, Thyme, Bay, Onion,  Garlic and Black Pepper. Every single plant in this recipe is used as a herbal medicine and they possess the following beneficial actions for immunity:
Oregano: There's a good reason why Oil of Oregano has become such a popular herbal remedy, as oregano is highly antibacterial against Staphylococcus strain bacteria as well as Salmonella and E. coli. With immune stimulating properties, Oregano is also a potent diaphoretic, gently supporting a fever during our immune response to infection.
Rosemary: While this herb is most commonly associated with strengthening memory, it is also strongly antiviral, antibacterial, antispasmodic and diaphoretic. Useful during colds and flus, rosemary helps to relieve fevers and increase immunity against respiratory infections.
Sage: Many varieites of Sage contain thujone and this herb is an expectorant as well as being antimicrobial, antibacterial, astringent and antiseptic. It's useful as a home-remedy as a tea or gargle and is beneficial in cases of tonsilitis, bacterial pneumonia or laryngitis.
Thyme: Nicolas Culpeper praised thyme as a lung tonic for children with respiratory infections (particularly whooping cough) and this herb is well-known as an antiseptic, antispasmodic and expectorant, useful in bacterial chest infections and for soothing chesty coughs.
Bay: Another fabulous diaphoretic, this herb has also traditionally been used as an analgesic and a herbal specific for bronchitis and colds and flus.
Onion: Rich in aromatic compounds (like allicin sulphur compounds) and quercetin, onions are highly antimicrobial, antispasmodic and powerful expectorants. Particularly useful in respiratory infections, onions also contain high amounts of fructans, prebiotics that feed your good gut bacterial to promote healthy immune system function.
Garlic: Contains high amounts of sulphur compounds (allicin) and like onion is strongly antimicrobial. Garlic is particularly useful in viral infections, as it directly stimulates immune system cells to fight against viruses such as colds and influenza.
Black Pepper: Immunomodulatory, anti-inflammatory and antimicrobial in action, black pepper has been shown to be inhibitory against various bacterial strains including E. coli and Staphyloccuss spp.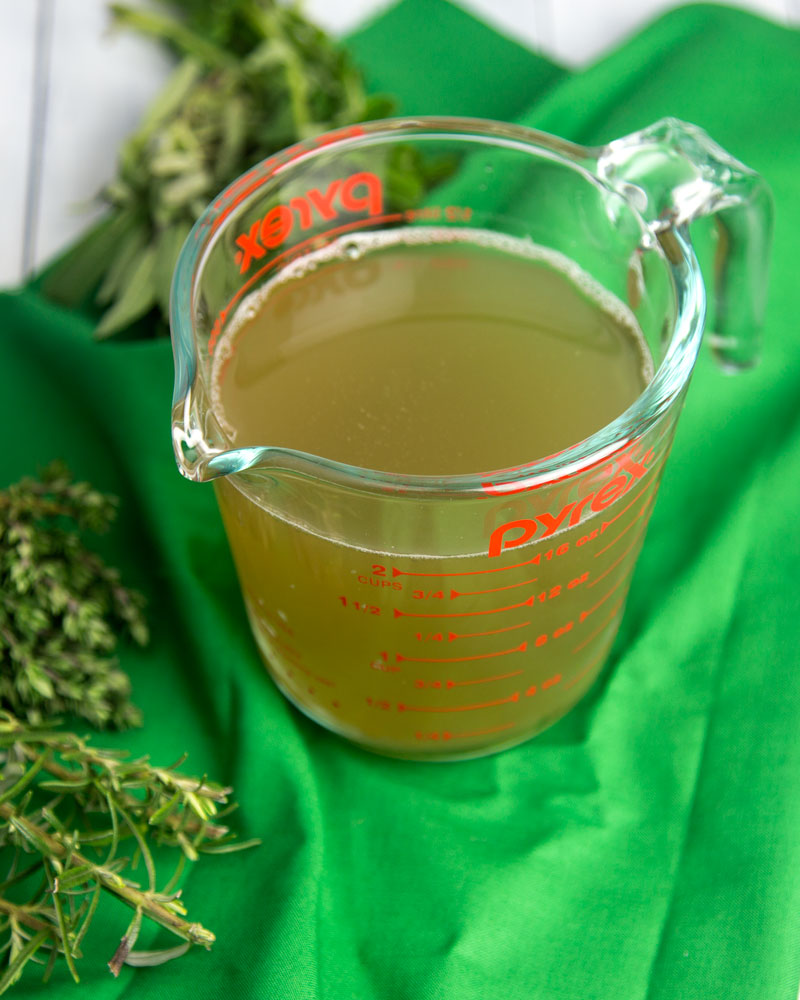 So know you know the why of this garden herb stock, now lets talk about the how. This recipe will make about 3L of stock and will keep for a week in the fridge and can also be frozen for up to three months (if it even lasts that long in your house!)!
Hope you love the recipe, what kind of soups or stews do you plan to use this for?
xx Ally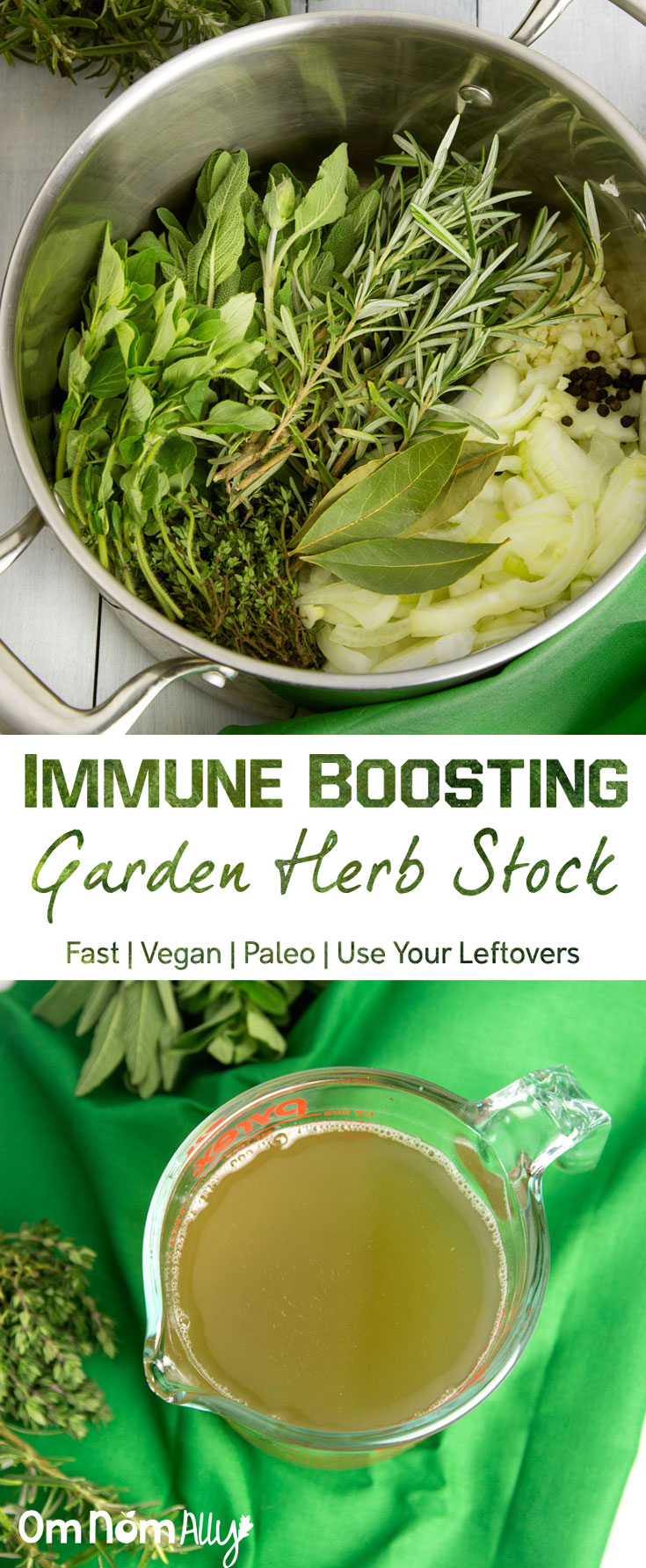 Immune Boosting Garden Herb Stock
Author:
Alison Murray @ Om Nom Ally | www.omnomally.com
Recipe type:
Stock, Condiment
Cuisine:
Dairy-free, Gluten-free, Nut-free, Vegan, Vegetarian, Paleo.
Ingredients
2 medium brown onions, finely sliced
Cloves of 1 head of garlic, minced
2 tsp apple cider vinegar
1 tsp whole black peppercorns
3 fresh or dried bay leaves
Large handful of any, or all of the following:
Fresh rosemary sprigs
Fresh thyme sprigs
Fresh sage leaves
Fresh oregano leaves
Instructions
Wash all herbs gently under running water to remove debris and discard any blemished or blackened leaves. Add all ingredients to a large stock pot or saucepan and add 4L of water.
Bring stock mixture to a boil, then reduce to a simmer. Cook, uncovered for 30-45 minutes until stock has reduced by a quarter.
Using a slotted spoon, remove large solids. Discard. Allow to cool to room temperature and then strain remaining stock liquid through a cheesecloth or muslin lined strainer to remove all solids and debris. Store in 1-2 cup capacity containers and refrigerate for up to a week, or freeze for up to 3 months.