I'm a lover of the discarded, unloved greens of everyday vegetables. Carrot tops? I make a mean carrot-top pesto. Beet leaves? Try my Whole Beet Juice with Apple, Celery & Ginger. Celery leaves? Don't you dare throw those out – they're delicious!
I've already extolled the health benefits of celery leaves when I pleaded with you all the make some amazing Garlic & Celery Salt (and I hope you did!). Kam and I (and our guinea pig) love celery greens, and you'll always find us at the market searching for the leafiest, bushiest bunch possible. It's one of those vege scraps you've probably been composting for years, but now I'm telling you to juice these yummy leaves, blend them into smoothies or use them to add a salty flavour to your meals, stocks or stews.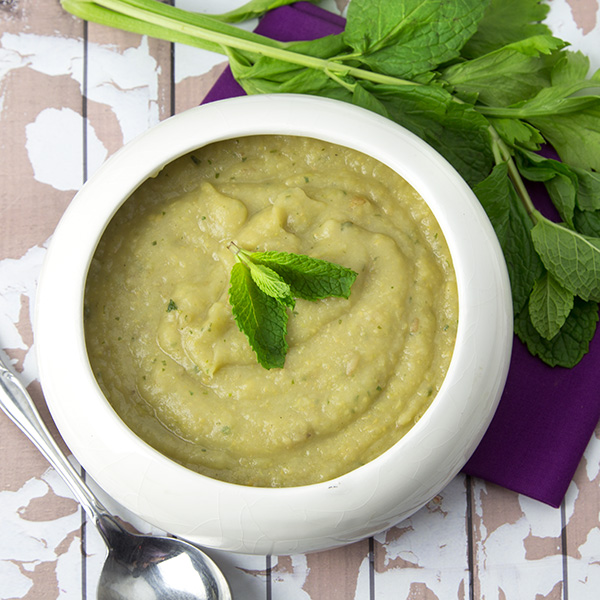 Today, to share my love for whole-plant-eating with you, I'm sharing made with entire celery stalks. This silky puree of celery, potato and chickpeas is a savoury sensation that is gently lifted by the addition of sweet mint. It's a humble, flavourful soup that satisfies the heartiest hunger pains without the classic addition of cream.
Keep in mind that celery are one of the most disease prone vegetables and are heavily sprayed, so always choose firm and crisp organic celery for this recipe, removing any blemished or broken sections of stalks or leaves.  While you can definitely make this soup without the leafy tops, I instead hope to hear from you soon that you're a new celery-top convert 🙂
Whole Celery, Potato and Chickpea Soup
This silky, pureed celery soup with potato and chickpeas is a savoury sensation that is gently lifted by the addition of sweet mint.
Author:
Alison Murray @ Om Nom Ally
Cuisine:
Dairy-free, egg-free. gluten-free. grain-free, nut-free, soy-free, vegan.
Ingredients
1 tbsp ghee (or coconut oil for vegan meal)
1 medium brown onion, diced
8-10 stalks celery with leafy tops, sliced
4 cups vegetable or chicken stock (vegetable for vegetarian/vegan soup)
2 medium potatoes, scrubbed (approx 400g)
1 cup cooked chickpeas
1 tsp celery salt (or celtic sea salt)
¼ cup fresh mint, chopped
Instructions
Heat ghee/coconut oil in a large saucepan over medium-high heat. Add onion and celery and saute for ten minutes or until softened.
Add stock, potato, chickpeas and celery salt and bring to a boil, then lower heat to simmer for 20 minutes. Take off the heat and stir in chopped mint leaves.
Using an immersion blender, or blending in batches in a high powered blender (such as the Optimum blender series), puree the soup until smooth.
Ladle into four bowls, garnish with fresh mint and serve.