I have a habit of getting excited about something I'm going to do in the kitchen, telling everyone on social media to keep an eye out for it… and then forgeting to share it. I could make excuses for my behaviour (I work full time, I study full time) but it's really just plain forgetfulness and too many thoughts rattling around in my head. This recipe for home-made garlic and celery salt was one I meant to share about a month ago – sorry to keep you waiting!
Celery salt was one of those ingredients I never knew I needed until I tried it. You only ever need a pinch to bring a soup, stew or salad to life as it's very potent stuff! With an unmistakeably sharp, tart and tangy taste, celery is a powerfood that I like to eat daily (and so do my guinea pigs). While you're more likely to only be eating the stalks regularly, the whole plant is edible with the leafy tops also containing all the same nutritional benefits including the anti-cancer compounds phthalides and polyacetylenes. Combine this with dehydrated, raw garlic which is the #1 anti-cancer food and you've got one sensational seasoning salt!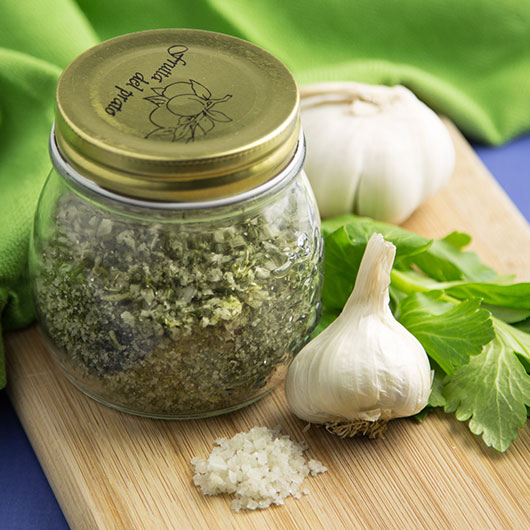 This mix is a bit different to the celery salt you buy in a shop. While that mix is made of celery seeds and salt, in this home-made version we're dehydrating and grinding the leaves. Why? Because I always have a bunch of celery with leaves in the fridge crisper draw (or Chinese celery in the garden), but I never, ever have celery seeds handy. While I like to coarsely grind my ingredients together in a food processor, you can tip it into a salt grinder afterwards for seasoning at the dinner table. And if you don't have a dehydrator? Try drying everything in your oven, on the lowest setting with the door ajar for about an hour.
Garlic and Celery Salt
Celery salt was one of those ingredients you never knew you needed until you try it. Use celery salt instead of normal salt during cooking or add to a salt grinder for seasoning at the table.
Author:
Alison Murray @ Om Nom Ally
Cuisine:
Dairy-free, Egg-free, Gluten-free, Nut-free, Soy-free, Wheat-free, Raw, Vegan.
Ingredients
2 cups loosely packed celery leaves, washed and dried
3 garlic cloves, peeled and very thinly sliced
1 cup coarse celtic sea salt
Instructions
Lay garlic and celery leaves on dehydrator trays, with no leaves overlapping.
Dehydrate at 95F/35C for 2 - 4 hours. Depending on how thinly garlic is sliced you may need to dehydrate for up to 4 hours more or until crisp.
Leaves are dry when they are brittle and will crumble up in your hand. Garlic is ready when it is brittle and feels like you could 'snap' it.
Place dried celery leaves, garlic and salt in the bowl of a food processor and process until well combined.
Add salt to a grinder for use at the table for seasoning, or use instead of normal salt during cooking.