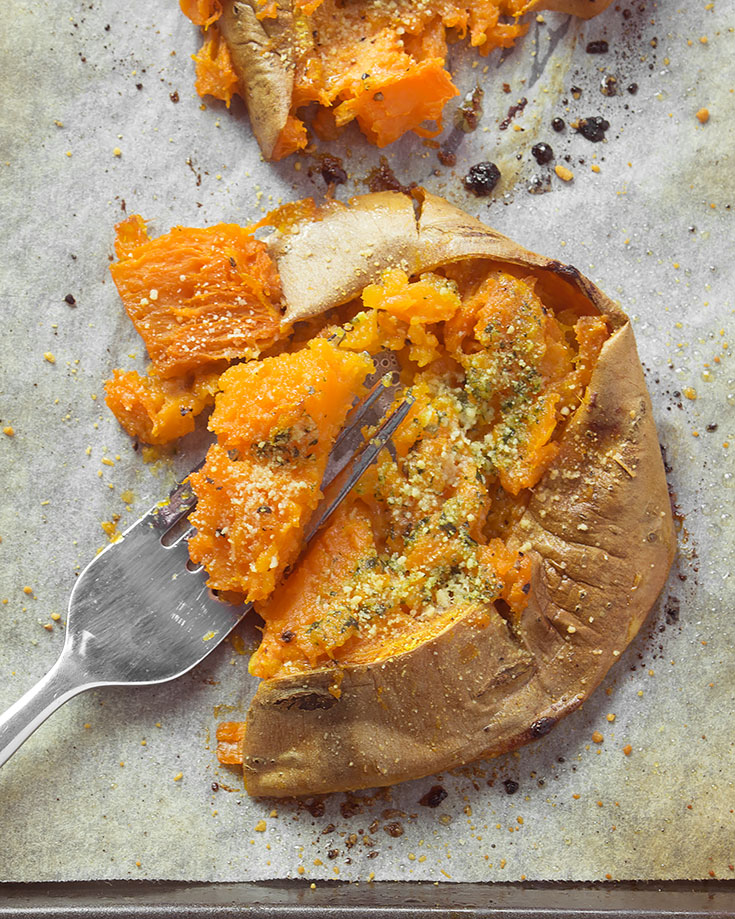 So today's post is less of a recipe and more of an excuse to take your daily frustrations out on a sweet potato! Well, not really as I'm pretty sure these smashed sweet potatoes will actually become your new favourite snack idea – but the enjoyment you'll derive from smashing and squashing these sweet taters into submission is something I bet you'll revel in…
This recipe idea comes from Cafe Delights (note: go read this blog, it's awesome!) and now I've made this sweet potato snack for the first time it's all I ever want to eat again. Sweet potato is already my snack food obsession and then I had to go ahead and try a small batch of these… very dangerous indeed.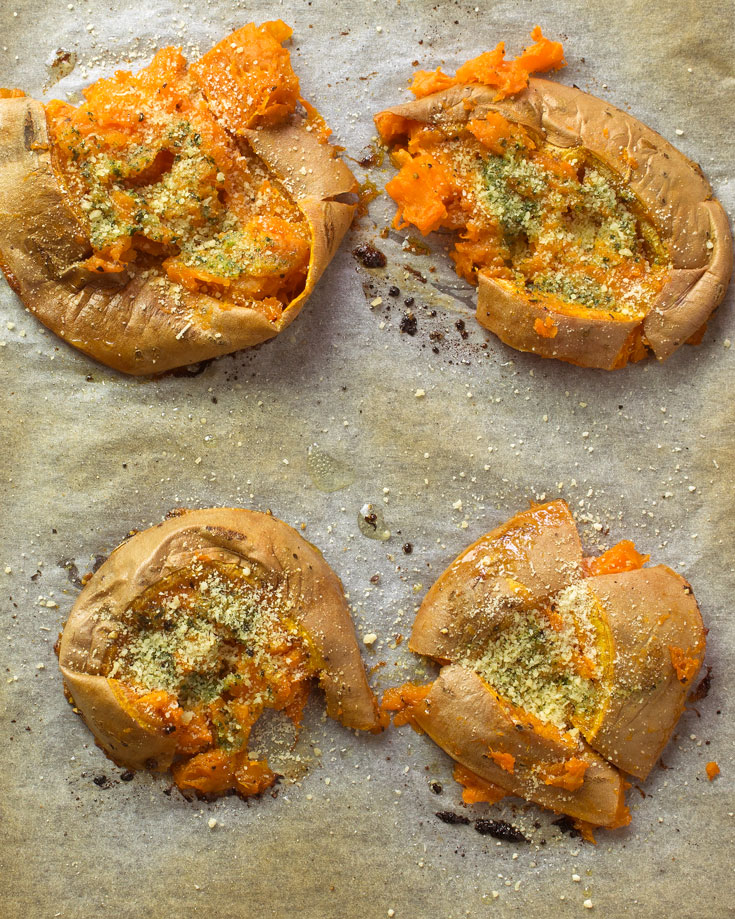 The problem (?) is that both the taste and texture of these potatoes are to die for. You think I'm joking? I used my oven from start to finish in this recipe (as opposed to boiling first as suggested), and by roasting the sweet potatoes before broiling they become delicately caramelised in their own natural sweetness. Yep, it tastes as fabulous as it sounds.
The flavour is only half the experience though, as there is still the crunchy potato skin and soft, creamy flesh to appreciate. I could have even roasted this batch a little bit longer to really crisp up the skin as it was still a little bit soft  – but I was ravenous! Topping the whole thing off with fresh garlic butter and grated parmesan is the final flourish. Trust me when I say this is smashed sweet potato bliss.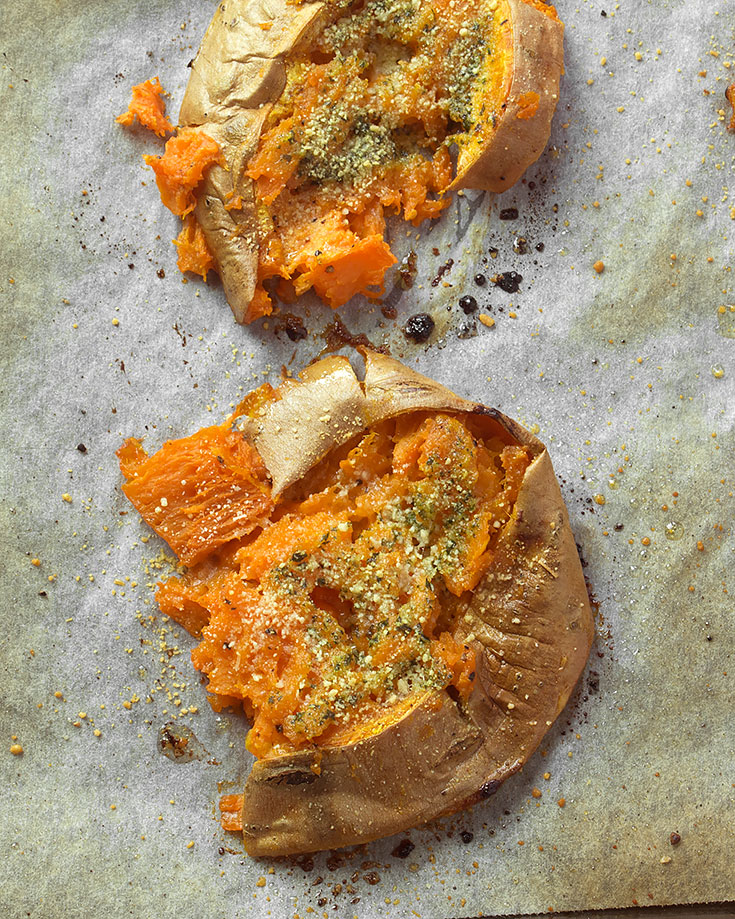 I've seen plenty of smashed potato recipes that call for a potato masher, but you'll find that using a fork will be a lot more precise. Sweet potato doesn't have the same texture as a potato (different plant family, different root vegetable), so using a masher after baking will obliterate your tater. Instead use your fork to smoosh and squish your sweet potato onto the baking paper – for just a little bit of controlled destruction. Top it all off with some garlic butter (bonus recipe @ end of post) and then sprinkle with parmesan before broiling.
Now, I've written the recipe up below for one serving, made from one medium sweet potato – because I like to eat a whole lot of sweet potato. If you want to serve as a side then feel free to give yourself two pieces (half a medium sweet potato for each person). Make sure to get large (fat) sweet potatoes where possible too – if you can only find long, thin potatoes then cut them into more rounds (6-8), keeping the width of each slice to about 2cm for even cooking time.
What are your favourite ways to devour sweet potato?
xx Ally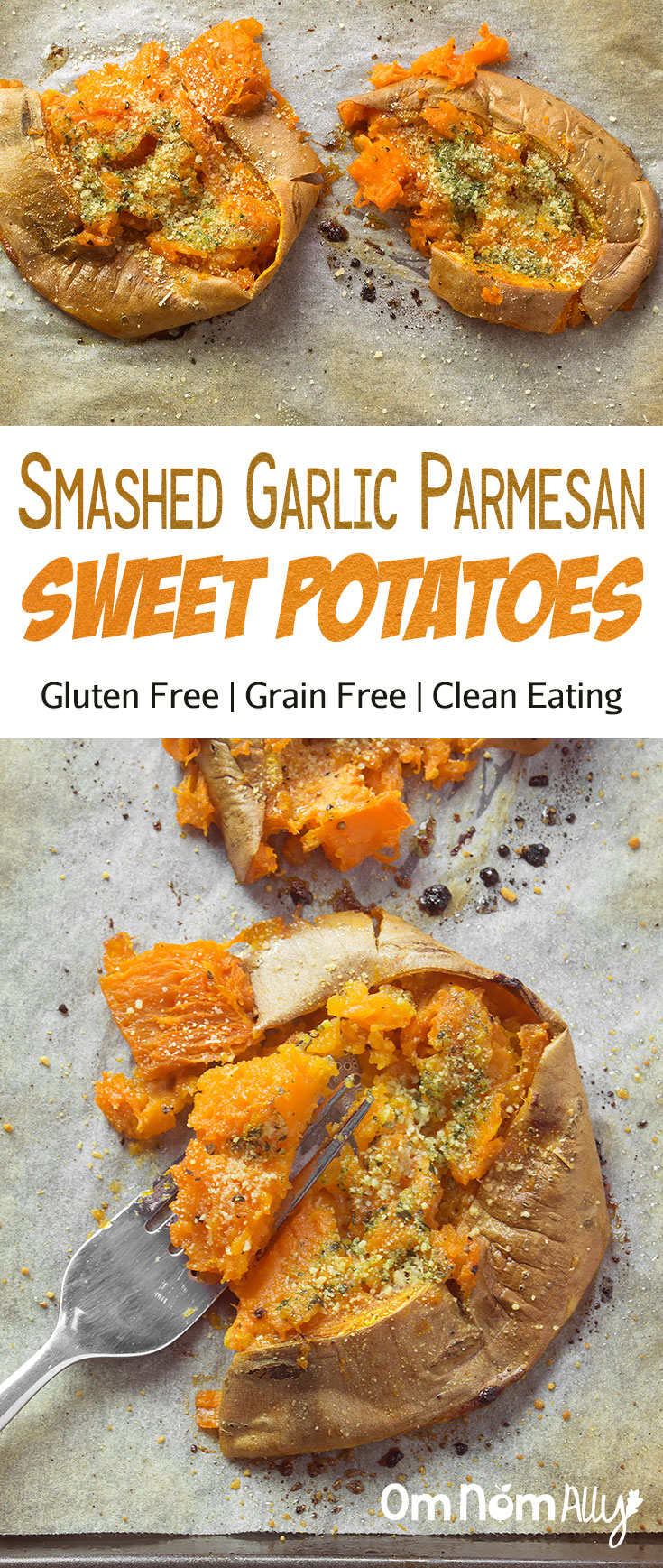 Smashed Garlic Parmesan Sweet Potatoes
Welcome to your new favourite snack or side dish - the enjoyment from smashing these garlic and parmesan sweet potatoes into submission is something to revel in.
Author:
Alison Murray @ Om Nom Ally | www.omnomally.com
Recipe type:
Snacks, Side Dishes
Cuisine:
Gluten-free, Grain-free, Nut-free, Soy-free, Vegetarian.
Ingredients
1 medium sweet potato
1 tbsp coconut or grape seed oil, or melted butter
Fine Celtic sea salt
Cracked black pepper
2 tbsp Herbed Garlic Butter (see notes)
1 tbsp Parmesan cheese
Instructions
Preheat oven to 200C. Line baking tray with baking paper and put aside.
Trim pointed ends of sweet potato and discard. Cut evenly into four discs, approximately 2-3cm wide. Place on baking tray and drizzle with oil or melted butter and season with salt and pepper. Roast for 30 minutes or until tender. Switch oven to broiler setting.
Using a fork, gently flatten sweet potato and then top with garlic butter and Parmesan. Broil until cheese has melted or bubbled. Season with salt and pepper to serve.
Notes
To make Herbed Garlic Butter add the following to the bowl of a food processor
250g unsalted, grass fed butter
4 cloves garlic
1 tbsp flat leaf pasley
1/2 tsp Celtic Sea Salt
Process until fully combined and creamy. Spoon mixture into an airtight container and refrigerate for up to one week.