Low Carb Green Cabbage & Fennel Coleslaw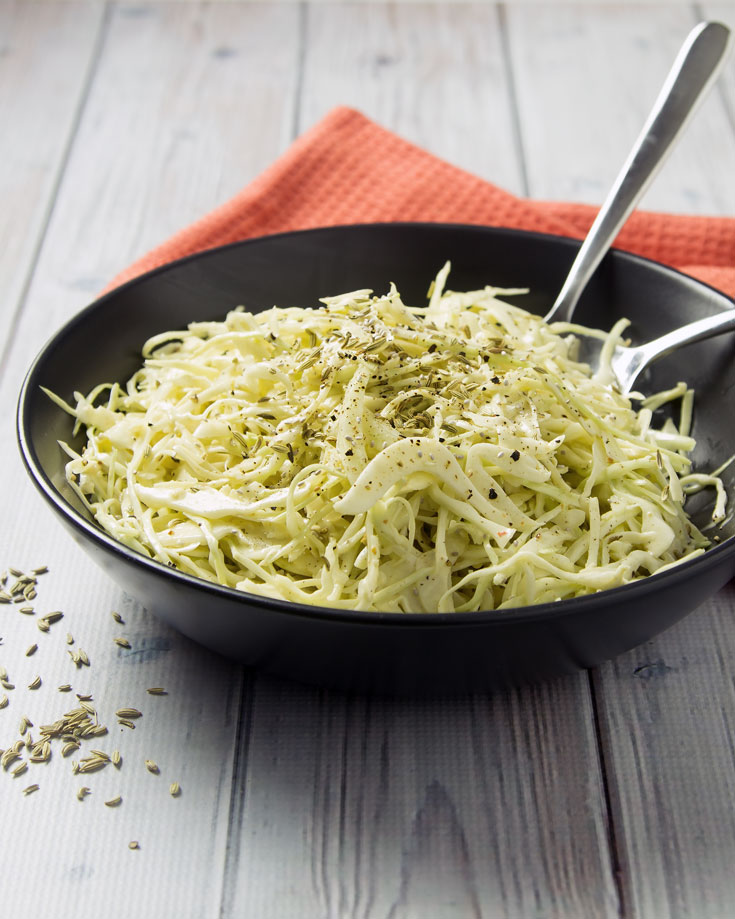 Author:
Alison Murray @ Om Nom Ally | www.omnomally.com
Recipe type:
Sides, Salads
4 cups green cabbage, finely shredded
½ medium fennel bulb, finely shreddedSlaw Dressing:
½ cup whole egg mayonnaise
3 tbsp apple cider vinegar
4-6 shakes Tabasco sauce
1 tsp fennel seeds
1 tsp chia seeds
½ tsp Celtic sea salt
¼ tsp cracked black pepper
(optional) 1 tsp low carb, erithritol-based sweetener - Nutiva, Swerve or similar
In a large bowl, mix shredded cabbage and fennel together. Put aside.
In another, smaller bowl, mix together remainder of ingredients for slaw dressing. Once fully combined and creamy, spoon over shredded cabbage mixture and use two large spoons or salad utensils to coat evenly. Cover bowl and refrigerate for 15min, or overnight.
Serve approximately ½ cup as a side dish or condiment, topping with a extra sprinkle of fennel and chia seeds and plenty of freshly cracked black pepper.
Calories:
105
Fat:
10g
Carbohydrates:
4g net
Fiber:
1.5g
Recipe by
@OmNomAlly
at https://omnomally.com/2016/10/25/low-carb-green-cabbage-fennel-coleslaw/