There's not too much change for my starter from yesterday, it seems to have become a bit sluggish. While I've still got no hooch to speak of, I do have some funky enormous bubbles on the surface of the culture and some nice bubbly texture visible when looking at the sides of the jar. It's hasn't grown much since feeding again, it's still about a third of  the way up the jar and the smell has become more 'floury' again. The texture is a little bit 'soupy' and at this stage I am going to leave my feeding for a day and give the culture more time to break down the flour from yesterday.
If your culture is showing a bit more activity and you're still powering ahead, then the feeding schedule is the same as for yesterday (stir in any hooch, and add 100g flour and 100g (100ml) filtered or spring water. Scrape down the sides of the jar and put aside in a warm place for 24 hours.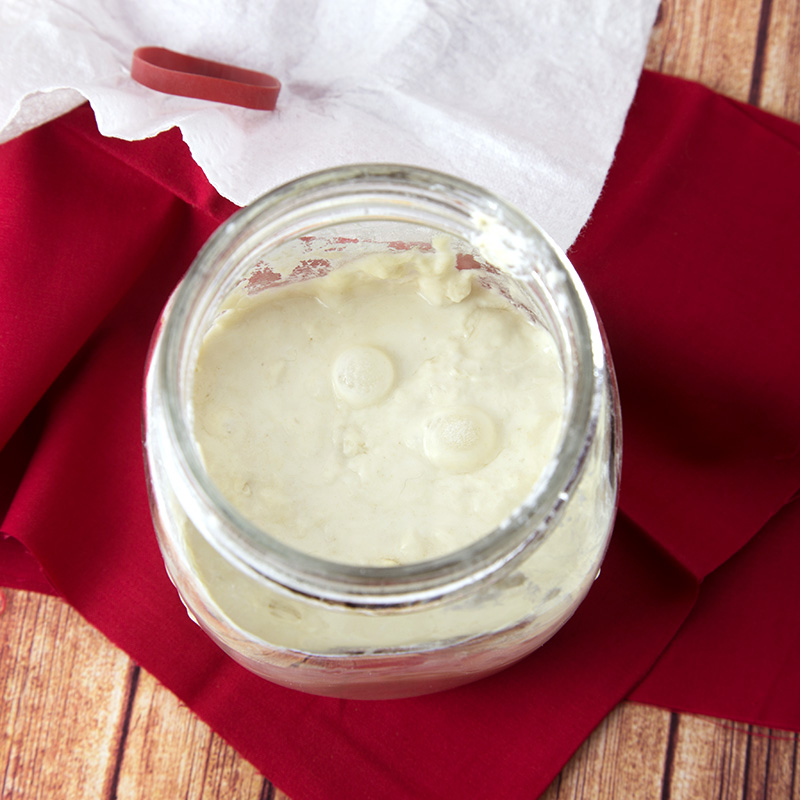 Yesterday we talked about some of my favourite books about sourdough, general bread baking, or fermentation. We're going to start baking with our culture soon so I think it's time to share some recipe ideas to get your imagination going. Firstly, head to Pinterest and follow a few of these boards: http://www.pinterest.com/search/boards/?q=sourdough. It will take you a lifetime to get through all of these recipes!
So what kinds of recipes can make with your sourdough starter? I haven't added loaves of bread on here, as a) I'm sure you assumed you'd be making bread already and b) we're going to rock out with some bread recipes on the blog in about 4 days time (squeeee!). This list is going to include all the other delicious morsels you can whip up with you starter culture and includes a few I've tried in the past, or have been inspired by in my own sourdough baking experiments:
 Day 4
Making A Sourdough Starter From Scratch - Day 4
Bubbles, hooch, smells and lots of growth - this is what could be happening right now in your sourdough jar! This is your last feeding before we start discarding part of your starter - but don't worry, we do it to keep the culture healthy 🙂
For now, proceed with today's feeding, as described below.
Author:
Alison Murray @ Om Nom Ally
Ingredients
100g flour
100g (100ml) filtered or spring water
Instructions
Mix in another 100g flour and 100g (100ml) cup water to your starter culture, scrape down the sides of the jar and cover with cheesecloth or paper towel. Put aside in a warm spot for another 24 hours.
All Posts in This Series (will be updated as we create our starter culture)