I'm really enjoying this little sourdough journey! I wonder what other projects we could do in progressive installments? I've occasionally had US readers ask if I can mail them scobies (but I'm not able to send them overseas). So perhaps we'll try growing a SCOBY from bought bottle of kombucha? I'm keen if you are!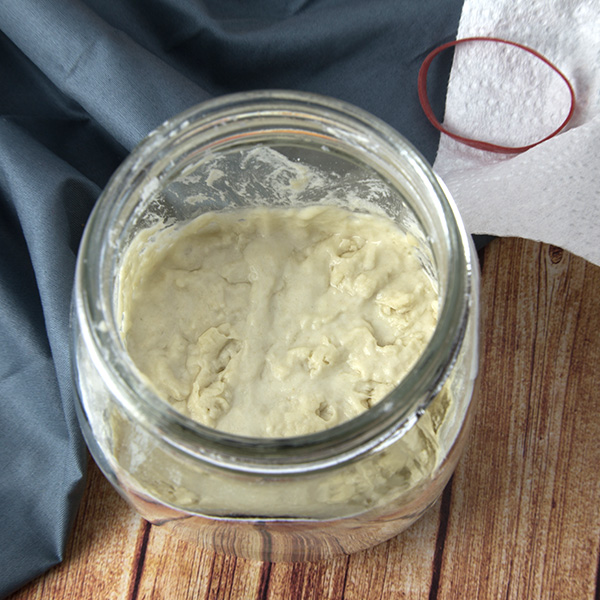 I've also been fielding a few emails regarding my favourite bread or sourdough baking books this week. From those emails I've put together a brief list of the books I use regularly, or have impressed me the most. I own a LOT of cookbooks, so I've tried to keep it really short. If you want to talk more about my favourites, or share some of your own (on any cooking topic) drop me an email on the Contact page. I love talking cookbooks!
Please note, some of the following are affiliate links. This means that if you click on one of the product links and make a purchase, I'll receive a small commission, however your cost will be the same.
Sourdough & Bread Baking
Fermentation Books (with Information on Sourdough Cultures/Baking)

You might be surprised to find your first collection of "hooch" today, with some bubbles underneath the watery layer. My starter doesn't have any liquid yet, but does seem to have grown around 50% in size from what was present after feeding last night. It also has a more noticeable (yet pleasant) aroma. By this stage you would expect the yeast to have started to feed and multiply so it's not surprising to see some changes occurring.
There are a few little bubbles visible when looking at the jar side on, but from the top the texture looks about the same as yesterday. I expected a little more bubbling and change in the texture, but it's been extremely cold here the past two days it might just be a little slow off the mark. In comparison, the last sourdough ferment I started in January was very bubbly and more liquidy than this one. Depending on how things look tomorrow, I might let it rest for a day before I continue feeding. This will allow the yeasts and bacteria to feed and multiply for longer before I give them more work to do.
For now, stir the hooch in (if present) to aerate the mixture and then proceed to feed the starter with the instructions below.
Making a Sourdough Starter From Scratch: Day 3
Day three of your new starter may bring your some bubbles, a change in texture and some noticeable growth. You may also have your first collection of 'hooch', a thin layer of liquid on top of your starter culture.
If present, stir the hooch into the starter to aerate, and then proceed with feeding.
Author:
Alison Murray @ Om Nom Ally
Ingredients
100g flour
100g (100ml) filtered or spring water
Instructions
Mix in another 100g flour and 100g (100ml) cup water to your starter culture, scrape down the sides of the jar and cover with cheesecloth or paper towel. Put aside in a warm spot for another 24 hours.
All Posts in This Series (will be updated as we create our starter culture)