This starter is showing some consistent activity now. The texture is of the culture is looser and more like pancake batter and is has easily double in size after feeding last night (maybe more). I'm not sure about you, but I'm keen to try it in a pancake recipe tomorrow and see how it goes.
It's a much shorter post today, as I've honestly had an exhausting week. You can however look forward to some great developments this weekend as we'll have our first 'discarded starter' recipe (if all goes well) and then on Sunday we're going to bake some bread!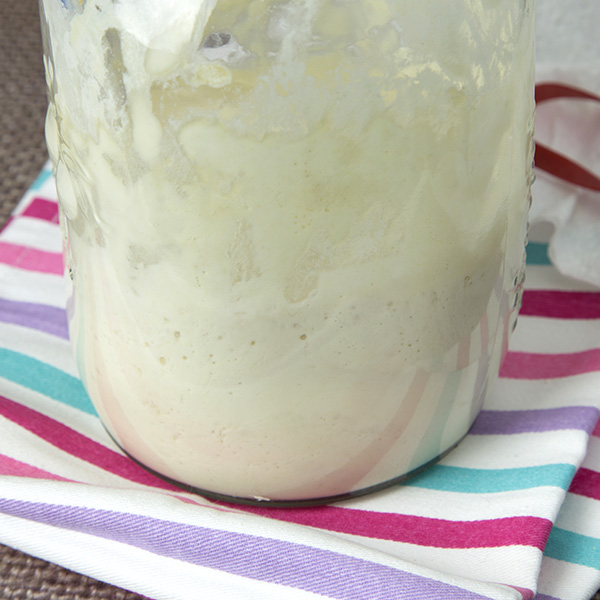 A quick on what to do with your discarded starter – as I had a couple of worried emails about. Once you have a stable starter there shouldn't ever be any need to throw away your 'discard' as in the future you will generally be baking with it (unless you don't want to bake every day). In the meantime however the best way to toss the portion you don't need is to add it to your normal rubbish, or dispose into a Bokashi bin composter (check out the excellent review by my friend Liz at I Spy Plum Pie). While you can add small amounts to your normal compost bin or worm farm, it can be detrimental to the health of these systems if you continually throw out your starter in this way.
I also got queried about why we should throw any out at all – and the answer is to think about how much starter we would have if we just continually added to it. Do you want to have to maintain a bathtub full of soupy flour mixture in the long term? The more active starter culture you have, the more food it needs to keep a happy balance of natural yeasts alive. There's really no need to keep more than a couple of cups worth of starter when the main concern is to look after the health of your culture. You can regularly take your starter down to an amount of about 1 tbsp and build it back up again. Still a bit worried? Head on over to Yumarama and read her fabulous article on The Waste Conundrum.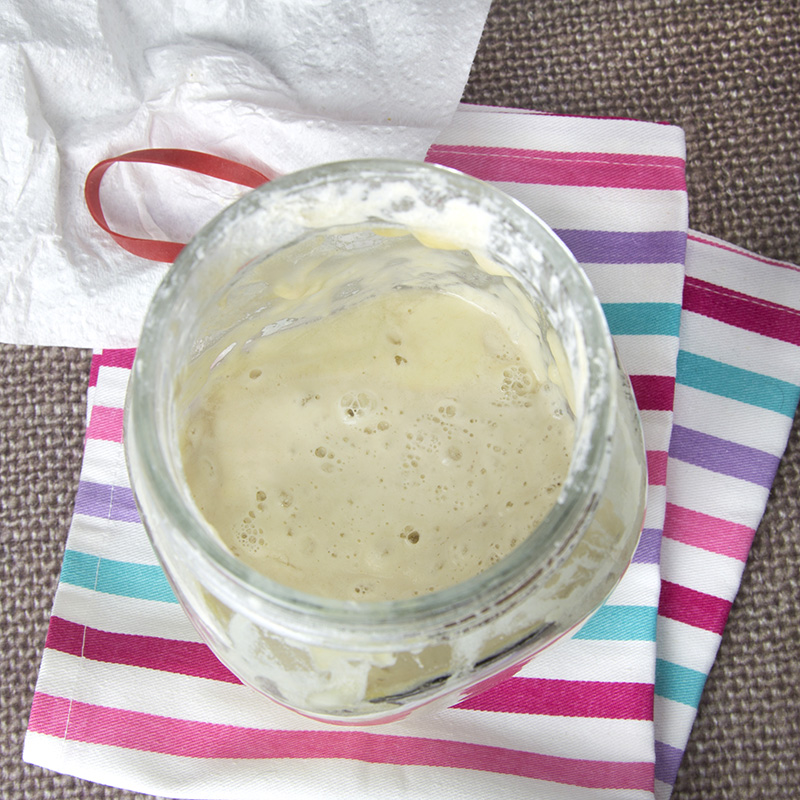 Day 6
This is our second last feeding before we try baking some bread! I can't wait for Sunday to roll around, and I'm already dreaming about the lovely round, boule loaf I'm going to attempt. I'm salivating just thinking about the winter warming pumpkin soup I'm going to pair that with! What's the first thing you'll make with your delicious sourdough experiments?

Making a Sourdough Starter From Scratch: Day 6
We're almost ready to try baking with our starter culture. Just 2 more feeds to go!
Author:
Alison Murray @ Om Nom Ally
Ingredients
100g (3/4 cup) flour
100g (100ml) spring or filtered water.
Instructions
Stir in the hooch 1-2 times daily. Remove ½ - ¾ of the starter and then mix in the flour and water. Scrape down the sides of the jar, replace the cover and leave for 24 hours in a warm place.
All Posts in This Series (will be updated as we create our starter culture)