Chocolate truffles, saucy meatballs, aranchini, falafel, bocconcini, scoops of ice-cream, cake pops…
Some of the most enjoyable foods are ball shaped.
With only five ingredients (and the optional added natural sweeteners), these protein balls are a fantastic ball-shaped bite. Pop some in your bag on the way to the gym for a perfectly thawed, chewy snack after you've finished your workout. Grab one from the freezer when you get from home work to tide you over until dinner. Scoff one down with breakfast for a morning energy hit. Or just eat one because you're craving a natural snack bite filled with superfood wholegrain, nut and dairy ingredients! They are satisfyingly nutty, chewy and are only mildly sweet; you can add stevia or another sweetener to the mix if you have a serious sweet tooth.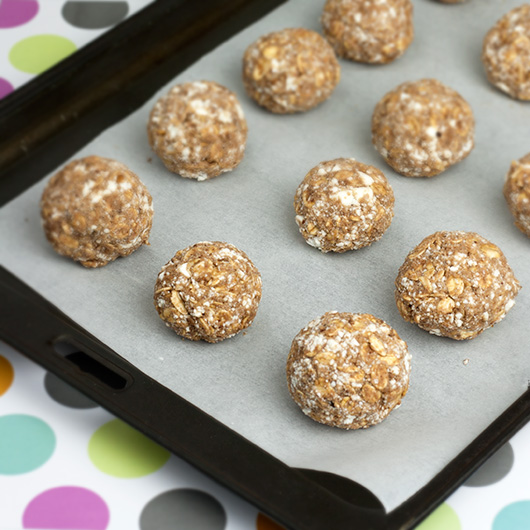 I've told you before how much I love cottage cheese and it's with good reason – it's high in  casein and whey, calcium, riboflavin and B12. It's not the only accessible superfood ingredient in this freezer snack though; this recipe also contains almond butter, oats which are high in betaglucan, BCAA-containing whey protein powder and antioxidant rich cacao (or cocoa powder). Where possible buy organic ingredients (particularly dairy products)  for your protein balls and grind your almond butter at home if you have a good quality blender to ensure it's super fresh.
While you can keep these protein balls in the fridge if you want, freezing really allows them to firm up for a denser and chewier texture. Freezing is also the best option if you're not going to eat them within a few days to prevent spoilage. Lastly, if protein balls aren't your desired snack shape you can also use silicon moulds, ice cube trays or use some baking paper to roll the mixture into protein bars.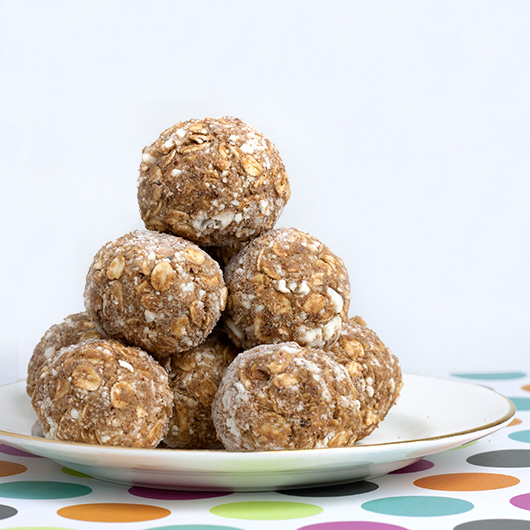 Almond Freezer Protein Balls
If you want easy, home-made protein balls with only five superfood, wholegrain, nut and dairy ingredients - you've found the right recipe!
Author:
Alison Murray @ Om Nom Ally
Recipe type:
Protein Snacks
Cuisine:
Egg-free, Soy-free, Wheat-free, Vegetarian.
Ingredients
250g cottage cheese
3 tbsp almond butter
1 cup rolled oats
¼ cup no additives whey protein powder
½ tbsp cocoa/raw cacao powder
optional: small amount of stevia, honey or maple syrup to taste
Instructions
Mix all ingredients in a large bowl, stir until well combined. Roll mixture into 12 balls and place on a baking paper lined baking sheet.
Loosely cover with aluminium foil and freeze for 30 minutes. Store in fridge for up to 1 week or in freezer for up to 3 months in an airtight container.
Allow to thaw at room temperature for approx 5-10 minutes before eating from freezer,
This post is linked to:
Homestead Barn Hop
, Recipe Sharing Monday,
My Meatless Monday
, Natural Living Monday,
Meatless Mondays
, The Gathering Spot,
The Backyard Farming Connection Hop
,
Slightly Indulgent Tuesday
,
Traditional Tuesdays
,
Tuesday Greens
,
Fat Tuesday
,
Waste Not Want Not Wednesday
, Well Fed Wednesday,
Fresh Foods Wednesday
,
Healthy 2Day Wednesday
, Real Food Wednesday,
Wheat Free Wednesday
, 
Tasty Traditions
, Chef's Day Off, 
Whole Foods Wednesdays
, 
Full Plate Thursday
, 
Thank Your Body Thursday
.
(Visited 457 times, 3 visits today)