Did you know there are rules about what can and can't be called an Anzac Biscuit? It's always 'biscuit' and never 'cookie' btw; calling it a cookie would be very un-Australian apparently. For a biscuit to be an 'Anzac' biscuit it has to conform to the traditional recipe, with ingredients readily available during wartime (eggs were particularly scarce) which would contribute to a long shelf life. Ostentatious decisions such as chocolate dipping or adding fruit and nuts are frowned upon by the Minster for Veterans' Affairs. It's serious business to go around referring to any old biscuit as an 'Anzac'.
Sweet Anzac biscuits are themselves a variation of the original hard-tack soldier's biscuits enjoyed by Anzac soldier's in WWI and there are now countless (unapproved) adaptations on the commonly approved recipe of flour, oats, coconut and golden syrup. This is my new favourite version to bake on April 25th; they're wheat-free and vegan with wholemeal spelt, coconut oil and coconut sugar.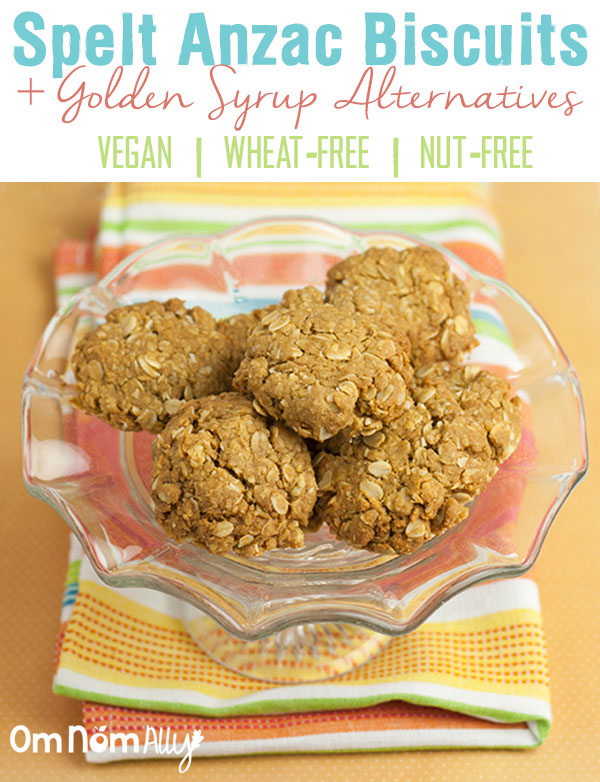 Golden syrup alternatives
So my question today is, is it un-Australian to drop the golden syrup, an iconic Anzac Biscuit ingredient? A highly processed, partially inverted sweetener, golden syrup is produced by partially splitting sucrose into glucose and fructose when treating sugar with hydrochloric acid. This resulting sugar solution is highly acidic so is then later treated with lye to make it neutral. Yeah… I'm not eating that.
The problem then is the very unique flavour golden syrup conveys to baked goods. I've used honey as a 1-1 substitute and it does work, but honey have it's own very unique and often overpowering flavour. A combo of molasses and maple syrup in a 2:1 ratio or honey and maple syrup 1:1 is another suitable choice, though it's a bit less tacky for binding. The best choice I've found though is to make your own golden syrup substitute using an unrefined sugar, good quality vinegar and a little water. Check out the recipe notes for the easy instructions and then choose the best substitute for you to enjoy some yummy biscuits with me this Anzac Day.
Spelt Anzac Biscuits + Golden Syrup Substitutes
Delicious vegan, spelt Anzac Biscuits plus three ways to replace golden syrup with healthier unrefined sweeteners.
Author:
Alison Murray @ Om Nom Ally
Recipe type:
Cookies, Anzac Day
Cuisine:
Dairy-free, egg-free, nut-free, soy-free, wheat-free, vegan.
Ingredients
1 cup wholemeal spelt flour
1 cup rolled oats
½ cup coconut sugar (or other unrefined sugar)
1 cup desiccated coconut
½ cup coconut oil
2 tbsp golden syrup substitute (see recipe notes)
1 tsp baking soda
1 tbsp water
Instructions
Preheat over to 170C, line and grease two baking trays. Mix the flour, rolled oats, sugar and coconut in a large bowl.
Melt the coconut oil in a saucepan over low heat and add the golden syrup substitute, water and bicarb soda, .
Make a well in the dry ingredients and add the golden syrup mixture, mixing thoroughly.
Roll tablespoon amounts of dough into balls and place on prepared trays, flattening slightly with palm of hand. Bake for 15-20 minutes or until golden brown.
Notes
Golden Syrup Substitutes:
1. Replace the amount of golden syrup required with the same amount of honey. The resulting baked good will have a distinct honey taste.
2. Replace the golden syrup with 1 part honey and 1 part molasses, or 2 parts molasses and 1 part maple syrup. These sweetener combos will be less 'tacky' than using golden syrup or straight honey.
3. Make your own homemade golden syrup substitute: Heat ¼ cup coconut, rapadura or other unrefined sugar in a heavy bottomed saucepan. Sprinkle a teaspoon of water with ½ teaspoon of white wine vinegar vinegar and sprinkle this mixture over sugar. Cook over a low heat and cook 4-5 minutes, without stirring. After 5 minutes, increase to a medium heat and cook for another five minutes unill sugar mixture forms a syrup with a rich caramel color. Wait until the mixture stops bubbling and then stir well and remove the pan from heat. Use the desired amount in any recipe that requires golden syrup.
Linked to:
Allergy Friendly Wednesday
,
Fresh Foods Wednesday
,
Healthy 2Day Wednesday
, Real Food Wednesday,
Wheat Free Wednesday
, 
Tasty Traditions
, Chef's Day Off,
Whole Foods Wednesdays
, 
Full Plate Thursday
, 
Thank Your Body Thursday
.