If man has no tea in him, he is incapable of understanding truth and beauty.  ~Japanese Proverb
There are two beverages that must be consumed everyday to ensure a contented Ally – a tall glass of kombucha and a steaming chai tea with honey. While the best kombucha comes from my pet scoby Susan (yes, I named my mother scoby!) I've tried just about every brand of chai there is; good, bad, powdered, loose leaf, syrup and bagged. One chai that had continually eluded my teapot however was the famous Fresh Chai from Calmer Sutra Tea – that is until the company generously offered me some to try!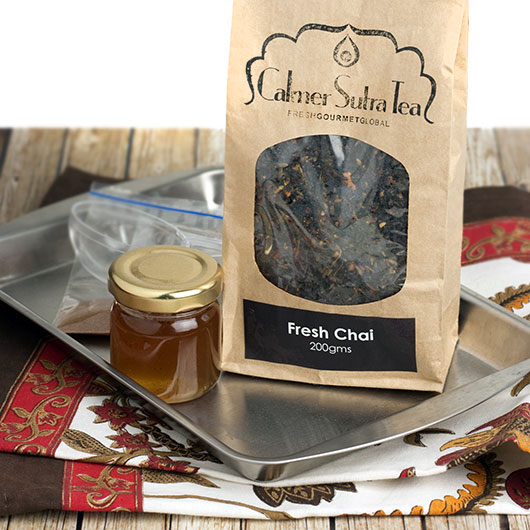 An intoxicating blend of black tea, spices, honey and fresh ginger, Calmer Sutra Tea's Fresh Chai recipe was perfected by business director Caitlin West when her local cafe stopped serving chai. It's a wonderful story and a breathtaking blend – I had my nose stuck in the bag for at least 10 minutes just breathing in it's heavenly goodness. This hand-ground, wet spice mix is thick, dark and gorgeously aromatic and my gift pack from the local Calmer Sutra Tea representative in Melbourne came with a lovely ziplock bag of "chai sprinkles" spice mix and a pot of hiranya chai honey to get me brewing… and many an infusion has been made. It's a big call to say this is "The Best Chai Tea Ever", but I've said it. It's going to be hard to buy another brand of chai again after tasting this one and I adore that it's a small-batch, hand-ground product. For Australian stockists or Calmer Sutra's online shop click here, or check out their Facebook page here.
I'm not just going to leave you to make a pot of chai though as besides being a tea fanatic I'm also currently in a donut mood. One of my favourite things to do with chai (besides drink it) is to make chai butter, a fantastic spread for scones, fruit bread and pancakes. It's also a lovely inclusion in baking recipes like these donuts where it adds a mild spiciness when an infused milk isn't suitable. Check out the recipe notes below to make your own Chai Butter.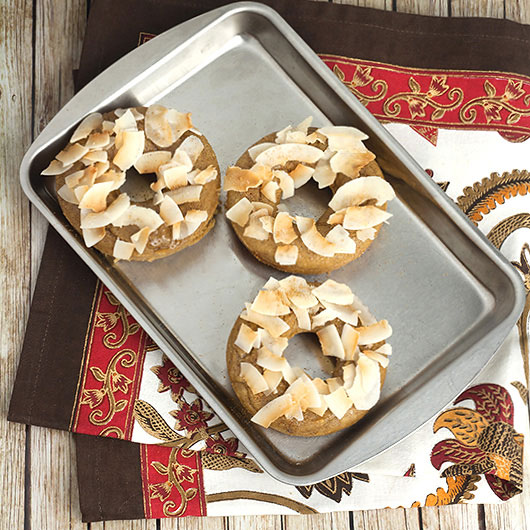 The baby of two wonderful things (chai & donuts) these Coconut Flour & Chai Donuts make use of all the goodies in my Calmer Sutra Tea gift bag – Fresh Chai in the chai butter, "chai sprinkles" spice powder in the batter, and hiranya honey for the toasted coconut 'icing'. When using other chai products check out the recipe notes and use the spices listed in the ingredients list and your favourite raw, organic honey. Coconut flour always makes for airy and ultra-soft baked donuts; like a good cup of chai I could enjoy these everyday!
Coconut Flour & Chai Donuts
Chai tea wasn't just made for drinking! Try these chai butter and coconut flour donuts, topped with honey and toasted coconut for a spicy and, chewy donut treat.
Author:
Alison Murray @ Om Nom Ally
Ingredients
½ cup chai butter (see notes below)
¼ cup raw, organic honey
5 organic, free-range eggs
1 tsp vanilla extract
½ cup coconut flour
½ tsp baking soda
1 tsp ground cinnamon
½ tsp ground cardamom
½ tsp ground cloves
½ tsp ground ginger
2 tbsp raw organic honey
4 tbsp coconut flakes
Instructions
Preheat oven to 180C and grease or oil a 6 donut hole pan. In the bowl of a stand mixer, beat together the chia butter and honey then add the eggs, one by one, until well combined.
In a medium bowl whisk together the coconut flour, baking soda and spices and then slowly fold through the wet mixture until well incorporated. Distribute mixture between holes in donut pan, filling about ⅔ full. Bake for 20 minutes then remove from oven to cool for 5 minutes before carefully lifting donuts from tray to cool completely on a wire rack.
Once cooled, preheat oven to 180C and toast coconut flakes for 5 minutes of until golden brown. Remove from oven and set aside.
Warm the 2tbsp of honey in a small bowl over simmering water. Once warmed and runny, remove from heat and use a pastry brush to coat tops of donuts in honey before rolling donuts in toasted coconut.
Notes
Chai Butter:
To make your own chai butter add 1 cup of organic butter to a small saucepan and melt over a low heat. Add 2 tbsp of Camler Sutra Fresh Chai, 1-2 tbsp of chai loose leaf tea or 2 opened teabags to the butter and stir gently until butter darkens in colour. Strain butter mixture into a small bowl and continue with your favourite recipe or allow to set for a chai-flavoured butter spread.
This post is linked to:
Homestead Barn Hop
, Recipe Sharing Monday,
My Meatless Monday
, Natural Living Monday,
Meatless Mondays
, The Gathering Spot,
The Backyard Farming Connection Hop
,  
Slightly Indulgent Tuesday
, 
Traditional Tuesdays
,
Tuesday Greens
,
Fat Tuesday
,
Waste Not Want Not Wednesday
, Well Fed Wednesday,
Allergy Friendly Wednesday
,
Fresh Foods Wednesday
,
Healthy 2Day Wednesday
, Real Food Wednesday,
Wheat Free Wednesday
,
Tasty Traditions
, Chef's Day Off, 
Whole Foods Wednesdays
,
Full Plate Thursday
,
Thank Your Body Thursday
.