Baking / Breakfast / Dessert / Drinks / Fermentation / Mains
Protein Snacks / Raw Food / Sauces / Sides / Snacks / Soups and Stews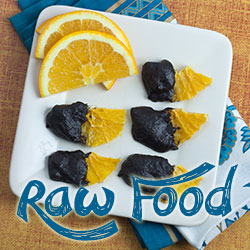 Looking for some scrumptious recipes to help you squidge more nutritious fresh foods into your diet?
I'm not concerned with strict raw food rules or raw percentages, I just want to eat healthy food! Some of these recipes may require a dehydrator, some a high-quality blender but all require you to have the desire to fit more fresh produce in your gob 😉
If you're looking for raw smoothies head over here – otherwise check out the recipes below for snacks, desserts, raw recipe makeovers and more.
 All recipes specify their suitability for different dietary needs.
DF = dairy free    EF = egg free    GF = gluten (and wheat) free    GrF = grain free  NF = nut free
SF = soy free    WF = wheat free   Veg = vegetarian    V = vegan   Raw = raw food
An asterisk (e.g.GF) denotes recipe can be suitable for dietary needs with some substitution.
Breakfast
Dehydrator
Dessert
Chia Jams
Snacks