Looking for crispy, crunchy and crave-alicious raw kumara (sweet potato) chips?
I've made 4 batches of this tasty snack in the past 2 weeks – sweet potato chips are the bomb. I can give you reasons to make it like "It's so simple!" or "Sweet potatoes are healthy!", but really, when you see food that bright orange how can you not want to dive in and gobble it all up?
I really love that you don't need to do much in the way of seasoning when dehydrating sweet potato, it's natural sweetness seems to be even more concentrated. A little sprinkle of good quality salt is all it takes then to transform a sliced sweet potato into crave-worthy chips, but cumin really has a taste unlike any spice. It's very piquant and earthy which pairs wonderfully with chilli and sweet potato to create an almost nutty, lemony, spicy taste sensation.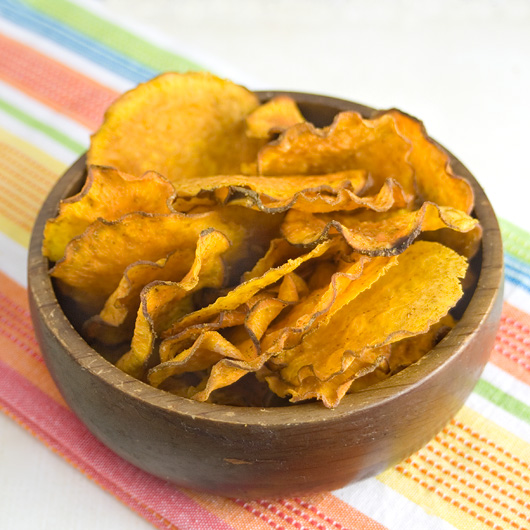 Besides a dehydrator (or an oven on the lowest temperature) you definately need a mandoline for this recipe. Thin, knife cut slices aren't going to, ahem, cut it. You need super, super thin slices for a crispy chip – too thick and they will have a softer and more fibrous mouthfeel. Also, don't be too tempted to add more oil if there doesn't seem to be enough – I did in the first batch and this will make the dehydrated chips too oily and they will be soggy even when dried. We want crunch!
Raw Chilli & Cumin Kumara Chips
The best kumara (sweet potato) chips you'll ever try. It makes a LOT, so get ready to share them around!
Author:
Alison Murray @ Om Nom Ally.com
Cuisine:
Raw, gluten-fre, dairy-free, egg-free, nut-free, soy-free, vegan.
Ingredients
1 large sweet potato (at least 500g) with the largest circumference you can find - they shrink enormously!
3 tbsp olive oil
1 tbsp cumin
½ tsp chilli powder
1 tsp salt
Instructions
Wash, pat dry and then slice sweet potato with mandoline slicer on thinnest setting. Use the hand guide to keep those fingers safe! Place in a large bowl and put aside.
Combine olive oil, cumin, chilli powder and salt in a small bowl. Pour mixture over chips and massage in with hands to make sure each chip is well coated.
Place in single layers on dehydrator mesh screens and dehydrate on 125F/52C for 10-12hours or until they are dried and crispy. For oven users place in single layer on lined baking trays and cook on lowest oven temperature for 10-12 hours, checking regularly for browning or burning.
After drying time remove from dehydrator (or oven) and dive in, or allow to cool completely and store in a airtight container for up to 3 days.
Notes
Edit: For truly raw chips, dehydrate no higher than 105F. I use a slightly higher temperature as I find otherwise I end up with fibrous and overly chewy chips.
Linked to
Raw Food Thursdays
.