Kam asked me last week if I wanted to be a farmer one day.
"One day?" I replied, "I thought that's what I was doing already."
Not quite understanding the question I prattled on about ideas on doing further study but in a horticulture field, homesteading and permaculture plans for when we buy property and the hopes of running workshops one day. He rephrased his question, revealing he was actually intrigued as to whether I would ever sell edibles at a farmer's market; something I had never considered before.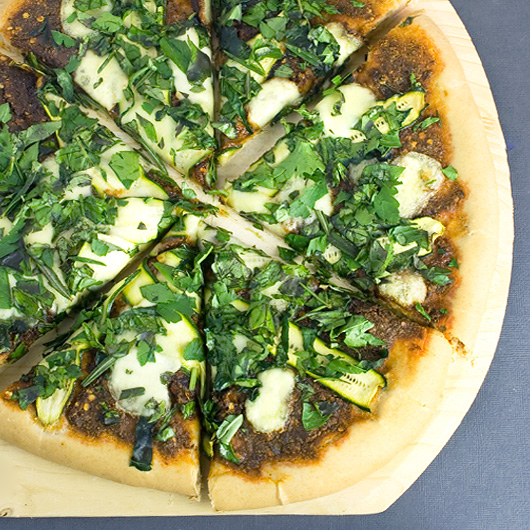 The whole exchange had me pondering for a while. While I'm not set up for it at the moment, I'd love to sell culinary or medicinal herbs at a farmer's market. Or herb seeds. Or seedlings. Or all three. My work roster has changed recently and one of the first things I was really itching to do was to start visiting Kingston Farmer's Market on the 1st Saturday of each month. Yes, the excitement is partly because I enjoy eating seasonally and locally (especially from my soil), but I also want to get to know the farms and their farmers while supporting their hard work.
I've got quite a collection of herbs growing at the moment for eating, medicinal purposes and pest reduction/beneficial bug attraction, but not enough to share around in large amounts. I've met a few market stall holders who started out with a strong desire to feed their families from small allotments, I love hearing these stories of how those dreams grew. I'm already an avid farmer's market shopping  convert, these outings give me gorgeous produce as well as inspiration and drive.
I wonder if one day I might have my own stall? I've got so many dreams for one little Ally life! In the meantime, I'm enjoying the ease of heading to the backyard for fresh herbs and vegies. A great alternative to garlic bread, serve this smoky and spicy starter pizza with handfuls of gorgeous garden herbs.
And my top 3 for Fresh Friday this week?
Going on long summertime walks to walk off the Christmas food belly!
Watching my puppy be the most excited family member at opening up her Xmas present (and then breaking it within 30min)
Looking forward to seeing my family in a few days when they come down to celebrate my 30th Birthday 😀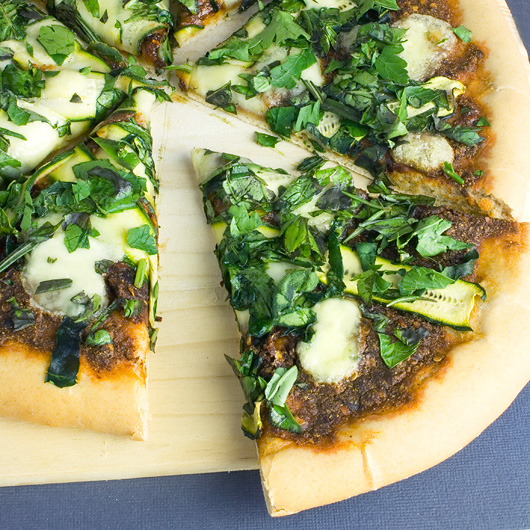 Zucchini, Harissa & Herb Pizza
A great alternative to garlic bread, serve this smoky and spicy starter pizza with handfuls of gorgeous garden herbs.
Author:
Alison Murray @ Om Nom Ally
Recipe type:
Pizza, Sides
Cuisine:
Egg-free, nut-free, soy-free, vegetarian, wheat-free. Gluten free with substitution.
Ingredients
1 large pizza base (bought or see attached recipe below)
2 tbsp harissa paste
1 tbsp extra virgin olive oil
1 medium zucchini
100g goat's cheese (or other soft cheese, e.g. bocconcini, fresh mozzarella)
½ cup chopped fresh spinach
½ cup chopped fresh basil
¼ cup chopped fresh parsley
1 tbsp chopped fresh rosemary
sour cream or natural style yoghurt to serve (see notes)
Instructions
Place a baking stone or round baking tray in oven and preheat oven to 180C. Place pizza base on a floured cutting board.
Combine harissa and olive oil in small bowl, apply paste to pizza base evenly, leaving a 1-inch edge.
Use a vegetable peeler to make thin zucchini slices, layer over the harissa on pizza base.
Roughly tear or cut goat's cheese and drop dollops over pizza. Scatter spinach evenly over toppings and gently slide pizza onto baking stone or tray.
Bake for 30 minutes or until crust is puffed and golden. Remove from oven and scatter fresh herbs over pizza. Cut into ⅙ths and serve immediately.
Notes
Too hot and spicy? Combine the 2 tbsp of harissa paste with 1 tbsp tomato paste and continue on with the recipe! Serve the pizza with sour cream or natural yoghurt to help cut through the spiciness.
Easy Spelt Pizza Base
An easy and fast dough recipe for a beautiful thick crust pizza.
Author:
Alison Murray @ Om Nom Ally
Ingredients
2 cups white spelt bread flour
1 tsp instant yeast
1 tsp unrefined caster sugar
½ tsp salt
2 tbsp extra virgin olive oil
¾ cup lukewarm water
Instructions
Combine flour, yeast, sugar and salt in a large bowl or bowl of a stand mixer.
Add oil and water and mix with a wooden spoonuntil a soft dough forms.
Turn out onto a floured surface and knead until soft and pliable.
Form a ball and place in an oiled bowl, rolling ball around to coat in oil.
Place clingwrap or a tea towel over bowl and place in a warm spot for 30 minutes or until doubled in size
After rising time "punch" the dough down to remove air, remove from bowl and knead dough for 1 minute.
Form a ball of dough and then roll out into a large, thick circle.
Add toppings and bake for 20-25min at 180C