Choc Chai Chia Pudding, Choc Chai Chia Pudding – try saying that 10 times!
It may be a bit of a tongue-twister, but it was the first thing I thought of making when Cheap Superfoods contacted me last week asking if I would use and review their Organic Chia and Cacao Powder.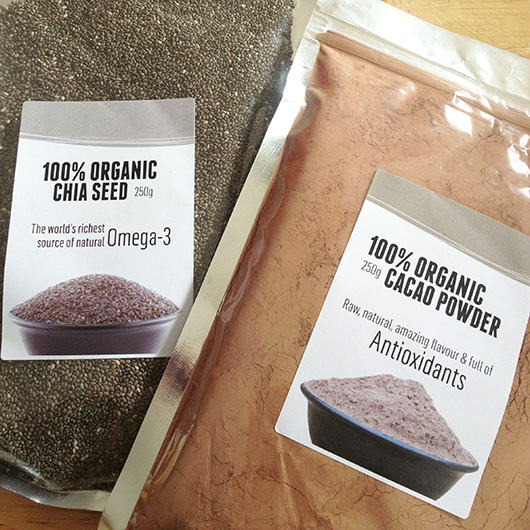 I'm already such a big fan of these two ingredients that I experienced something akin to the childlike expectations of Christmas waiting for my Organic Chia Seeds and Organic Cacao Powder to come in the mail. An Australian company offering 100% organic products that are fairtrade where possible, Cheap Superfoods also professes to be much cheaper than healthfood store purchases for Australian customers. While I did find the prices to be slightly cheaper to some of their other Australian competitors and in-store prices I've been paying,  it was the amazing quality that really made me a fan.
The chia seeds were free of the "fishy" smell that I've sometimes experienced with other brands. Instead it smelt very fresh and had a lovely mild, neutral taste like chia seeds should. The cacao powder was delightfully bitter and with it's superfine powder was incredibly creamy and easy to mix without any lumps. On the day of arrival the chia seeds quickly snuck into a soup for dinner while the cacao went into a mug of hot chocolate and some raw freezer chocolate. They both went into this tongue-twister of a dessert and all the dishes were amazing!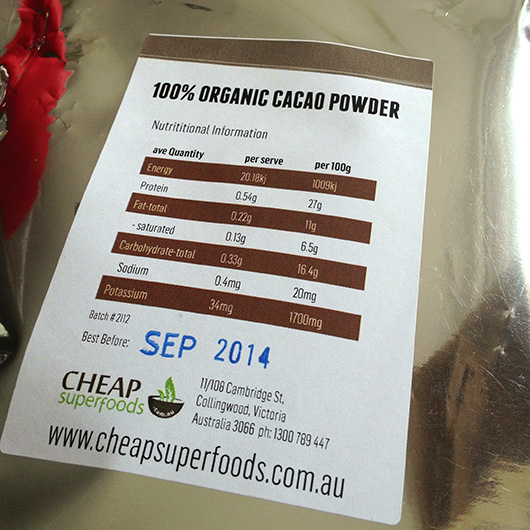 There's more than these two products available though, and I've got my eye on the Western Australian Bee Pollen (AKA the best bee pollen). I wish larger mid-size packets (non-wholesale amounts) were available as I whip through ingredients pretty fast, but I do love that they offer storage tins with purchase. I find resealable bags never continue closing properly for very long.
My only query after using their products and checking out their website, is where is the country of origin information for most of them? I'm always very interested in where my food is coming from, particularly when fairtrade arrangements are in place. While the cacao powder is of Peruvian descent (as stated on the website), the information is not on the packets. A minor niggle, but one that always matters to me when purchasing food products. User error on my part I'm sure…
Cheap Superfoods have a growing Facebook community where they offer free product samples, recipe ideas and superfood news and articles. They take polls on what products they should add to expand their range and are obviously very passionate about selling the most nutritionally rich food on the planet at heavily discounted prices. This really appeals to me as a healthy yet frugal eater.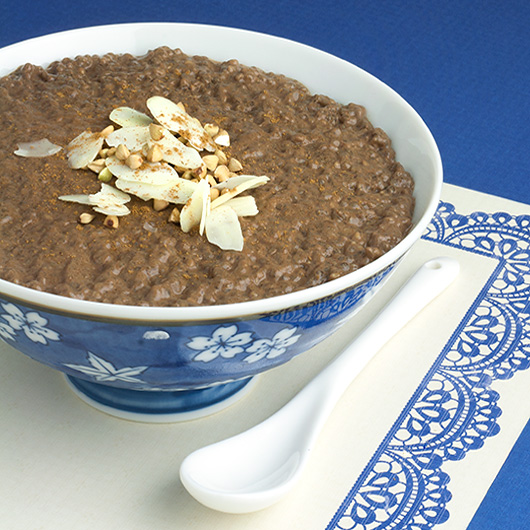 So now, the all-important Cheap Superfoods ingredient test. After quinoa ("Excuse me, do you sell quin-o-ah?"), chia is the next most mispronounced word I hear at work – with "chai" being the most popular way people say it. So while chai is the delicious spice blend (masala) and chia is the superfood seed, here the two very different ingredients get to play together in a luxurious cacao pudding. It's the perfectly effortless way to try out both of my Cheap Superfoods goodies. The verdict? Yummy enough that I ate the whole thing… Whoops?
Product Review: Cheap Superfoods + Choc Chai Chia Pudding
Choc Chai Chia Pudding, Choc Chai Chia Pudding - try saying that 10 times! It's a tongue-twister, but a delicious one!
Author:
Alison Murray @ Om Nom Ally
Recipe type:
Dessert, Snack
Cuisine:
Dairy-free, egg-free, gluten-free, soy-free. Raw; vegan or vegetarian depending on sweetener.
Ingredients
½ cup soaked almonds, plus 1 cup water (made up of soaking water + extra warm water)
1 tsp garam marsala spices
½ tsp cinnamon powder
1½ tbsp cacao powder
¼ tsp vanilla powder (or ½ tsp extract)
1 tbsp agave syrup (or honey)
⅓ cup chia seeds
Instructions
Add all ingredients except chia seeds to the bowl of a blender of food processor. Process until smooth and frothy. Pour into a bowl and add the chia seeds, mixing well with a fork to combine.
Refrigerate for 8 hours or overnight for pudding to firm up before serving. Top with a generous pinch of cinnamon, berries, sliced fruits or crushed nuts.