Chewing fresh honeycomb is one of the simple pleasures in life. I'm lucky to have a friend who has access to an active beehive; she sometimes sneaks a plastic container of honeycomb into my work locker. It's the most beautiful thing to spread over toast, waffles or pancakes, or you can cut off a chunk and chew it until the honey is all gone and you're left chewing the gummy wax that remains. While Kam prefers to dipose of the wax after a good gnash at it, I always recommend ingesting it – it's helpful for a number of digestion issues and could help to relieve seasonal allergies and hayfever.
 I don't always eat the honeycomb whole though as I also like to extract the honey by placing a few chunks in a bowl, crushing them up and then with a little bit of squeezing, pass the mixture through a sieve. This smoothie was made with some of my home-extracted honey and this easy method gives you a honey rich in pollen and propolis – the good stuff! – and leaves behind some wonderful beeswax for cosmetic or craft uses.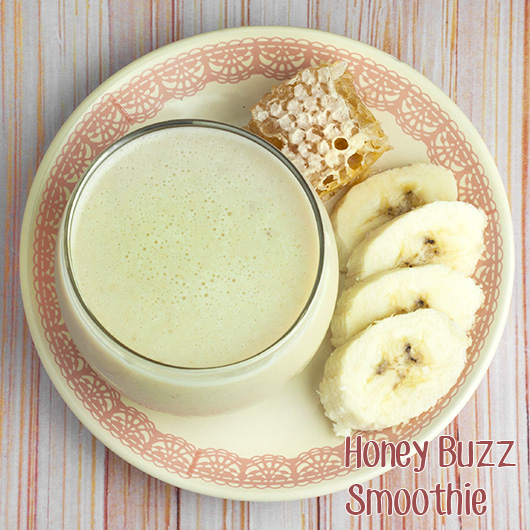 This refreshing smoothie will keep you buzzing for hours with energy boosting honey,  banana and maca powder. Honey is often known as nature's energy booster and is well known for promoting better blood glucose balance. You don't need to use honeycomb honey, choose a raw and organic brand of honey. Bananas can give you an instant energy boost as they are rich in carbohydrates and B vitamins (the energy vitamins!). Maca has quickly become known as a fabulous energy booster due to it's ability to act as an adaptogen and by stimulating the master glands of the body (hypothalamus and pituitary glands). This is a smoothie with a real buzz, perfect for all you busy little bees!
Honey Buzz Smoothie
With honey, banana and maca, this is the smoothie with a buzz for all busy little bees.
Author:
Alison Murray @ Om Nom Ally
Recipe type:
Beverages, Breakfast
Cuisine:
Egg-fee, Gluten-free, Wheat-free. Raw, Vegetarian, Dairy-free depending on milk choice.
Ingredients
1 large frozen banana, chopped
1 tbsp raw, organic honey
2 tbsp almond meal
1 ½ cups milk of choice (I used fresh almond milk)
½ - 1 tsp maca powder
Instructions
Add all ingredients to bowl of a blender. Blend until smooth and frothy. Pour into serving glass and enjoy.
This recipe is linked on: Tasty Traditions, Full Plate Thursdays, Make Your Own Monday.