Happy St. Patrick's Day for Sunday everyone!
While the Feast of Saint Patrick has been celebrated in Irish culture for over 1000 years, I'm quite late to the party and am only now putting on my green attire to blog for March 17th for the first time.
The Irish were some of the first settlers in Australia and Irish culture is in full flourish on St. Patricks day; as can be seen at regularly packed Irish pubs and restaurants (or any institution who puts on the "theme" for the day). In addition to the imbibing of Guinness and Bailey's there is also, of course, food. Hearty Irish stews, colcannon or any potato dish, corned beef and cabbage and soda bread should always feature heavily on any good St. Patrick's Day menu. Anything green (that normally isn't and possibly shouldn't be) and/or minty is always a popular idea too.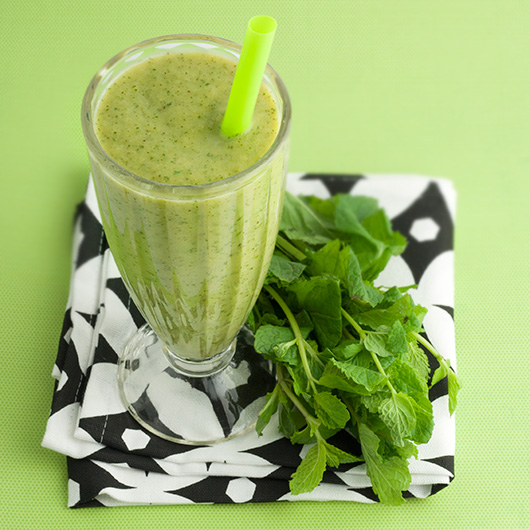 Each year McDonald's jumps on the "green and minty" St. Patrick's Day bandwagon, and every year I've muttered that I could do a better (healthier) Shamrock Shake. Now, I live in Australia so I've never actually drunk a McDonald's Shamrock Shake. It wouldn't be a hard stretch to improve it that's for sure, just read the nutritional info of the original drink here. Traditional Irish food isn't very fancy; it's home-style cooking, simple and hearty.  That shake has 26 ingredients (I didn't even count the "whipped cream" or the cherry ingredients as I haven't used those here) – it's frightening!
This Shamrock Smoothie recipe however has five fabulous ingredients, that's it! Minty and refreshing, you can enjoy this green smoothie anytime – not just St. Patrick's Day.  It's green, it's mean, but it's delicious and clean!
Healthy Shamrock Smoothie
This isn't your McDonald's Shamrock Shake - it's better! This minty smoothie is creamy and refreshing - good enough to enjoy year around!
Author:
Alison Murray @ Om Nom Ally
Recipe type:
Beverages, Raw
Cuisine:
Dairy-free, Egg-free, Gluten-free, Nut-free, Soy-free, Wheat-free, Raw, Vegan, Vegetarian.
Ingredients
2 green apples, cored and chopped
2 kiwi fruit, halved and skinned
½ a medium avocado
3 cups filtered or spring water
¾ cup loose packed mint leaves
Instructions
Place all ingredients in the bowl of a bolender and blend on high until smooth and creamy. Pour into to tall glasses and enjoy.
This recipe is linked on: Jam Hands, Tasty Traditions, Gluten Free Fridays.