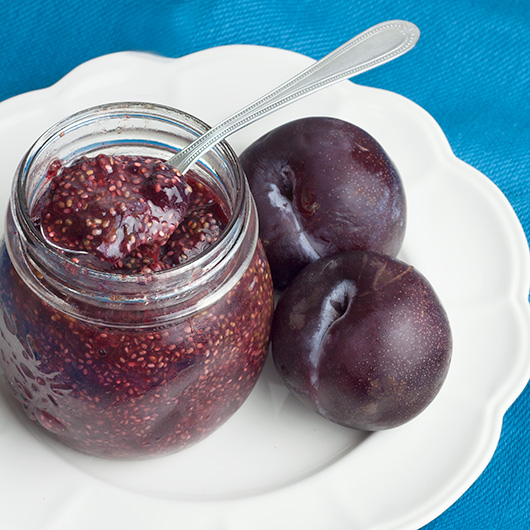 There's been a lot of emails with photo attachments in my inbox lately. It seems  that many of you loved the Cheater's (Chia) Strawberry Jam so much that simply saying it wasn't good enough. I received 10 photos of comprising of a collection of happy little jam jars, kids with strawberry-chia smears all over their faces and a few pieces of jam-slathered toast with big bites taken out of them – give me a nibble you teases!
I also had a few emails and comments about what other fruits people could try their hand at. While strawberries are always a winner, this is a recipe idea that works with many seasonally available fruits. There's certainly been an abundance of half-eaten jars of this-or-that chia jam in my fridge of late, with stone-fruit being a recurring feature.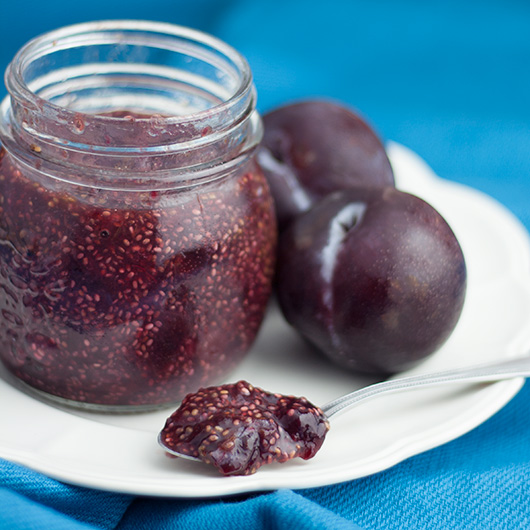 We've particularly been enjoying a lot of fresh plums this summer and while there are plenty of white, purple and pink fleshed varieties available, it's always the purple and red fleshed plums I go for – they're higher in anthocyanins after all, particularly the skins. There's a decent amount of antioxidants to be found in this seedy breakfast spread then and the combination of plums + chia make for a very fibre rich jam, handy if you don't like the stigma of buying prunes (not that I care, I love prunes!).
Health considerations aside, the best reasons to make this plum chia jam is the taste (flavourful with a gentle kiss of vanilla) and the ease (simple, basic, no problemo, painless, no sweat). Cut it, mash it, mix it, fridge it – that's it. Have you got a fork, some fruit and some chia? Ok Go!

Cheater's (Chia) Blood Plum Jam
No canning or cooking required - cheat your way to delicious plum (chia) jam!
Author:
Alison Murray @ Om Nom Ally
Recipe type:
Breakfast, Preserving
Cuisine:
Dairy-free, egg-free, gluten-free, nut-free, soy-free. Raw and Vegan.
Ingredients
3 large, softened blood (or other) plums
2 tbsp chia seeds
¼ tsp vanilla powder/paste OR ½ tsp vanilla extract
Instructions
Chop plums roughly and discard pits. In a small bowl, mash plums gently until broken up and juicy. Add chia seeds and vanilla powder and then pour into a 400ml sterilised glass jar.
Refrigerate for 60 minutes to gel up and thicken. Jam will keep in the fridge for up to one week, or can be frozen.