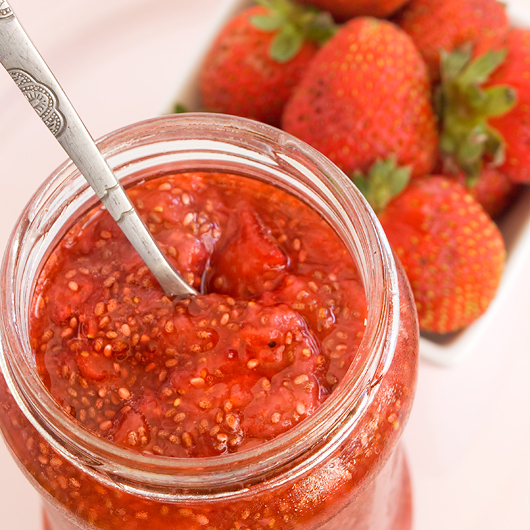 I came into 2013 with very high hopes of more free time and therefore more time for blogging. No, I'm not about to let you down and announce the weekly post has become a bi-monthly post, but things have changed quite a bit lately and I'm still attempting to settle into a new routine. I'm getting there, but hence the lack of posts the last two weeks.
I've been promoted at work you see (ooooer!), and my 4 long shifts at work have suddenly become 5 much more manageable ones (yay, I get to leave work at 4pm!). This change has meant a surge in energy and some extra time to get through my backlog of naturopathy homework. I know I've been neglecting my blog readers but when the urge to study hits I like to really get stuck into it!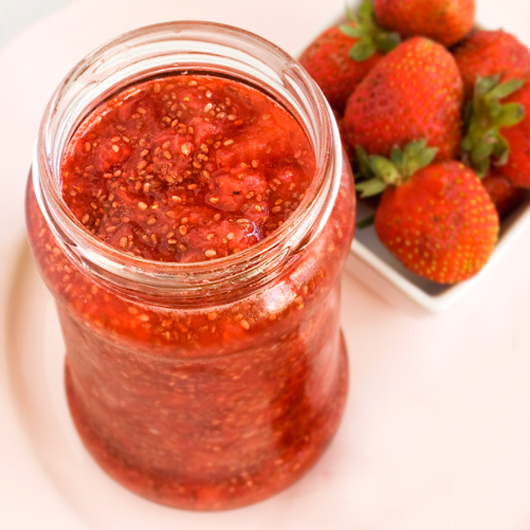 Now, I'm not the first person to make jam with chia, but I'm also not sure anyone quite loves these fabulous little seeds as much as I do. I could harp on and on about chia seeds to you, so great is their nutritional content and health benefits (fibre, essential amino acids, antioxidants, omega 3 fatty acids!), but instead of listening to me drone on  I just really want you to eat them. So here is another idea to add to your chia seed recipe collection!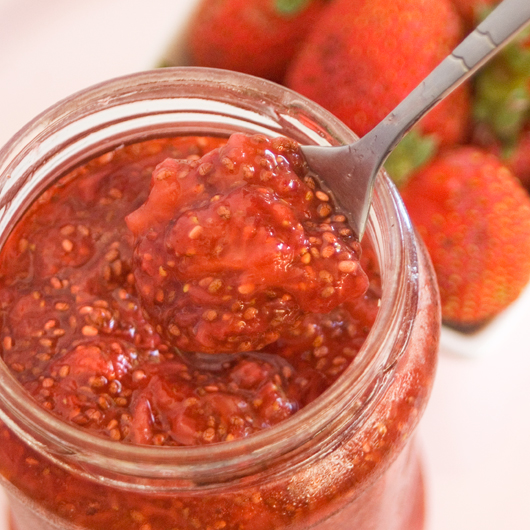 While I really want to get into canning and preserving this year, nothing quite beats the speed and effortlessness in mixing chia seeds with water and fruit to make this delicious Cheater's (Chia) Strawberry Jam. It's been my afternoon pick me up lately and I love that it's a homemade conserve that's also really good for me!  So try a nice big dollop of this easy chia jam on some buckwheat pikelets or crusty sourdough bread. Enjoy a generous spoonful swished through some natural yoghurt or your morning oats. You can blend your strawberries if you're not in a mashing mood, or grind your chia if you're not a fan of whole seeds. You could even try this jam in some Strawberries & Cream Lamingtons 😉

Cheater's (Chia) Strawberry Jam
No canning, no cooking, no sugar - cheat your way to delicious strawberry chia jam!
Author:
Alison Murray @ Om Nom Ally
Cuisine:
Dairy-free, egg-free, gluten-free, nut-free, soy-free, vegetarian. Vegan or raw with choice of sweetener.
Ingredients
2 tbsp chia seeds
2 tbsp water
1 tbsp raw, organic honey (or raw agave syrup / maple syrup)
250g strawberries, washed and hulled
Instructions
In a small bowl mix together chia seeds, water and honey. Put aside.
In a medium sized bowl, mash strawberries with a fork or potato masher until desired consistency.
Pour chia mixture over strawberries and mix to combine. Pour into a 400ml sterilised jar and refrigerate for 60 minutes to gel up and thicken. Jam will keep in the fridge for up to one week, or can be frozen.
Notes
Sweeteners:
Raw organic honey: Is raw but not vegan. Enhances the flavour of strawberries, many wonderful health benefits.
Raw agave: Raw and vegan. Has a mild sweet taste and depending on brand, undergoes minimal processing to remove water and concentrate the syrup.
Maple syrup: Vegan but not raw. Undergoes minimal processing including boiling and filtering to remove water and particulates.