It was with great trepidation then that I decided to mix things up by giving him a girly pink lamington for Valentine's Day. It's even in a heart shape. This is about as far as you could get from the traditional cube-shaped, chocolate-coated sponge lamingtons he loves so much. I could very well have ended up in the doghouse for Valentine's this year. Lucky I thought to keep the cream filling!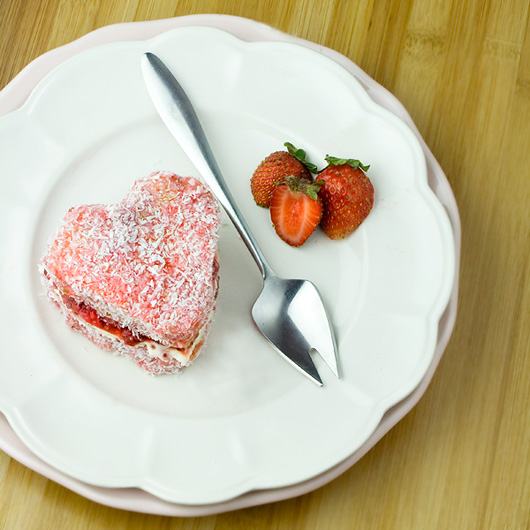 Like neenish tarts, pavlovas and meat pies, Lamingtons are about as Aussie as Aussie can be. It's also food reminiscent of childhood, frequently seen at school fetes and smeared all over small kids' faces. I remember participating in "Lamington Drives" with girl guides as a kid, cutting up pre-prepared sponge slabs and then dredging the cubes in chocolate and coconut. So strong are food memories, that I can't remember much of the time I spent in Brownies and Girl Guides except for that cake making experience!
I digress however and by the time you read this Kam has already devoured this coconutty, pretty-in-pink sponge. The happy moans of food pleasure I am hearing means I've ticked all the right lamington boxes. Happy Valentine's Day everyone and enjoy some Strawberries & Cream Lamington on me!
Strawberries & Cream Lamingtons
Chocolate lamingtons are so boring - try this strawberries and cream version instead for some pretty-in-pink food pleasure
Author:
Alison Murray @ Om Nom Ally
Recipe type:
Baking, Valentines, Dessert
Cuisine:
Nut-free, Soy-free, Vegetarian, Wheat-free
Ingredients
6 organic, free-range eggs
½ cup rapadura or coconut sugar
1 tsp vanilla extract
½ cup maize cornflour
1 cup white spelt flour
1½ tsp baking powder
½ tsp salt
50g butter, melted
250g strawberries, hulled and halved
¼ cup water
¼ cup icing sugar (I use Billington's unrefined Golden Icing Sugar)
2 cups organic dessicated coconut
½ cup pure or thickened cream
½ cup strawberry jam (like this one)
Instructions
Preheat oven to 180°C. Grease a 4cm deep, 18cm x 28cm baking pan and line base and sides with baking paper.
Using a stand or hand mixer beat the eggs, sugar and vanilla together for 5-8 minutes or until mixture becomes pale, thick and creamy.
Sift maize cornflour, spelt flour and baking powder together in a large bowl. Sift flour mixture again over beaten egg mixture. Using a large wooden spoon or whisk, fold in flours until just combined then fold in half the melted butter. Pour mixture into prepared roasting tray.
Bake for 25 - 30 minutes or until sponge is golden and just firm to the touch. Turn onto a wire rack lined with baking paper and cool completely.
Once cooled trim edges of sponge. Gently cut the sponge cake into two horizontal layers and then use a heart shaped cookie cutter to make sponge hearts. Alternatively, cut into rectangles.
Blend or process strawberries and water until pureed. Place a fine strainer over a large bowl and pour strawberry mixture into strainer. Use a spoon to help push the liquid through the strainer, discard remaining strawberry mixture (or use in a muffin or pancake). Add icing sugar and remaining butter to the strawberry mixture. Spread dessicated coconut over a large plate.
Gently dip the sponge hearts or rectangles one by one in the strawberry mixture and then the dessicated coconut to coat well. Place coated lamingtons on a wire rack to dry completely.
Using a large whisk or stand mixer, beat the cream until soft peaks form. Place a generous dollop of cream on half of the lamingtons, with a large dollop of jam on top of the other half, Sandwich alternating lamingtons on top of each other and serve or refrigerate.