If you've been following my Facebook page or Instagram feed, you would have noticed I recently scored 2.5kg of medjool dates for $25. Plump, moist and luscious; medjool dates are always a welcome addition to my smoothies, raw treats and afternoon snack times.
Something you couldn't discern from my social media however is that I'm really prone to technological disaster. I have a 4 slice toaster that I regularly find myself having to coerce two bread slices out again with force. The gas oven in our rented house never wants to stay calibrated and when I'm feeling extremely stressed my laptop and tablet seem to suddenly stop co-operating with me. The worst story though is the blender I destroyed with a errant date pit I forgot to remove. Whoops…..
For the past two years now I've been without a stand blender. A stick blender and a food processor have taken most of the brunt of my kitchen adventures since, but nothing makes as good a smoothie (or in this case raw truffles) like a high powered blender. This week then I've been excited to get my hands on Froothie's Optimum 9200 – a blender so powerful that if I forget to pit a date again… it will just blend it up!
A formidable rival to Blendtec and Vitamix, Froothie is an Australian company specialising in bringing high-powered blenders to the Australian public (at much lower costs than similar overseas brands). I've only had the machine for one full day and I'm head over heels in love. There was no more 'bits' in my green smoothie yesterday morning, I made the creamiest home-made peanut butter of my life and my carrot soup for dinner was silky smooth. Move aside food processor, there's a new favourite appliance in the kitchen!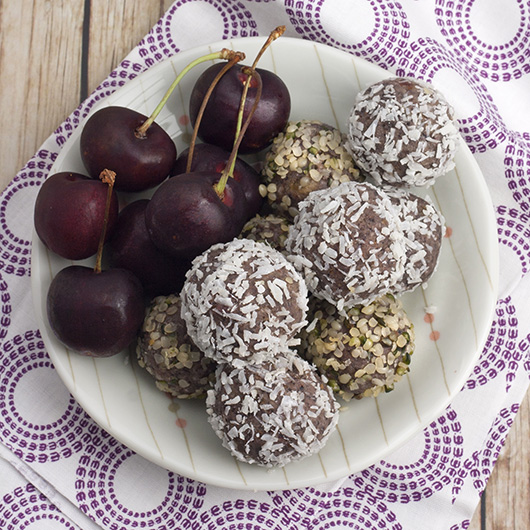 My first recipe to share with you fresh out of the blender jug, is these Fudgy Cherry Date Truffles. It's the raw treat to make when you want something decadent and chocolately,  smooth and velvety, tart and sweet. Blend everything up, roll in your favourite coating ingredient and try not to pop these raw cherry date truffles all in your mouth one after the other!
Raw Date & Cherry Protein Truffles
The treat to make with you want something decadent and chocolately, smooth and velvety, tart and sweet.
Author:
Alison Murray @ Om Nom Ally
Recipe type:
Snacks, Protein Snacks
Cuisine:
Dairy-free, Egg-free, Gluten-free, Soy-free, Vegan, Raw.
Ingredients
5 medjool dates, pitted
½ cup pitted cherries, fresh OR frozen and defrosted
¾ cup raw cashews
½ cup almonds
2 tbsp dessicated coconut
1 tbsp chia seeds
¼ cup coconut oil, melted
2 tbsp hemp protein or raw sprouted rice protein (or any other protein for non-raw snack)
1 tsp ground cinnamon
¼ tsp vanilla powder (or ½ tsp vanilla extract)
Coating: ¼ cup hemp seeds or sesame seeds, desiccated/shredded coconut, flaked almonds, crushed nuts etc.
Instructions
Add all ingredients (except coating ingredients) to the jug of a blender or food processor. Blend until creamy and smooth. Roll into balls and then roll in coating ingredients.
Refrigerate for 30 minutes or until firm and then enjoy.