I'm all about craving food at really inappropriate times, and it's really too cold here in Melbourne to be craving popsicles (13C days, 3C nights). Soon enough it will be summer though and daydreams of pineapple, coconut and ginger always help this shivering blogger get through these cold, cold days. Well, that and walking around the block on my lunch break to catch some sunshine, looking at photos of Hawaii and wishing for impromptu getaway and sitting at my laptop right now wearing 2 jumpers to warm up.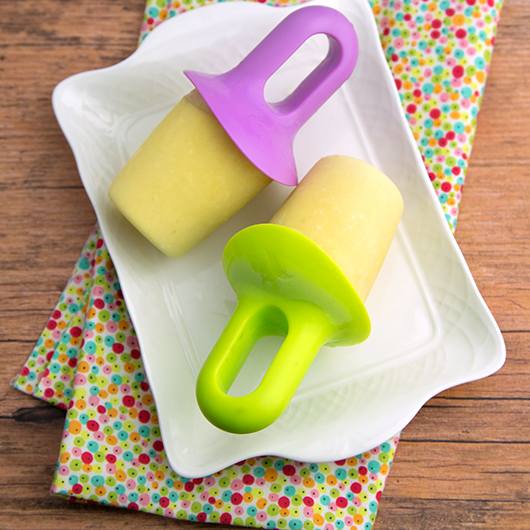 While it's evident that I hate cold weather, I do love freezing cold popsicles as this dessert is always guaranteed to be a fun recipe to mix up in your blender (I use a high-powered Froothie Optimum 9200 for best results). You can go for smooth and creamy, flavoured and icy and even add in some fruit chunks if you're feeling adventurous with a recipe. This one's even that little bit better than normal thanks to it's blended cottage cheese and coconut flour base. Dessert hardly feels like dessert at all when it's also high in protein and fibre!
Now let's all grab a popsicle, hundle in front of the heater and wish for my sake that warmer weather turns up sooner than expected. Knowing my luck though, when summer does arrive, I'll start craving piping hot soups and stews 😛
High-Protein Pineapple & Ginger Popsicles
These High-Protein Pineapple & Ginger Popsicles are given a healthy boost by using high-protein cottage cheese as the base.
Author:
Alison Murray @ Om Nom Ally
Ingredients
½ medium pineapple, peeled and chopped
250g cottage cheese
¼ cup fresh orange juice
2 tbsp coconut flour
1 tsp vanilla extract
⅓ cup coconut sugar
2 cm knob of ginger, peeled and grated
Instructions
Add all ingredients to the bowl of a food processor or blender and blend until smooth. Pour into popsicle moulds and freeze for at least 6 hours.