Happy National Cashew Day (and Thanksgiving) to all my American friends and readers!  While this fun holiday might instigate the age-old argument of plain vs salted vs roasted vs honeyed I love that all you need to participate in National Cashew Day is to simply eat some cashews.
There is a lot of food related holidays in the USA; I've saved a few calendar lists I've come across so I can plan some posts for next year. When I looked into the origins of the National Cashew Day it turns out it was first celebrated in Brazil with cashew based dishes that showcased the rich texture and flavor. What started as family based celebrations slowly started spreading to different parts of the world. I found this day listed as being either the 22nd or the 23rd from different sources – I think I'll celebrate it both days to be fair (and to eat a lot more cashews)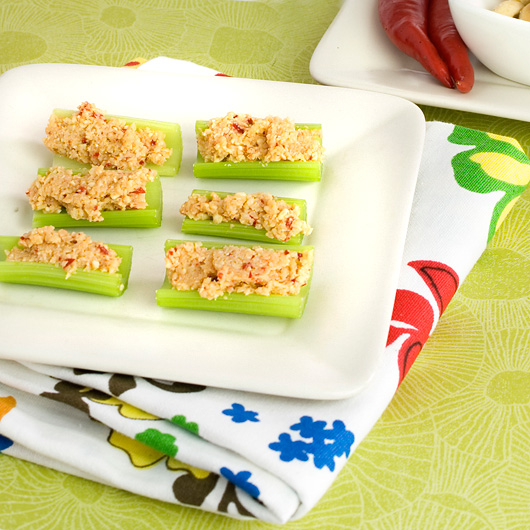 I originally made these celery bites for a Melbourne Cup race day picnic with friends. This is the best every celery-stuffer since peanut butter. Chill celery bites before serving and you've got a refreshing summer snack. Use cashew cheese leftovers on crackers with avocado, tomato and sprouts or salad leaves for a light lunch.
Celery Bites with Savoury Cashew Cheese
The best stuffed-celery recipe since peanut butter! Make up some savoury cashew cheese to celebrate USA's National Cashew Day on November 23.
Author:
Alison Murray @ Om Nom Ally
Cuisine:
Dairy-free, egg-free, gluten-free, raw, vegan.
Ingredients
6 celery sticks, rinsed and cut into 5cm lengths
1 cup raw or unroasted cashews
1 long red chilli, diced
2 cloves of garlic, minced
Water
½ tsp miso
½ tsp tamari, soy sauce or shoyu
Instructions
(Optional) Activate cashews by soaking in water overnight. Drain and pat dry before proceeding with recipe.
Place all ingredients except for celery in a food processor, pulse until well combined and still a little chunky. Add a water, a little at a time if needed to help mix.
Spoon mixture into celery sticks. Chill before serving.