This is a lengthy post – skip straight to the recipe by clicking here.
My garden appears very different to last month, notably it's a lot more sparse.
I went on a yanking, chopping and ripping out rampage that was every bit as violent as it sounds. It started with the discovery of dozens of white cabbage moth caterpillars where previously there were none and culminated with great disappointment over beds of plants all bolting. My compost bin is certainly delighted; it's stuffed to the brim and I like to imagine it grinning maniacally.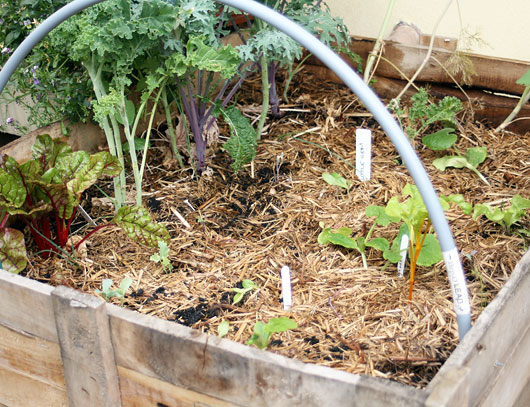 The broccoli plants are all now gone, having progressed from the promise of tender heads to branched out flowers overnight. 3 days of hard rain followed by a 26C day seems to be all it took for the bolting of all the plants. Into the compost they all went with a great flinging motion.
A few straggly radishes that hadn't bulbed after a month followed, and then in a full-on anti-Brassica assault I pulled all the cabbages, cauliflowers and kohl rabis still in the soil. I've since decided to stick to my favourite Brassica plants (fast-growing and almost sweet candy stripe radishes, glorious kale and tender asian greens) and have left room in these now sparse beds for zucchinis, mini pumpkins and silverbeet plants to stretch out.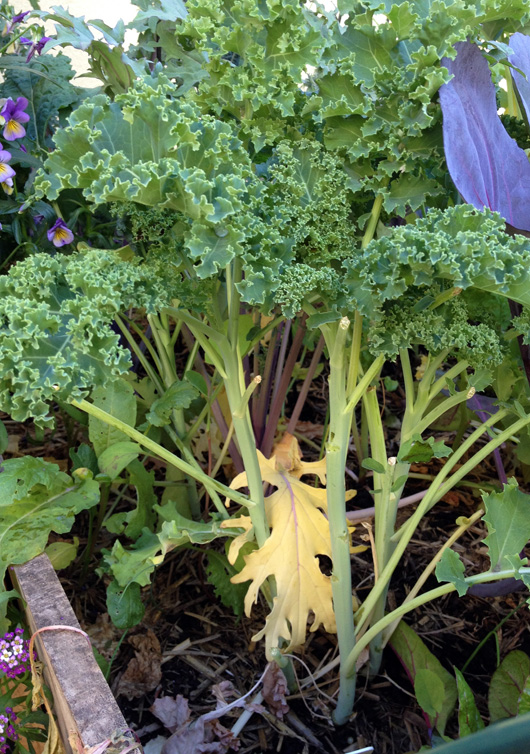 The strawberry patch is all netted now and fruiting steadily; the dog has decided (when she's not stripping snow peas from the stalks) that strawberries are her favourite food. 10 new runners have been cut off the strawberry plants this week to encourage flowering; the lemon tree I potted has lots of new shoots on it. The feijoa, bay tree and rosemary bush are all branching out too.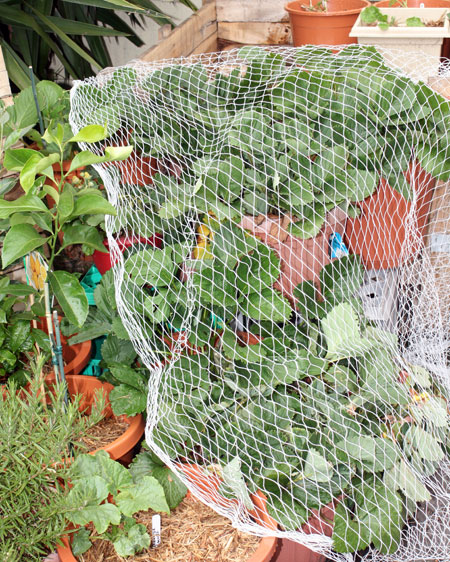 My tomato seedlings from last month have all been transplanted. I'm hoping to end up with two strong plants of a few varieties for simple eating, salsas and relishes and four Roma tomato plants for bottling pasta sauces and pastes. I've also planted out my pumpkins, melons and cucumbers and started some pickling gherkin cucumbers.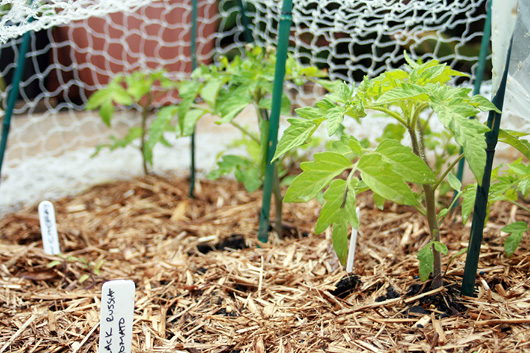 By far the most exciting thing this month in the garden though is the abundance of potatoes. I planted some seed potato a few months back and watched them yellow and flop over the other week. After adding the spent tops to the compost, I armed myself with a small shovel and gardening prongs to poke around in the dirt for the bounty awaiting. At first I thought there was only tiny taters to be found, turns out the all the bigguns were right at the bottom of the bag. Yippee!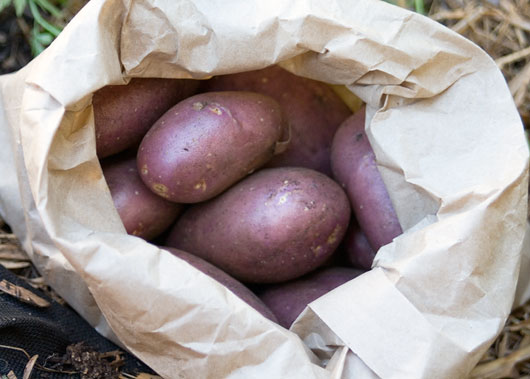 I'm extremely happy with my potato harvest, there is well over 2kg of potatoes from each of the two bags I've dug up and I've still got one plant to go. Stored in large paper bags currently, I have ordered some hessian sacks online for storage (why don't green grocers have hessian bags anymore? I keep getting told potatoes come to them in cardboard boxes now…)

This recipe is so simple, it almost doesn't warrant being written down. I've never enjoyed Mayo-based potato salads, but this one tickles my fancies wonderfully. Use your favourite salad or all-rounder potatoes and enjoy as a easy and healthy side salad for BBQ's or light meals.
(I'll have to update the post with a recipe image soon, it was eaten too quickly the last few times to get the camera out)


Mayo-free Potato Salad
I love potato salad, but lots of mayo leaves me feeling heavy and flat - so I skip it! This potato salad is herbed and tangy, you won't miss the creamy mayo at all.
Author:
Alison Murray @ Om Nom Ally
Recipe type:
Salad, Sides
Cuisine:
Dairy-free, Egg-free, Gluten-free, Nut-free, Soy-free, Vegan
Ingredients
500g potatoes, scrubbed and cut into 2cm cubes
1 medium red onion, chopped
¼ cup extra virgin olive oil
juice of ½ lemon
2 tbsp fresh, finely chopped rosemary
1 tbsp fresh, finely chopped sage or thyme
½ tbsp fresh, finely chopped parsely
fresh ground pepper and celtic sea salt to taste
Instructions
Steam cut potatoes until tender. Combine olive oil and lemon juice in a small bowl.
Transfer potatoes to a large mixing bowl while still warm and pour over dressing mixture.
Add red onion and herbs and toss gently to combine. Season with salt and pepper and serve warm.