Generally speaking, Kam is pretty happy letting me do all the meal planning (and all the cooking grumble grumble). He's always expressed how much he loves my cooking and is pretty easy going with my food whims and desires. As long as his meals are 1) protein rich and 2) filling, he'll eat just about anything I pile up in front of him.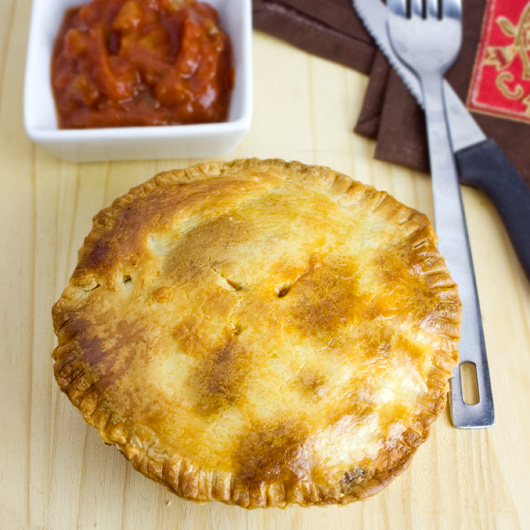 I'm become very aware however that we're always tucking into my favourite meals or eating my favourite ingredients. He never complains, but it's very easy to get into "what would Ally like to eat" food rut.  So when I hand over the meal decisions to him I get to cook things  different to my usual choices.
These beef and mushroom pies were one of those recipes. Kam's rotated into a busy warehouse at work and requested some very manly and hearty lunch-sized pies to fuel him up. Lean beef, tender lentils and lots of delicious vegies tick those boxes. This is big batch cooking so halve the amounts or freeze half the finished pies to enjoy later.
So… what's your favourite pie filling?
    … tell me – do you love a pastry crust, or potato/sweet potato mash topping?
   … who does the meal planning and cooking in your household?
Individual Beef & Mushroom Pies
Individual-sized beef and mushroom pies filled with lean beef mince, mushrooms and vegies. Delicious and hearty for big appetites!
Author:
Alison Murray @ Om Nom Ally
Recipe type:
Main, Lunch, Beef
Cuisine:
Dairy-free, nut-free, soy-free. Gluten-free and egg-free with substitution (see recipe for details).
Ingredients
½ cup brown lentils
1 tbsp rice bran oil
1 large onion, diced
2 large carrot, diced
2 celery stalks, diced
250g mushrooms, roughly chopped
1 cup kale, silverbeet or spinach, finely chopped
500g organic or biodynamic beef mince
2 tbsp plain, spelt or plain gluten free flour
2 tbsp tomato paste
1½ tbsp dijon mustard
1 can organic diced tomatoes
1 cup beef or vegetable stock
6 puff pastry sheets (gluten free if necessary) or enough homemade pastry for 6 pies
1 egg, lightly whisked (or for allergies substitute with a small amount of water)
Instructions
Boil lentils in enough water to cover them, for 10 minutes or until tender. Drain and put aside.
Heat oil in a large saucepan on medium-high heat. Add onion, carrot and celery, cook for 5-10min until softened.
Add mushroom and greens and cook for 5 minutes until mushrooms have softened and browned.
Add mince and cook for 5 minutes or until browned. Stir in the flour until well combined and then add lentils, tomato paste, dijon mustard, tomatoes and stock.
Reduce heat to low and stir often for 20-30 minutes or until mixture reduces and thickens. Take off the heat and cool.
Preheat oven to 220C. Grease 6 individual pie tins or a texas muffin tray. Cut puff pastry sheets into quarters and roll 6 squares of pastry out on a lightly floured surface to fit the pans or muffin tins. Line the pans with some pasty left overhanging.
Divide the filling between the pastry tins and brush the edge with egg mixture (or a little water). Place remaining pastry squares on top and run a sharp knife around edge to slice off overhanging pastry. Pinch or use the back of a fork to seal edges.
Bake in oven for 10-15 min then reduce heat to 200C and bake for another 20min until puffed and golden brown. Cool in the tin for a few minutes and then turn out onto a plate to serve, with green salad and tomato relish or sauce.
Notes
Pies can be frozen after baking. Wrap in plastic wrap and aluminium foil and freeze for up to 6 months. Reheat in a 200C oven for 30 minutes.