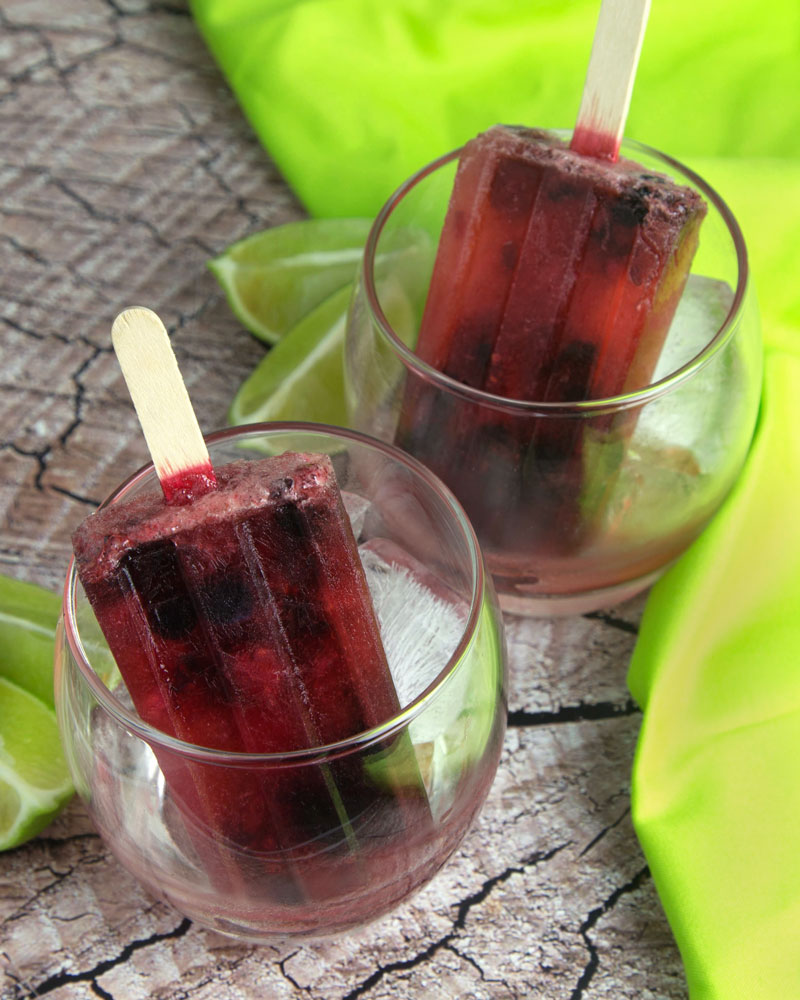 I've chosen to be in denial regarding the abrupt end to summer ten days ago. It may be March now and I may have already taken my winter coat our of the wardrobe last week, but I'm desperately clinging to the belief that the  Melbourne still has a few warm days up it's hat. I'm not ready for the bone-chilling winds of winter yet and, more importantly, I've still got trays of homemade popsicles that need to be eaten!
We've been making a lot of popsicles this past summer and I'm not quite ready to let go of their icy, sticky, drippy goodness – particularly because it became tradition to enjoy them on the couch while bingeing on Netflix (has anyone else just watched House of Cards Season 3 or the new series The Unbreakable Kimmy Schmit?). Good times!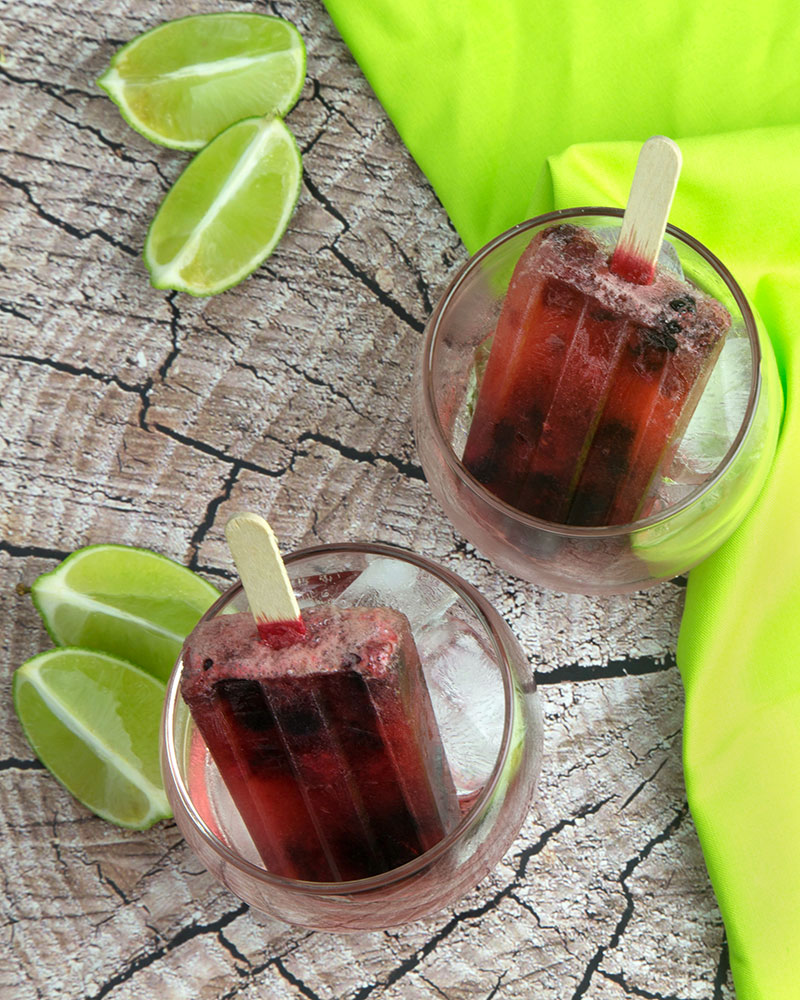 Made with a cooling and refreshing base of coconut water, fresh lime and cucumber juice, these popsicles are bursting with summer flavours – and health benefits! Berries are one of the healthiest foods on the planet, and each berry and lime popsicle contains a small handful of these antioxidant-rich fruits.
It's important to mention here the necessity to always obtain your berries seasonally and locally, whether fresh, frozen, or picked straight from your garden. This is doubly recommended after the recent imported berry health warnings recently and while strawberries and blueberries can be easily grown at home, lots of other berries can be found locally in summer at pick-your-own farms. I thoroughly recommend a trip to The Bramble Farm at Langwarrin, VIC for raspberries and blackberries  – just remember to make lots of room in the freezer before you go!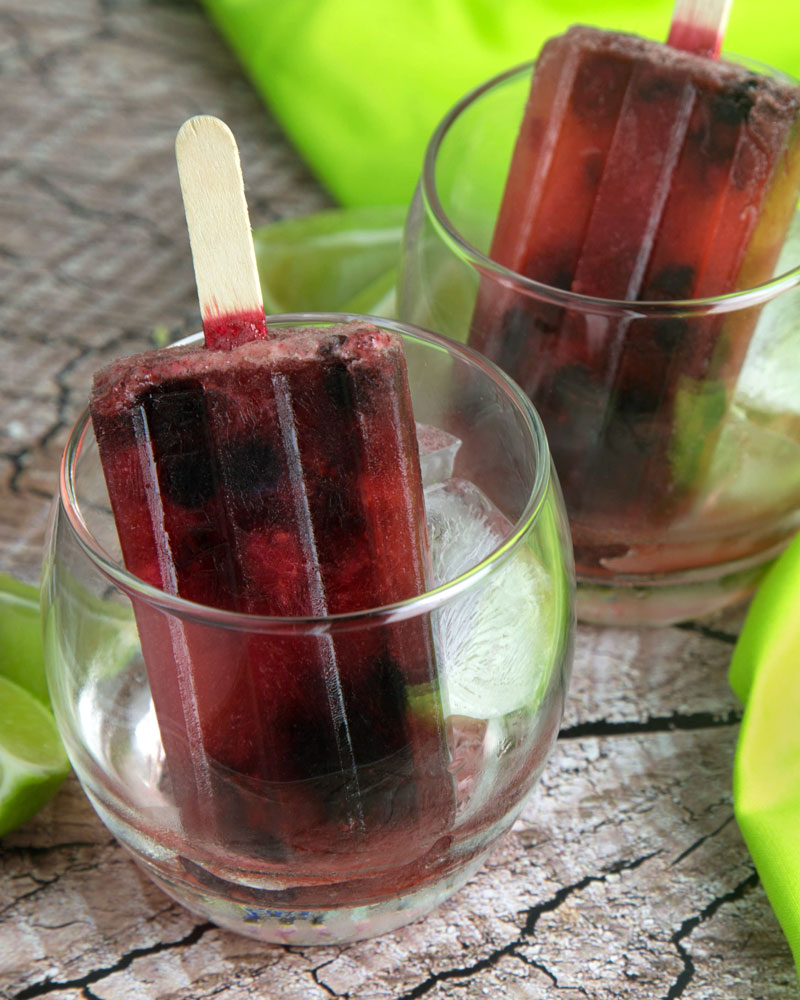 So, which berries should you use for your popsicle mix? Go ahead and choose 2-4 options from the following – blueberries, raspberries, blackberries, boysenberries and strawberries – to enjoy a vast range of different phytochemicals including flavonoids, tannins and anthocyanins. These amazing and delicious berries have huge health benefits including anti-inflammatory and anti-cancer effects, improving blood glucose control and cardiovascular health. That's pretty amazing for such tasty little morsels!
This recipes makes a big batch of muddled berry popsicles (around 8-10 when using these moulds), so feel free to halve the recipe amounts if you have a small set of 4-6 moulds. The only other decision is you're going to eat them – my recommendation is to slurp and sip during My Kitchen Rules on Monday-Thursday nights. That's what I'll be doing for the rest of this batch at least 😉

Muddled Mixed Berry & Lime Popsicles
Made with a cooling and refreshing base of coconut water, fresh lime and cucumber juice, these muddled berry and lime popsicles are bursting with summer flavours.
Author:
Alison Murray @ Om Nom Ally | www.omnomally.com
Recipe type:
Dessert, Popsicles
Cuisine:
Dairy-free, egg-free, gluten-free, grain-free, nut-free, soy-free, wheat-free, vegan. Paleo depending on ingredient choice.
Ingredients
2 cups mixed berries (I used blackberries, raspberries and blueberries)
1 lime, peeled and juiced
1 large Lebanese cucumber, juiced
2 cups coconut water
½ tbsp rice bran syrup OR maple syrup
Instructions
Place mixed berries in a bowl and gently muddle (squish) with the back of a fork. Stir well to combine and spoon equally into an 8-10 popsicle moulds.
Blend remaining ingredients on high for a few seconds to combine and then pour into prepared moulds with berries. Freeze for 8 hours or overnight OR according to popsicle mould instructions.