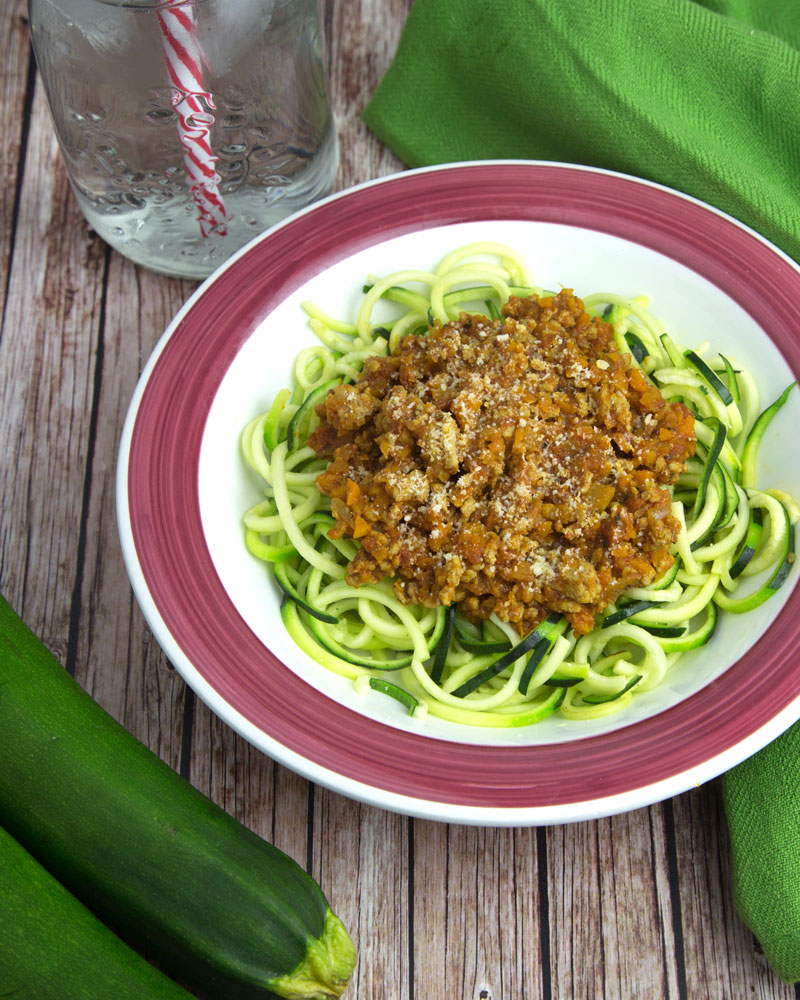 Have you joined the vegetable spiraliser party yet? The popularity of this kitchen tool has exploded in recent months and I believe it's due to the awesome balance between 'healthy' and 'fun' food that this pimped-out mandoline can help you achieve. Eating lots of veggies is one of the keys to staying healthy and a spiraliser makes that task more enjoyable by changing traditionally stodgy meals like pasta dishes into superfood super-meals!
It's not much of a shock that the vegetable spiraliser has become the hot new kitchen tool for health-minded, raw, gluten-free, grain-free, paleo or low-carb foodies, as it almost magically transforms dense and chewy raw vegetables into a pleasant-to-eat, raw or cooked base for your favourite recipes. I first bought my desktop gadget when we ate a lot more raw, vegan and vegetarian meals and these days it still in heavy use for pumping up the vegetable content of our meaty mains. We love using our vegetable spiraliser so much in fact, that it's going to be one of the first featured products when we reopen our Om Nom Ally online store in a few weeks!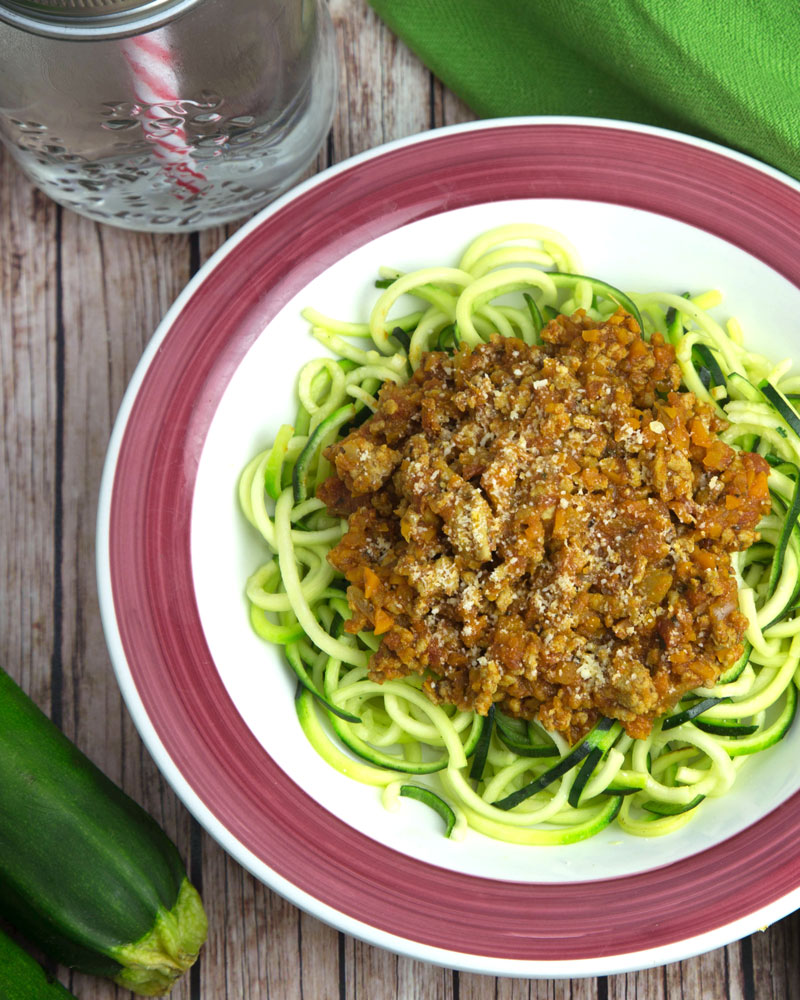 Vegetable noodles are lower in calories obviously (if that's what you're into), but they are also higher in fibre (as well as an array of vitamins and minerals) than traditional pasta or noodles. The gadgets themselves have been around for yonks, but I'm excited these days that there are so many more delicious recipe ideas out there compared to when I bought my gadget four years ago. In particular there's now hundreds Pinterest boards celebrating the many ways you could use spaghetti or fettuccine-style vegetable noodles and ribbons in your everyday meals. The inspiration for this nifty device is limitless.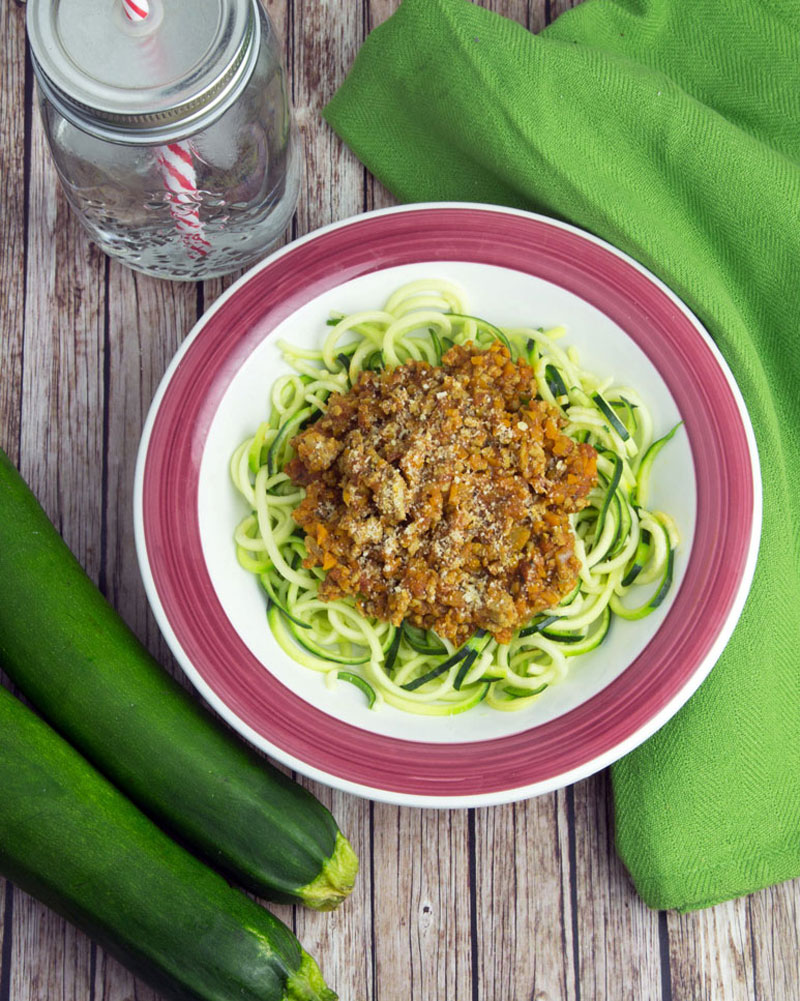 This dish is pretty typical of how I use my spiraliser and the beef bolognese sauce, with it's hidden carrot and celery, is a simple and nourishing addition to be spooned over our favourite zucchini-based noodles ("zoodles") plentifully . It's a meal we enjoy over and over – hearty, protein and fibre-rich fare – and a great weeknight meal whether you're a beginner or a pro at turning out some homemade zoodles.
My favourite tip for spiralised meals is that I like to gently saute the zucchini noodles in a pan before serving to soften them up. Delightfully crunchy when raw, you'll hardly notice or miss the difference between these and traditional spaghetti when slightly cooked, as they become soft and almost silky. This would also be perfect for picky eaters who loathe to try anything new, different or vegetable laden. Try it both ways, raw or sauteed, and discover which you prefer.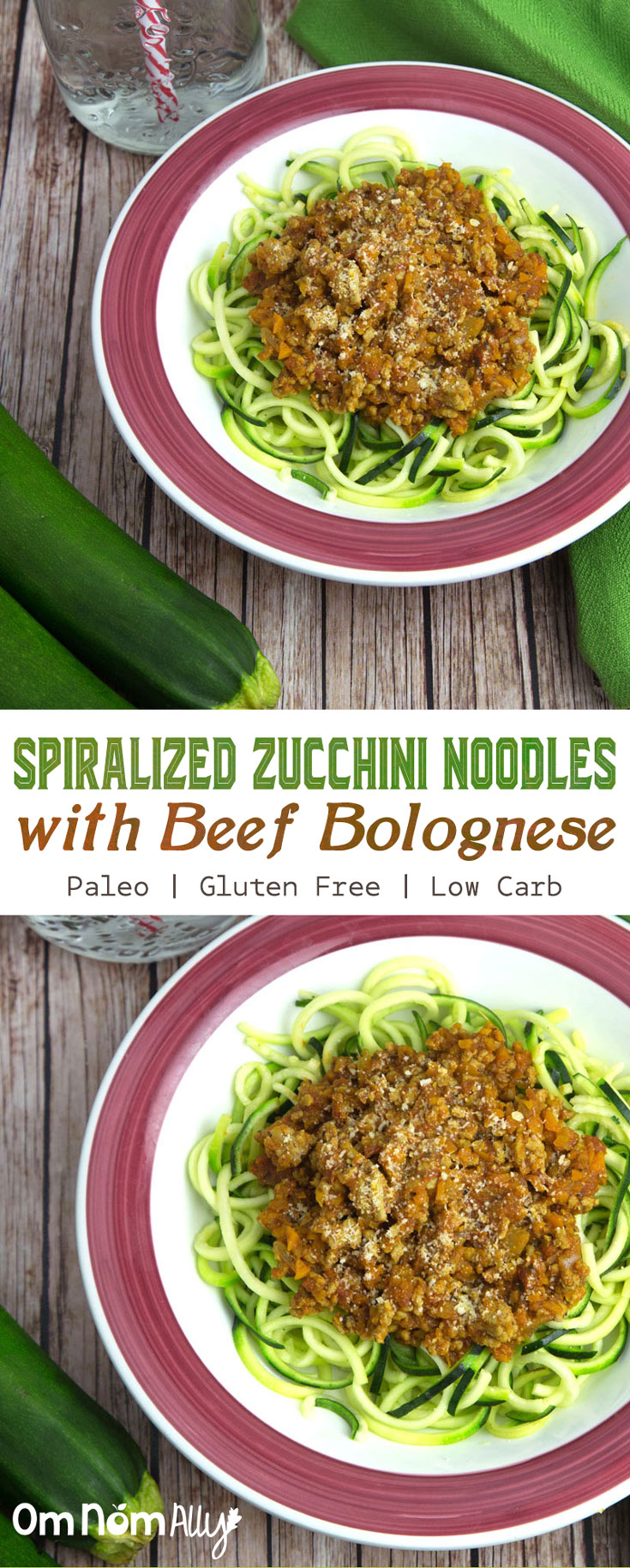 Spiralised Zucchini Noodles with Bolognese
This beef bolognese sauce, with it's hidden carrot and celery, is a simple and nourishing addition to be spooned over our favourite zucchini-based noodles.
Author:
Alison Murray @ Om Nom Ally | www.omnomally.com
Cuisine:
Egg-free, Gluten-free, Grain-free, Nut-free, Soy-free. Dairy-free and Paleo depending on cooking oil choice.
Ingredients
1 medium brown onion
2 cloves garlic
2 ribs of celery
2 medium carrots
1 tbsp ghee or coconut oil
500g biodynamic, organic or grass fed beef mince
1 cup beef or vegetable stock
2 400g cans organic diced tomatoes
2 tbsp organic tomato paste
1 tbsp apple cider vinegar
2 tsp dried oregano
2 tsp dried rosemary
1 tsp dried thyme
1 tsp smoked paprika
1 tsp ground turmeric
¼ tsp chilli powder
2 bay leaves
2 large zucchinis
(optional) grated Parmesan cheese (not paleo), or nutritional yeast flakes to serve
Instructions
Roughly chop celery and carrot and add to the bowl of a food processor, process until finely diced and put aside. Finely dice slice brown onion and mince garlic bulbs and put aside.
Heat ghee or oil in a saucepan over a medium heat and then cook onion and garlic until softened, around 4-5 minutes. Add mince to saucepan, breaking up the mince with a wooden spoon and cooking until well browned browned.
Add celery, carrots, stock, diced tomatoes and paste, apple cider vinegar, all seasonings and the bay leaves, stirring well to combine. Bring mixture to a boil and then reduce to a simmer. Cover partially and simmer for 30min - 1 hour, stirring occasionally until sauce has reduced and thickened. Season with salt or (celery salt) and pepper to taste. Remove bay leaves and discard.
Using a vegetable spiraliser, follow manufacturer instructions to make spaghetti from zucchini. Chop spaghetti roughly once or twice to reduce length.
To warm and soften spaghetti, heat a little oil or ghee in a pan and add the noodles, stirring and turning a few times with tongs. Remove from pan once warmed and divide between four bowls. Top with generous amount of bolognese and Parmesan cheese and serve.