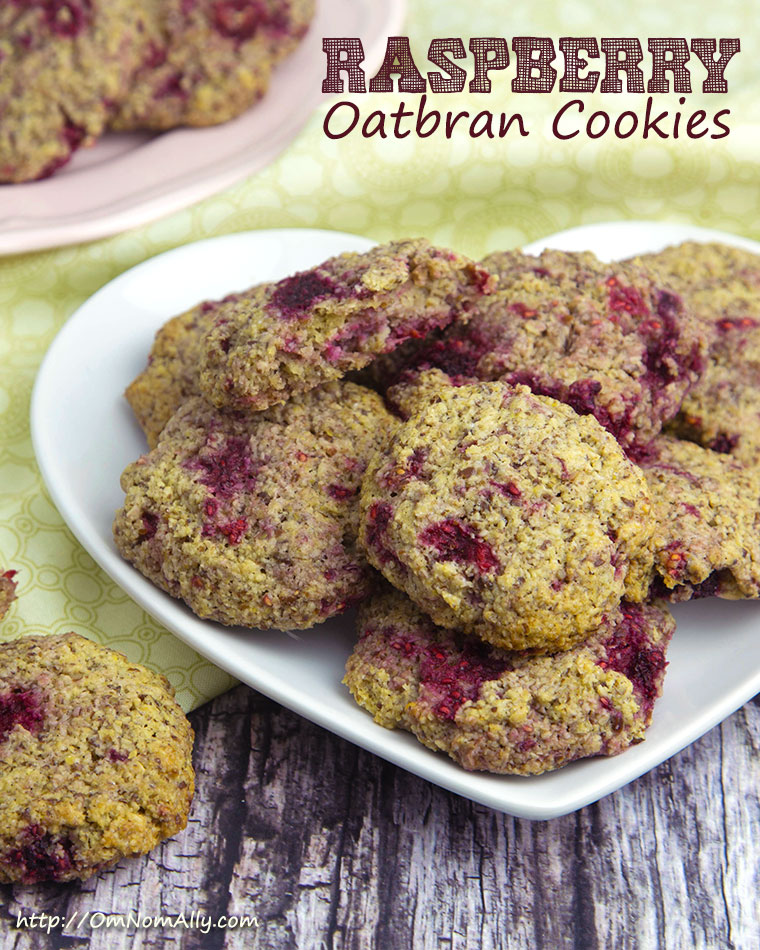 I have been lusting over these Rasperry Oatmeal Cookies by Amy's Healthy Baking for days now. There's still an abundance of raspberries from my pick-your-own adventures in the freezer and I'm a getting little bored of raspberry smoothies every morning. A girl needs some fresh ideas now and then! I've been waiting for a good excuse to whip out a new cookie recipe too, all I've been waiting onwas this stash of samples to arrive from Norbu – a natural sweetener product containing erythritol and monk fruit. You don't have to use Norbu for this recipe (scroll to the bottom of the page and your favourite healthy sweetener will do the trick), but check out my review below for why I think this is another option for a sugar-free kitchen.
Xylitol is banned in our kitchen (as it gives both Kam and I some unpleasant intestinal symptoms), and I've never had much experience with other sugar alcohols like erythritol before. I did a little research on the product after Norbu reached out to me and Body Ecology has a wonderful run down on the properties of erythritol particularly, which tells us that it's 60-80% as sweet as sucrose (sugar) and very safe to eat as a sugar substitute.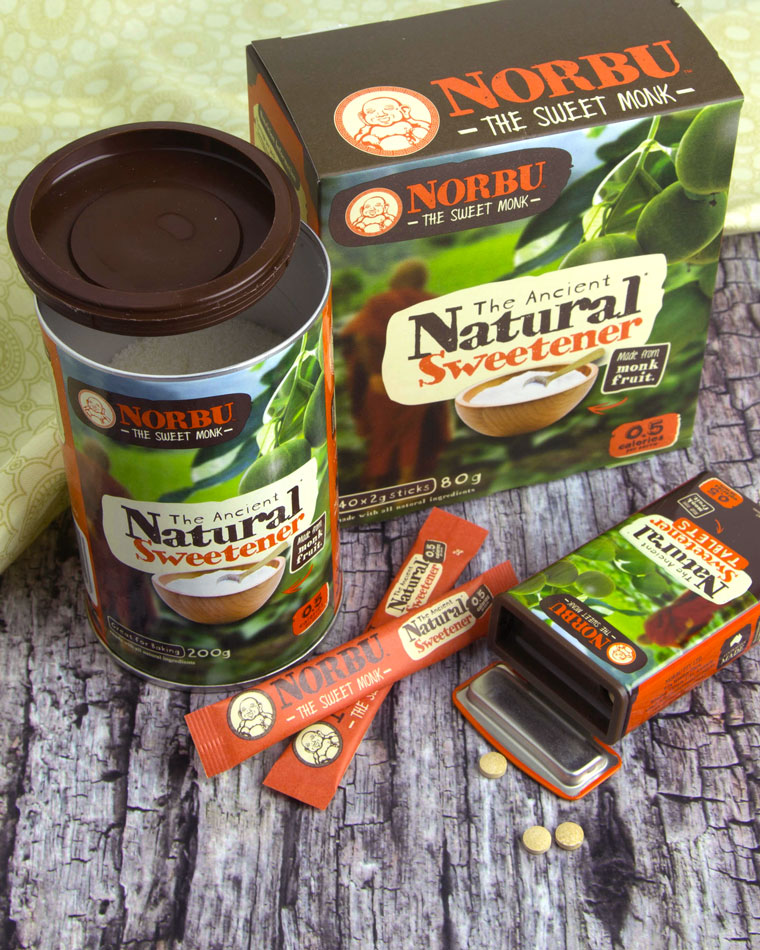 Erythritol is in fact made from the fermentation of corn (xylitol and maltiol are made by hydrolysis of corn products) and while not very sweet on it's own, is best used with another sweet ingredients to boost the flavour of drinks, raw desserts or when baking. It's also virtually calorie free (0.5 Cal per serve) and the easiest sugar alcohol to digest with more than 90% absorbed in the small intestine. This is unlike other other sugar alcohols (like troublesome Xylitol) that may cause diarrhea and other symptoms due to their presence in the colon.
Monk Fruit (Luo Han Guo) is also a completely new ingredient for me and is made from Siraitia grosvenorii, a fruit used by TCM practitioners for centuries as a treatment for diabetes and obesity which is very low GI and low in calories. It's described as being naturally sweet and 'fruity' but is only suitable to be used in very small quantities in recipes (similar to stevia). It's only when the monk fruit is combined with a bulk sweetener like erythritol that you can replace the sugar content in most recipes easily – with Norbu you can even use 1/3 less sweetener compared to using sugar in your recipes.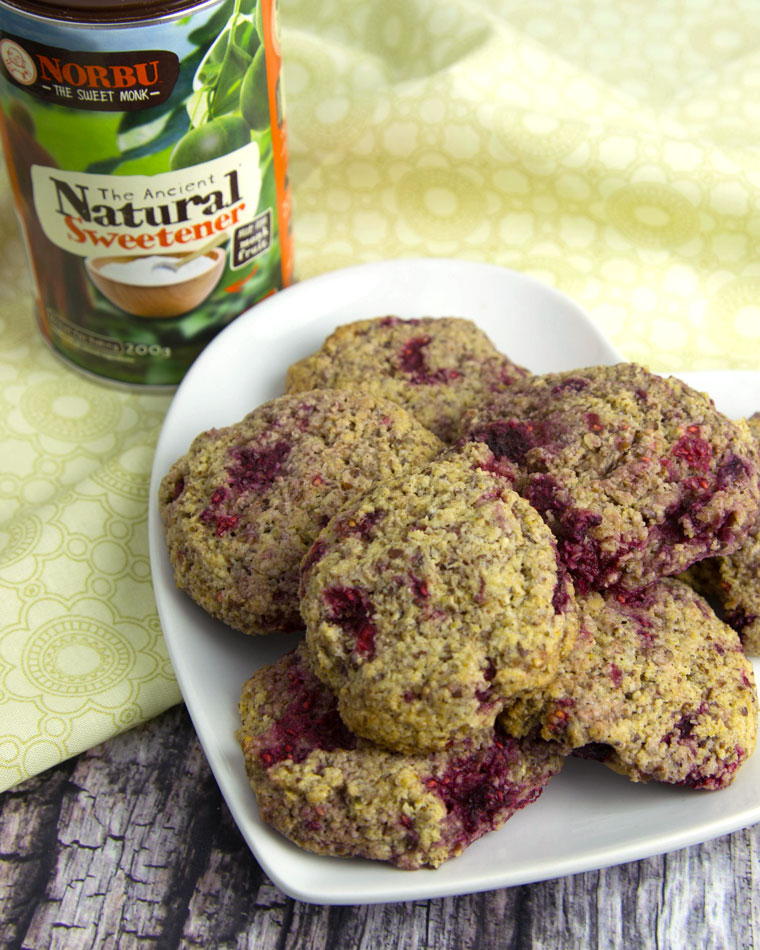 So far I've tried Norbu tablets and sachets in a cup of chai (honey is still better, but it will work in a pinch) or in a very bitter, green, kale smoothie (ahh, yum!) and I have now baked with the granules as well (tada, Raspberry Oatbran Cookies!). My verdict is that Norbu is just as versatile as my coconut sugar, maple syrup or honey, though I think in the future I'll reserve it for hot and cold drinks exclusively. The tablets and single sachets would be my choice for sweetening beverages without increasing your sugar intake (and perfect for travelling) and while I've discovered it works equally well in baking recipes, the 200g granule tub isn't the most economical sweetener choice for the amount of baking and desserts I make.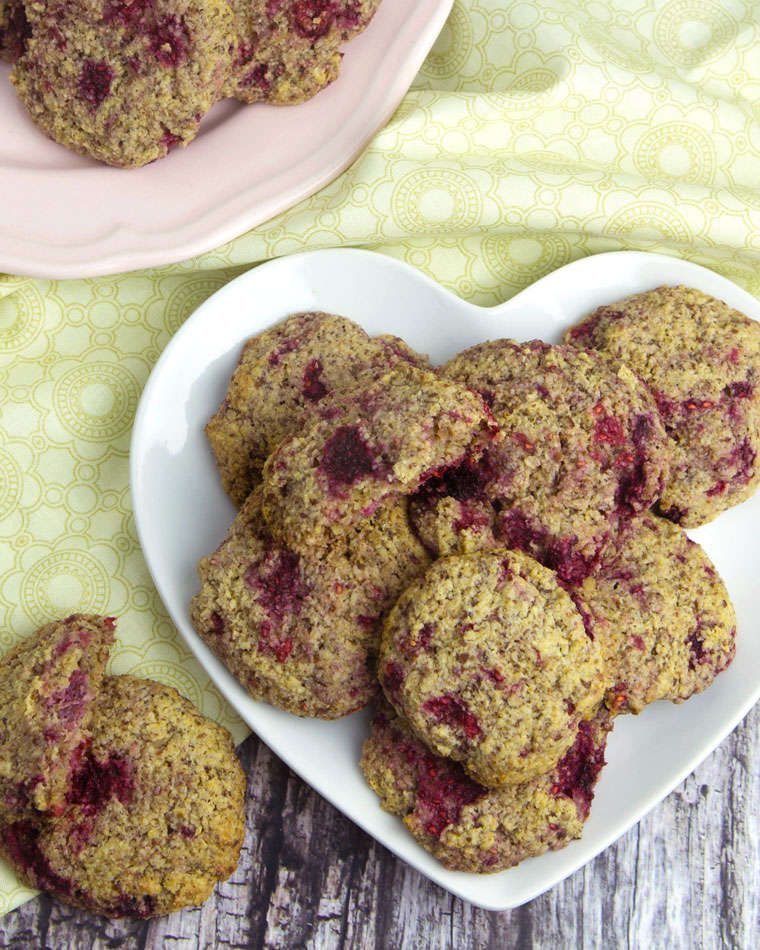 Product reviews aside, this cookie recipe turned out fantastically – sweet and chewy, soft and crunchy all at once. You could use Norbu or your favourite natural sweetener for these juicy raspberry oatbran cookies and my recipe is similar to the original, though with a few little tweaks to make it wheat-free and higher in protein and fibre. Oatmeal has been swapped for oatbran and the wheat flour replaced with almond and flax meal and there's also a delightful burst of lemon zest to highlight the tart berry flavour.
I found my cookies didn't spread as much as Amy cautioned, though I did have to bake them a little longer than the original recipe due to the change in ingredients. These cookies also come out of the oven fairly soft, and take a while to firm up when moved to a cooling rack. Just leave them be on the rack for at least 30 minutes to get a nice, crispy bottom – this will stop our oatbran cookies from going soft in storage on your counter or in the fridge.

Raspberry Oatbran Cookies
With a delightful burst of lemon zest to highlight the tart berry flavour, these Raspberry Oatbran Cookies are sweet and chewy, soft and crunchy all at once.
Recipe type:
Baking, Dessert
Cuisine:
Gluten-free, Soy-free, Wheat-free, Vegetarian.
Ingredients
1 cup oat bran
½ cup almond flour
¼ tsp flax meal
2 tsp baking powder
1 tsp cinnamon powder
pinch of salt
3 tbsp organic butter, melted
¼ cup Norbu sweetener OR ⅓ cup coconut sugar
1 organic, biodynamic or free range egg
1 tsp vanilla extract
½ tsp lemon zest
⅓ cup fresh (or defrosted, frozen raspberries), roughly chopped
Instructions
Line two baking trays with baking paper and put aside. In a medium bowl, whisk together the oat bran, almond meal, flax meal, baking powder, cinnamon and salt. In another bowl combine butter, sweetener, eggs, vanilla extract and lemon zest, stirring well to mix.
Make a well in the center of the dry ingredients and pour in the wet. Add raspberries and fold ingredients gently, until just combined. Take tablespoon fulls of cookie dough and shape into balls. Place on prepared baking sheets 5cm apart and flatten lightly with hands.
Bake for 15-18 minutes, or until browned. Remove from oven and allow to cook for 15 minutes, then transfer to a wire rack to cool completely.