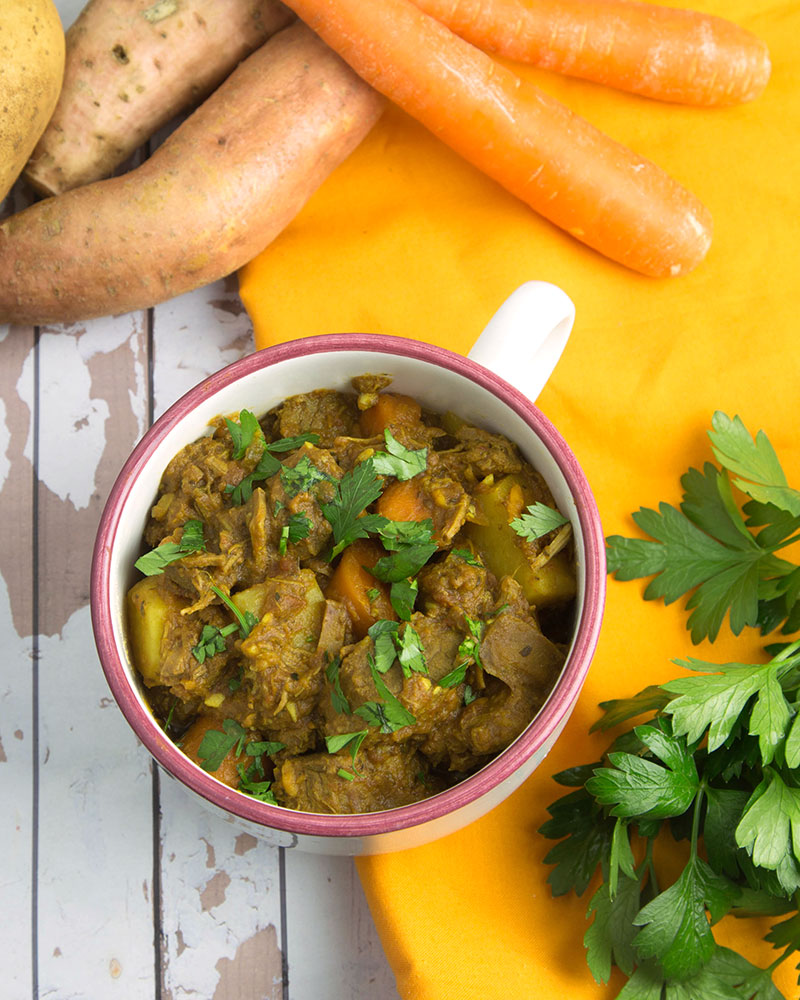 It's said that a good meal nourishes the soul and I'm struggling to think of many things as nourishing as a "fall apart" tender and hearty beef stew. Bubbling away in the slow cooker while I go about my day, I love getting dinner prep sorted early in the morning and out of the way. We always have busy weekends in this house and Sunday has unofficially become 'Slow Cooker Day' where we sit down at 6pm for a crockpot stew, soup or pot roast. It's the perfect end to our hectic week, before we take a deep breath on Monday morning and do it all over again.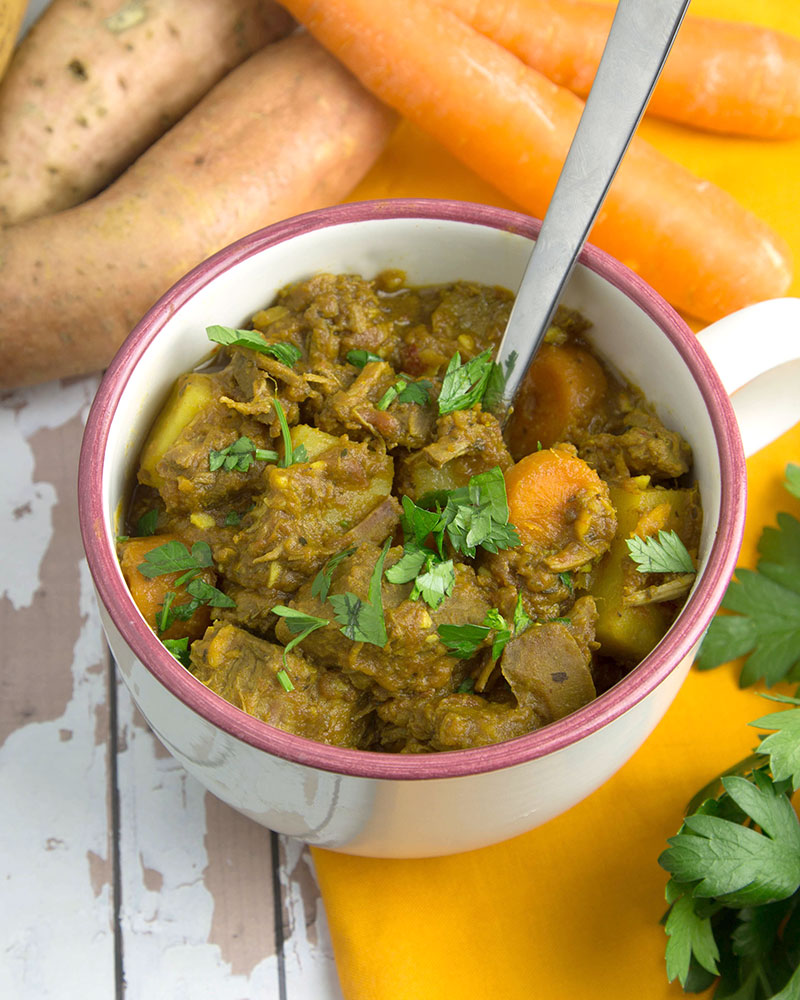 While my life may look busier than Kam's at the moment (as he quit his job recently), he's actually been working from home lately re-jigging this blog and my Wellness Path website. While it may appear that he now has free reign to play video games all day, we've both been working flat out towards our master plan to work from home in the near future. That means that having a slow cooker meal on the go is makes it that much easier to feed ourselves well while rushing about our lives. After all, it's always incredibly satisfying to tick off 'make dinner' from the to-do list before 8am.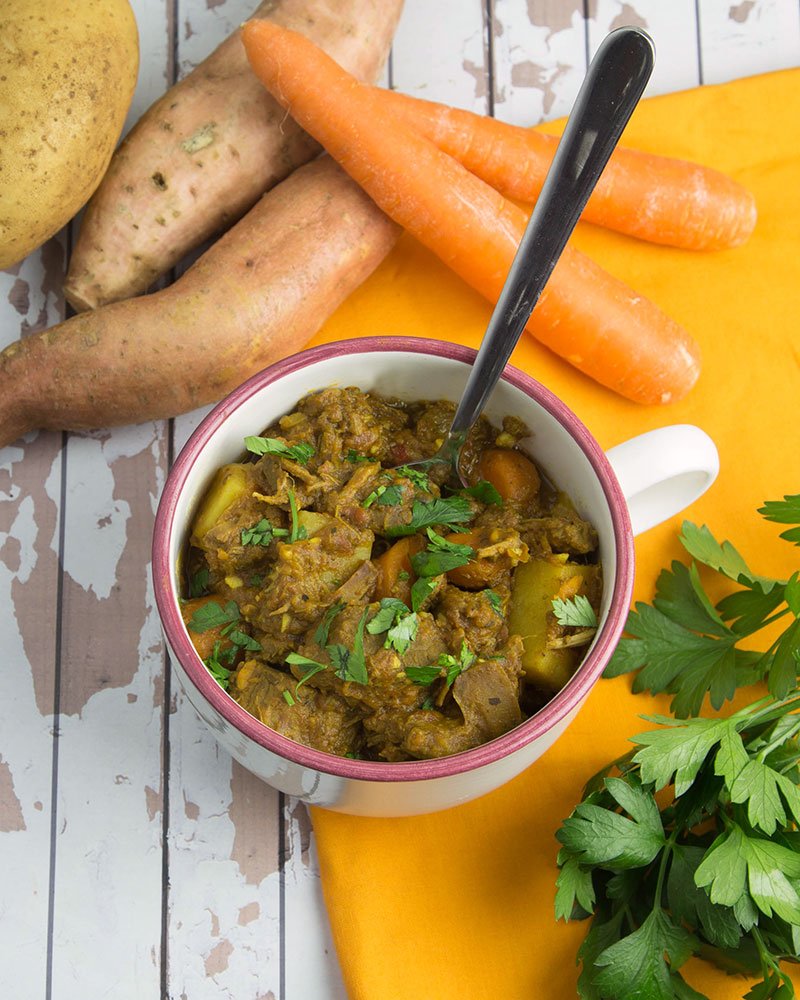 This recipe started it's journey in one of my favourite slow cooker cookbooks, The 150 Healthiest Slow Cooker Recipes by Johnny Bowden, but like most meals I make from books it went on it's own little tangent. Inspired by a pot roast recipe in the book, that chuck roast recipe with veg turned into cubed chuck stew with root vegetable and tangy tomato sauce. With a few ingredient changes this meal is transformed into a hearty, tender and moist stew packed with delectable herbs and spices that tickle my taste buds and satisfies my soul.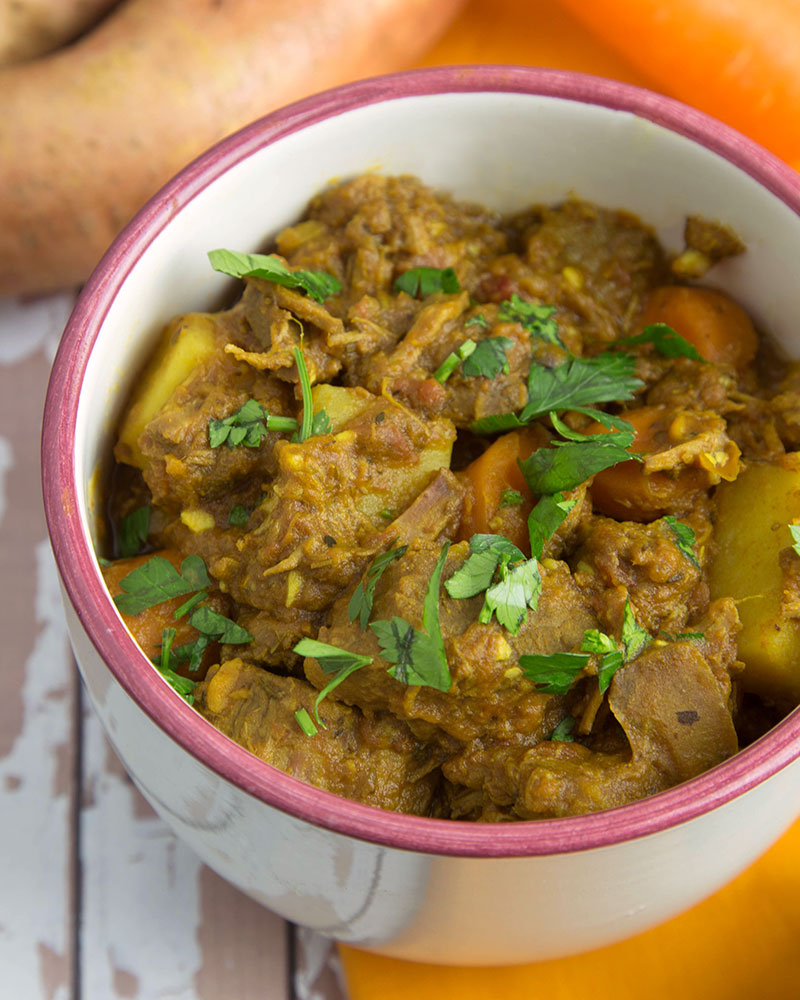 Beef chuck is the star of this dish as it's such a tender and fatty meat, melting just so when slow and low cooked and shredding on your fork with every bite at the dinner table. What really brings the meal together however is the potato, sweet potato and carrot mixed with that tomato and apple cider vinegar sauce. The acidity of tomato and ACV help to tenderise and soften the meat and vegetables and gives this tangy, antioxidant and carotenoid-rich stew a moreish experience that is truly nourishing and satisfying.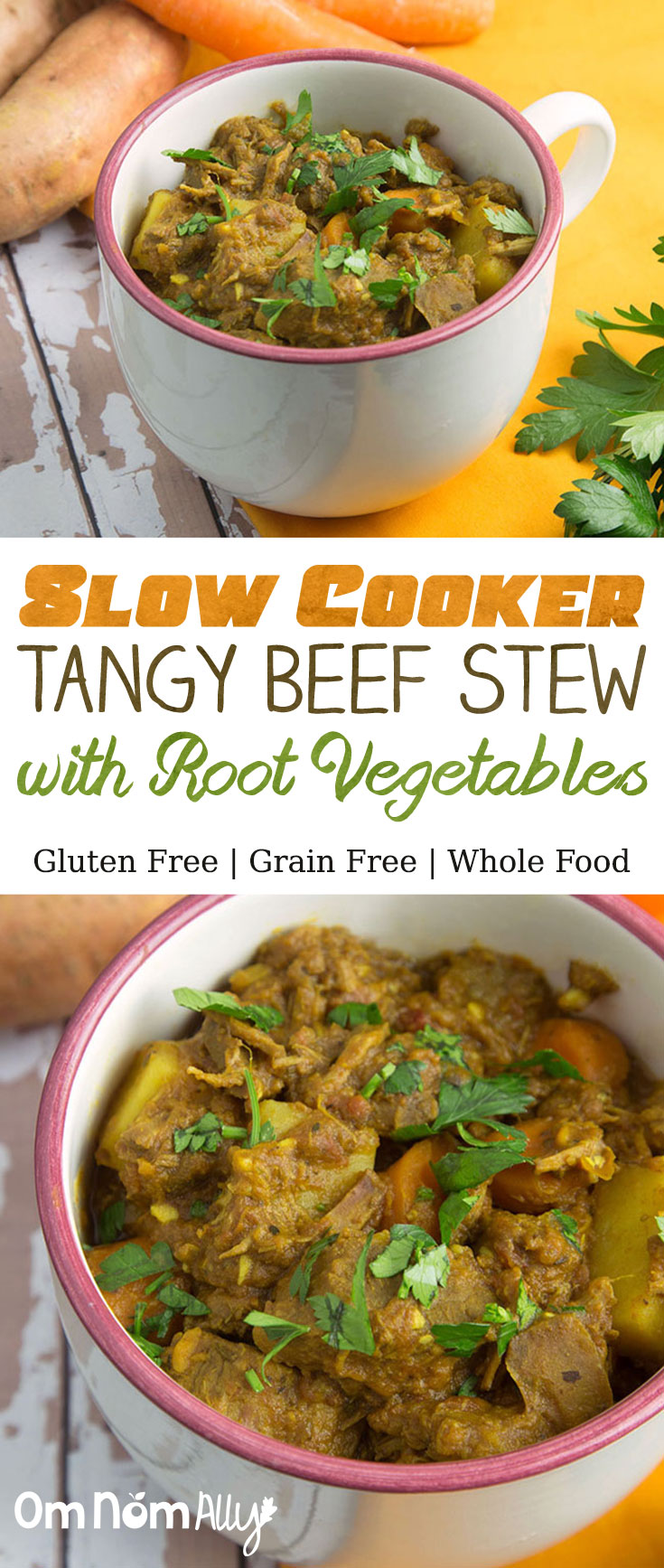 Slow Cooker Tangy Beef Stew with Root Veg
Not just any old meat-and-veg dinner, this tangy, carotenoid-rich Slow Cooker Beef Stew is a moreish experience that is truly nourishing and satisfying.
Recipe type:
Slow Cooker, Main
Cuisine:
Egg-free, gluten-free, grain-free, nut-free, soy-free. Dairy-free and paleo depending on cooking fat choice.
Ingredients
2 medium sweet potato
2 medium carrots
1 large potato (replace with parsnip for Paleo option)
1 tbsp ghee or coconut oil
1 medium brown onion, diced
800g chuck steak, diced
1 cups tomato sauce (passata)
2 tbsp tomato paste
2 tbsp apple cider vinegar
2 tsp smoked paprika
2 tsp dried thyme leaves
2 tsp dried oregano leaves
1 tsp ground turmeric
1 tsp ground ginger
1 tsp Celtic sea salt
½ cracked black pepper
Handful of fresh continental parsley, finely chopped
Instructions
Scrub root vegetables under running water and then cut into 2cm cubes, put aside. Place slow cooker insert bowl, or a heavy saucepan on stove top and melt ghee or coconut oil over a medium-high heat. Add the onion and saute until softened and translucent. Return insert to slow cooker, or spoon onion into slow cooker bowl and then add the root vegetables and beef.
In a medium bowl, add together passata, tomato paste, apple cider vinegar and all seasonings, stirring well to combine. Carefully pour the sauce over the slow cooker contents and stir gently to mix through.
Cook for 6-8 hours, or until the meat is tender and pulls away easily. Taste sauce and adjust seasoning as desired, adding more salt and pepper as needed. If sauce is a little watery, leave lid off slow cooker after cooking time has elapsed and cook on high for a further 10-20 minutes or until desired consistency. Alternatively, remove slow cooker insert bowl and heat on low on stove top until reduced.
Serve in a bowl or soup mug with a sprinkling of parsley and crusty sourdough bread.