Aren't scones fabulous? I never make plans to bake scones; it's always on a whim that I undertake them as lazy weekend cooking adventure. Requiring a few basic ingredients, scones only take about 20 minutes of your time and very little effort. Except for robbing chopped butter into the flour; that takes a little gumption and patience.
While there is a dairy-free, vegan scones recipe here on the site, this one is the real deal and made with chopped butter and full-cream milk. Crunchy on the outside, fluffy and buttery on the inside, these blueberry scones practically beg for a dollop of cream and some jam.  You can use fresh blueberries in the dough if they are available, I had some leftover dried berries from another recipe that finally found their purpose here. If you do use fresh berries, rehydrate your raisins in hot water to plump them up before adding to the recipe so the textures are all the same.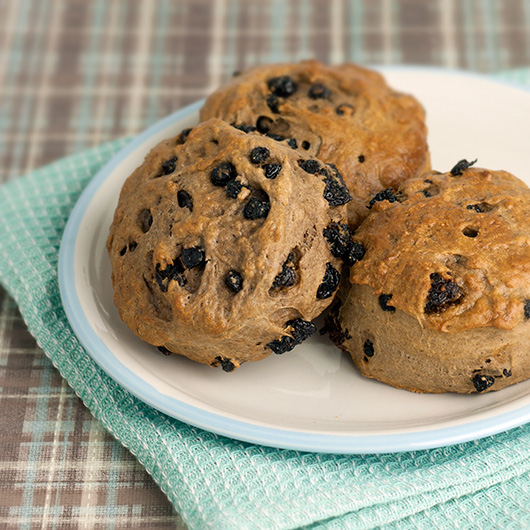 Chocolate, Raisin & Blueberry Scones
Author:
Alison Murray @ Om Nom Ally
Recipe type:
Breakfast, Snacks
Cuisine:
Egg-free, Nut-free, Wheat-free. Vegetarian.
Ingredients
3 cups spelt self-raising flour (or white spelt flour/plain flour + 3 tsp baking powder)
⅓ cup cocoa or cacao powder
80g cold, chopped organic butter
1 cup raisins
½ cup dried blueberries
2 tbsp coconut or other unrefined sugar
¾ cup milk of choice, plus 1 tbsp extra for brushing
Instructions
Preheat oven to 220C. Line two baking trays with baking paper.
Sift flour and cocoa powder into a large bowl. Using fingertips, rub in butter until fine crumbs form. Stir in the dried fruit and sugar. Mix well to combine.
Add milk and mix ingredients with a round bladed knife, using a cutting action through dough,
Turn dough out onto a floured surface and knew gently. Form a ball and flatten into a 2 inch high round. Using a 6cm pastry cutter, cut dough into 12 rounds. Place rounds on prepared baking trays and brush tops with remaining milk.
Bake for 15 minutes or until scones are golden brown. Transfer to a wire rack to cool.