May is just a blink or two away and I'm feeling pretty excited as May will be National Salad Month in the US. In fact, it's the 20th anniversary of this event. It's not that I *need* an excuse to make up a healthy salad, but it's pretty wonderful that enjoying a deliciously prepared and properly dressed salad with or as your meal is no longer considered 'rabbit food' by the majority of the population. I think most of us now understand the importance of eating our greens (and reds, and yellows and purples) and that salad doesn't equal boring.
Dole, with their ready-to-eat salad mixes, is kickstarting this 20th anniversary party with National Salad Day on May 1 and teaming up with the food blog portal Tastespotting to host a 'virtual salad-making event'. As I don't have access to Dole products here in Australia, I can only imagine the amazing salads that could be conjured up. They have a much larger product line than I have seen in the crisper at my local supermarket. What I do have is spinach, rocket and beet leaves from the garden, some roasted vegies from the oven and some mint and chilli haloumi. So in celebration of National Salad Month and National Salad Day, lettuce make a salad! (Get it? Lettuce? Snigger, snigger…)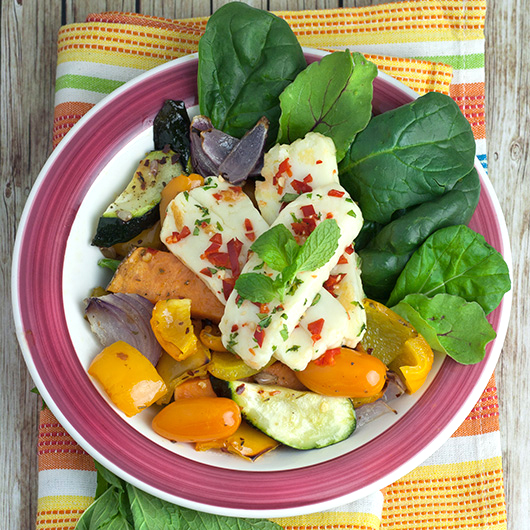 Mint & Chilli Halloumi with Roast Vegetable Salad
Pan-fried mint and chilli haloumi tastes amazing when paired with some oven-roasted vegetables
Author:
Alison Murray @ Om Nom Ally (adapted from Super Food Ideas October 2012)
Cuisine:
Egg-free, gluten-free, nut-free, soy-free, wheat-free, vegetarian.
Ingredients
2 small red onions, quartered
500g sweet potato, cubed
1 orange or yellow capsicum, thickly sliced
2 medium zucchini, thickly sliced
2 garlic cloves, minced or 2 tsp garlic bulbils
2 tbsp melted coconut oil or ghee
salt and pepper (or Herbamare)
250g roma or cherry tomatoes
250g haloumi, sliced thinly
2 tbsp fresh mint, finely chopped
1 long red chilli, seeded and finely chopped
extra mint and salad leaves of choice to serve
¼ cup lemon juice
Instructions
Preheat oven to 200C, combine onion, sweet potato, capsicum, zucchini and garlic cloves or bulbils in a large baking dish.
Drizzle with 1½ tbsp of oil, ghee or butter and season well with salt and pepper or Herbamare mix. Toss vegetables to coat well and roast for 30 minutes.
Add tomatoes to baking dish and roast for a further 15 minutes until vegetables are all tender.
While tomatoes are baking, sprinkle haloumi with chopped mint and chilli. Heat remaining oil or ghee in a large fry-pan and add haloumi, cooking for 1-2 minutes until golden. Divide extra mint and salad leaves between serving plates then top with roasted vegetables and haloumi then dress with lemon juice.