Chocolate, Raisin & Blueberry Scones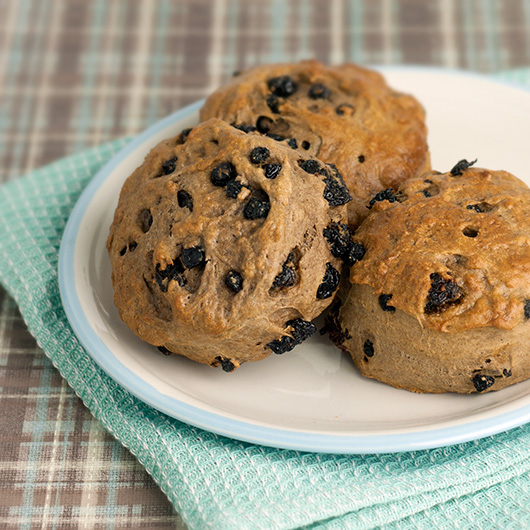 Author:
Alison Murray @ Om Nom Ally
Recipe type:
Breakfast, Snacks
Cuisine:
Egg-free, Nut-free, Wheat-free. Vegetarian.
3 cups spelt self-raising flour (or white spelt flour/plain flour + 3 tsp baking powder)
⅓ cup cocoa or cacao powder
80g cold, chopped organic butter
1 cup raisins
½ cup dried blueberries
2 tbsp coconut or other unrefined sugar
¾ cup milk of choice, plus 1 tbsp extra for brushing
Preheat oven to 220C. Line two baking trays with baking paper.
Sift flour and cocoa powder into a large bowl. Using fingertips, rub in butter until fine crumbs form. Stir in the dried fruit and sugar. Mix well to combine.
Add milk and mix ingredients with a round bladed knife, using a cutting action through dough,
Turn dough out onto a floured surface and knew gently. Form a ball and flatten into a 2 inch high round. Using a 6cm pastry cutter, cut dough into 12 rounds. Place rounds on prepared baking trays and brush tops with remaining milk.
Bake for 15 minutes or until scones are golden brown. Transfer to a wire rack to cool.
Recipe by
@OmNomAlly
at https://omnomally.com/2013/04/28/chocolate-raisin-blueberry-scones/