As I mentioned in my last post, I am falling pretty hard for Bob's Red Mill Sweet Sorghum Flour. It's mostly because don't like complicated gluten-free flour mixes. Lots of gums and 6-ish different flours in varying ratios really put me off baking gluten-free at times. I really enjoy simplicity in my baking (though even if my ingredients lists might say otherwise) and I like things to taste simple too… some gluten-free products have that taste. You know the one.
If I don't use my favoured Vitarium Plain Flour for gluten-free baking then sorghum flour has been a saving grace lately. While I've seen it recommended as a 1:1 substitute for wheat flour, I've found it doesn't actually have enough sticking power and works much better with a more starchy flour at around a 2:1 ratio. My first batch of cookies using it alone crumbled apart before making it to my lips (but made good crumbs for another recipe). The second batch with glutinous rice flour was a much better attempt – soft and gooey without collapsing – these little fellas held their shape, didn't break apart and got plentiful 'mmmmm's and 'yummmmm's.
I then moved on to muffins (strawberry and cacao mmm!) before attempting a slice recipe. With a pack of peaches on the kitchen bench and frozen raspberries at hand I decided to combine the flavours, a la Peach Melba to create something similar to the Cherry Jam Bars. No sorghum in the cupboard? Just use your favourite gluten free flour mix to replace the three flours (sorghum, besan and the starch). Got sorghum but no besan? I would use lupin or coconut flour for some extra protein or fibre.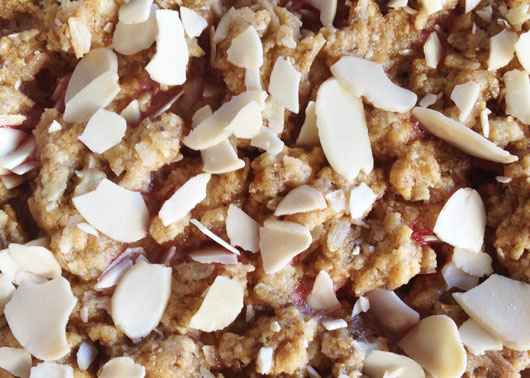 This slice is also about summer fruits as much as it is about my love of sorghum flour, warmer months meaning plump, juicy stonefruit and an abundance of pop-in-your-mouth berry exuberance. Sweet, fragrant peaches are to be enjoyed in this slice, without the bothersome juice running down your chin. With a high water content and potassium to regulate hydration, they are one of the best hot weather snackies. Raspberries, with their plump crimson tartness are bursting with flavour in every bite and have a number of anthocyanins, antioxidants and phytochemicals to keep us happy and healthy.
What did I think of this recipe? So far, this has been my best use of sorghum flour. I had to bake it a bit longer than the Cherry Jam Bars for a nice firm slice but it didn't crumble or disintegrate when cut. The aroma when baking was spectacular, as if I planted a peach grove in my kitchen. The flavour didn't disappoint either, after painstakingly waiting for it to cool enough to slice up a piece. The joy of peach and raspberry was there, a hint of vanilla and the gentle chewiness from the rice flakes. Adding almond flakes on top before baking (in the tradition of a Peach Melba), provided a soft and delicate sweetness that balanced the strong fruit flavours. I would definately bake this again. Yummo.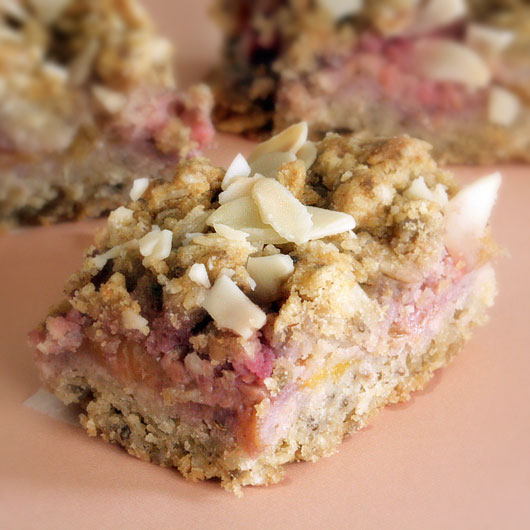 Peach and Raspberry Slice
Dairy-free, egg-free, gluten-free, soy-free, vegan. Grain-free with substitution.
Author:
Alison Murray @ Om Nom Ally
Ingredients
½ cup coconut oil, melted
2 chia eggs (2 tbsp chia seeds + 6 tbsp water, mix briskly) OR 2 eggs
½ cup coconut sugar (or rapadura)
1 tsp vanilla extract
1 cup white sorghum flour
½ cup besan flour
¼ cup arrowroot or tapioca starch
1 cup rice (or quinoa flakes for grain-free)
1 tsp baking powder
½ tsp baking soda
½ tsp salt
2-3 large fresh peaches, peeled and sliced
½ cup fresh or frozen raspberries (thawed)
1 tsp lemon rind, finely grated
Instructions
Preheat oven to 180C; line a square or rectangular slice pan with parchment paper, allowing the paper to drape over the pan edges.
In a medium bowl mix peach slices with raspberries and lemon rind, put aside.
Combine oil, chia eggs, sugar and vanilla extract in bowl, mix well to combine. Sift flours, baking powder and soda and salt into a large bowl, add rice flakes and mix well. Add wet ingredients to dry and mix together.
Press half of the dough amount into the bottom of the prepared pan. Layer fruit mixture over base. Spread remaining half of the dough on top of the fruit layer in dollops. Spread the almonds on top of the dough, and press down on the top gently.
Bake for 30-40minutes, or until firm on top. Let cool completely in the pan before cutting.