I've got some severe procrastinating going on today. Whether it's allowing a whiney puppy to sit on my lap destroying ice cubes with her razor-sharp baby teeth, a 40minute upper body weights circuit, watching my guilty-pleasure TV shows (mmmm Vampire Diaries and Fringe) or a spot of gardening, I definitely seem to be avoiding this essay due by today. I actually don't normally have due dates for things assessments (the joy of transferring my study to distance last year) but it's the due date for this current block of subjects, and I'm now making a mad dash to email everything remaining by midnight tonight. 1 studyguide has already been fired off, just have to scan 29 pages of a practical assessment and complete the remaining 1/5 of this essay.
as planning to. We've been eating a fair few eggs lately, out of my frustration that we always have some going to waste and to convince Kam that they really aren't as boring as he believes. We've had some scrambled egg for breakfast, baked eggs with tomato, spinach and herbs and a glorious pumpkin frittata (gosh, so yum). That was 10/12 eggs used up and their crushed shells reappropriated for the garden!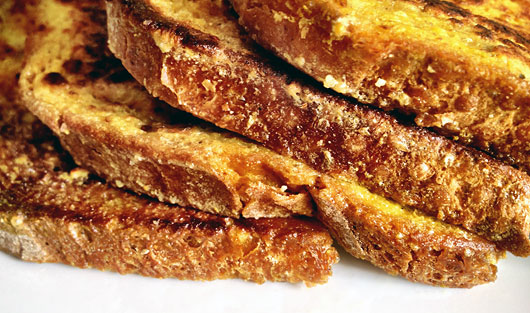 With two happy little eggles left in the container I thus made myself some delicious french toast today. None of this namby pamby sweet and cinnamon stuff for me though. Reminiscent of besan toast, this effortless and aromatic french toast features earthy cumin, chilli and bittersweet coriander with a gorgeous golden hue thanks to the curcumin content of turmeric. Rich and warming, this breakfast is also a fantastic choice for attempting to boost my cognition today (coriander and turmeric enhance memory and brain function)! Much more exciting than all my other oats, toast or porridge breakfasts lately.
Now with the puppy napping with the cat out the back, I'm just going to walk to the shops in the sunshine. After that I'm sure I'll be able to sit down and finish this essay.
(dairy-free, nut-free, soy-free, vegetarian, gluten and wheat-free with bread choice)
Author:
Alison Murray @ Om Nom Ally
Ingredients
2 - 4 slices of bread (depends on size, my oat sourdough slices are HUGE pieces of bread)
2 medium organic eggs
2 tbsp rice milk (or any other milk)
2 tsp mild curry powder (like Pure Food Essentials)
2 tsp besan flour
rice bran oil
extras: add a chopped brown onion, spring onions, minced garlic or ginger
Instructions
Put all the ingredients except the bread into baking dish. Place 2 slices of bread in the tray for 30 seconds on each side, coating well.
Heat rice bran oil in a large frying pan. Place bread slices in pan and cook for 30 seconds to a minute until the egg batter cooks, flip and cook the other side too until golden brown.