I start a new job in a few weeks. What does a girl need to celebrate a new job and moving on from a fantastic soon-to-be-previous job? Why some sweet baking, of course.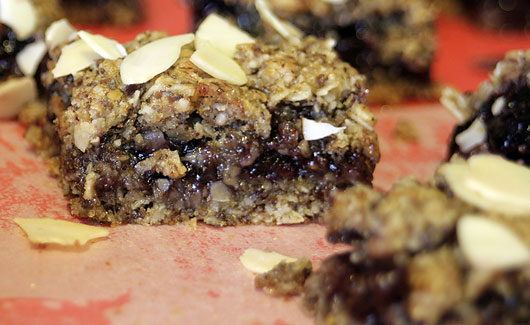 These are inspired by the Jam Bar Cookies on An Edible Mosaic, with some ingredient changes (spelt flour and coconut instead of coconut flour, which I didn't have on hand), and a baking time adjustment. These bars might not look like much, but there's a fabulous tart flavour burst with every bite. I'm an absolute sucker for anything cherry!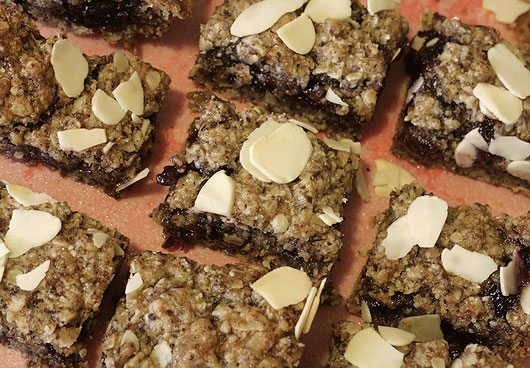 (dairy-free, egg-free, soy-free, vegan, wheat-free)
Ingredients
1 cup whole spelt flour
1 cup instant (shredded) oats
1 cup LSA meal (ground linseeds, sunflower seeds and almonds)
⅓ cup dessicated coconut
½ tsp salt
½ tsp baking soda
1 tsp baking powder
1 tsp vanilla essence
⅓ c agave syrup
½ c grapeseed
1 250g jam jar (e.g. St Dalfours Black Cherry fruit preserve)
½ c slivered almonds
Instructions
Preheat oven to 175C; line a square or rectangular slice pan with parchment paper, allowing the paper to drape over the pan edges.
Mix together the flour, oats, LSA, coconut, salt, baking soda and powder until combined. In a medium bowl, whisk together the agave, oil, vanilla and coconut essence; mix the dry ingredients into the wet.
Press half of the dough into the bottom of the prepared pan, then spread the jam on top of the dough. Smooth remaining half of the dough on top of the jam layer. Spread the almonds on top of the dough, and press down on the top gently.
Bake for 25 - 30 minutes; cool completely before cutting.