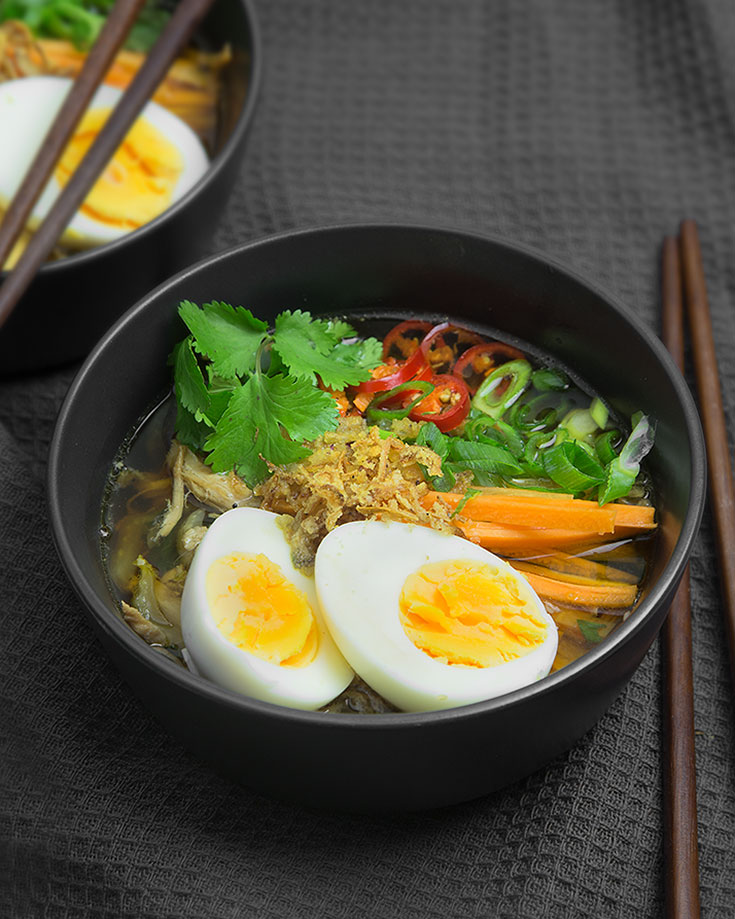 Have you ever spiralised a daikon? Do it, do it right now (!), as these white radishes make the best faux-glass noodles I've ever had.
I've been updating old posts and images lately, remaking and tweaking some old favourites that Kam and I adored. Last time I talked about this Slow Cooker Pork and Noodle Soup it was simmering away with some silky, soft buckwheat noodles. However, we stopped eating grain-based noodles a long, long time ago and I tell you right now – this paleo, low carb version is even better than the original recipe. Go, go daikon noodles!
Yes, I'm probably getting a little too excited here, but for good reason. Not only is this gelatinous and flavourful soup now both gluten and grain-free, but I've also loaded it up with lots of extra vegetables and protein for a slurp-alicious good time 😉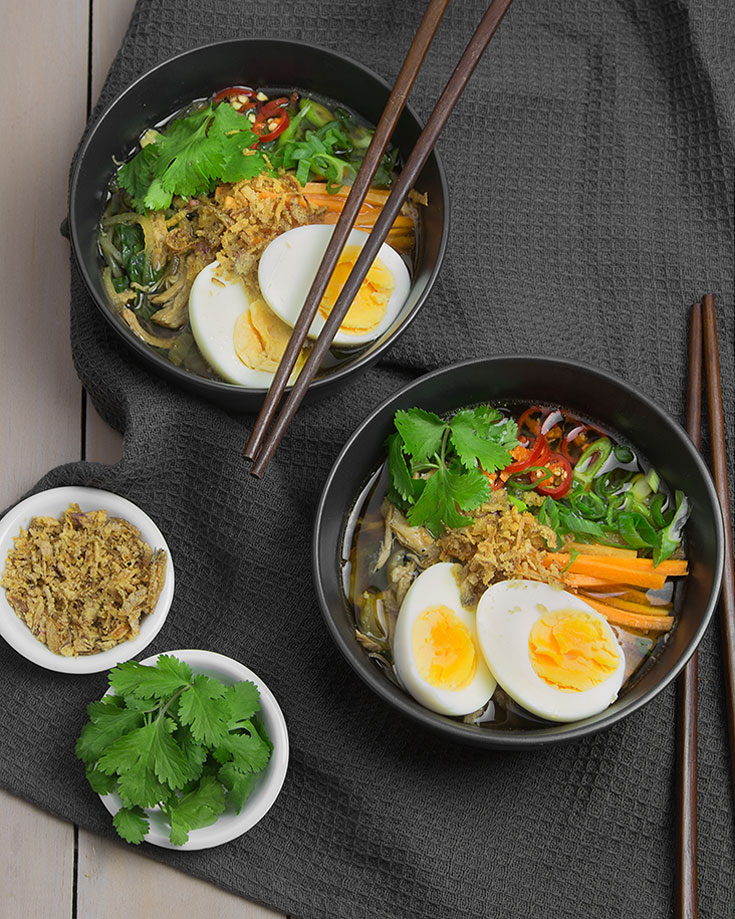 So what exactly makes this dish so wondrous? The pork shoulder is first simmered in a delicious broth flavoured with Asian spices in the slow-cooker until the meat melts and falls apart between two forks. The shredded pork is added back to the cooking broth and then combined with spiralised daikon noodles and Asian greens. It's a joy to come home too after a long day and a pleasure to eat due to it's slippery, gelatinous mouth-feel and aromatic spices. Bliss…
Make sure to look for a pork shoulder roast with plenty of the external fat attached, you might be discarding it after cooking but it definitely adds to the succulence of our pulled pork. This tough cut of meat also has plenty of connective tissue marbled through the muscle that makes it a perfect roast for slow cooking. This means our broth will have a high proportion of gut-healing and immune boosting gelatin – A.K.A Liquid Gold. This will become even more obvious if you chill any of your soup for next time – go ahead and watch it turn into a container of gelatin rich jelly!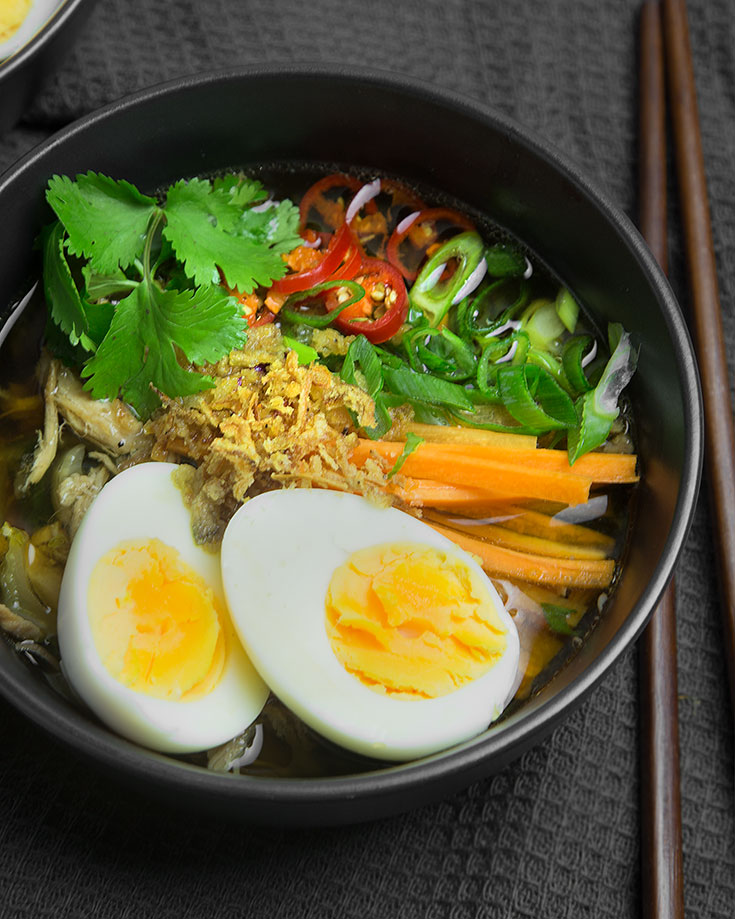 So now you know that this broth and pork tastes amazing, though the real fun starts when we start top it off with all of our other favourite foods – what you dress this soup up with? I like to go a bit of extra protein (soft or hard boiled eggs) and then a collection of finely sliced vegetables for a pop of colour and texture. You can really add anything you want here, as including as wide a collection of toppings as possible will further increase the nutrition of this slow cooked, sumptuous soup.
So tell me, have you ever spiralised a daikon before? If so, what are your go-to meals using it?
xx Ally

Slow Cooker (Paleo) Pork Noodle Soup with Spiralised Daikon Noodles
This slow cooker soup pork and noodle is a joy to come home too after a long day and a pleasure to eat due to it's slippery, gelatinous mouth-feel and aromatic spices
Author:
Alison Murray @ Om Nom Ally | www.omnomally.com
Cuisine:
Dairy-free, Gluten-free, Grain-free. Low Carb, Paleo.
Ingredients
4 cups chicken or vegetable stock
¼ cup coconut aminos
¼ cup Chinese cooking wine
½ tbsp coconut sugar
1 medium brown onion, sliced
3 cloves garlic, minced
5cm piece fresh ginger, peeled and minced
2 whole star anise
1 cinnamon stick
1 tsp Celtic sea salt
½ tsp whole black peppercorns
1.5kg boneless pork shoulder roast
1 large daikon radish - spiralised into spaghetti or fettucine noodles
2 medium bok choy, whote and green parts sliced and separated

To serve, per person:
Soft or hard boiled egg, peeled and halved
Finely sliced spring onions, white and green parts
Fried onions, shallots or shrimp
Julienne carrots
Finely sliced red chilli
Fresh coriander
Instructions
In the bowl of a slow cooker, combine the stock, coconut aminos, cooking wine, coconut sugar, onion, garlic, ginger and spices. Add the pork shoulder and cook on a low setting, covered, for 8 hours.
After cooking time has elapsed, remove pork shoulder from slow cooker and shred meat with two forks. Remove onion, garlic, ginger and spices from broth with a slotted spoon and discard, when return the shredded pork to the broth in slow cooker and continue to cook, covered, for 20 minutes.
Add spiralised daikon noodles to slow cooker along with white portions of bok choy, covering and cooking for a further 10 minutes. Uncover, stir through green portions of bok choy and serve. Add toppings of choice at the table.