Slow Cooker (Paleo) Pork Noodle Soup with Spiralised Daikon Noodles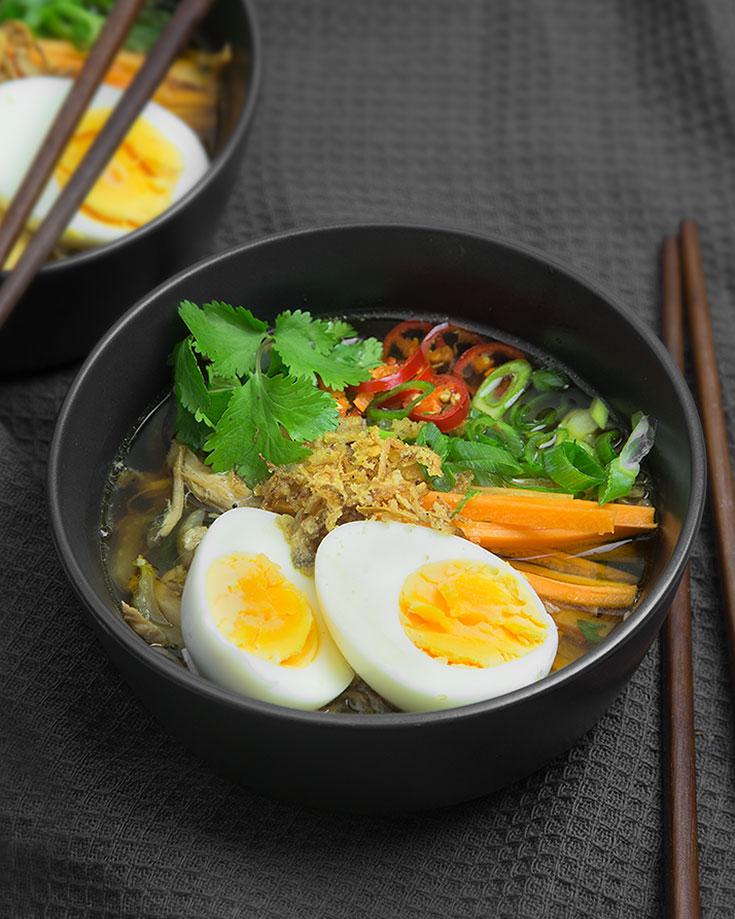 Author:
Alison Murray @ Om Nom Ally | www.omnomally.com
4 cups chicken or vegetable stock
¼ cup coconut aminos
¼ cup Chinese cooking wine
½ tbsp coconut sugar
1 medium brown onion, sliced
3 cloves garlic, minced
5cm piece fresh ginger, peeled and minced
2 whole star anise
1 cinnamon stick
1 tsp Celtic sea salt
½ tsp whole black peppercorns
1.5kg boneless pork shoulder roast
1 large daikon radish - spiralised into spaghetti or fettucine noodles
2 medium bok choy, whote and green parts sliced and separatedTo serve, per person:
Soft or hard boiled egg, peeled and halved
Finely sliced spring onions, white and green parts
Fried onions, shallots or shrimp
Julienne carrots
Finely sliced red chilli
Fresh coriander
In the bowl of a slow cooker, combine the stock, coconut aminos, cooking wine, coconut sugar, onion, garlic, ginger and spices. Add the pork shoulder and cook on a low setting, covered, for 8 hours.
After cooking time has elapsed, remove pork shoulder from slow cooker and shred meat with two forks. Remove onion, garlic, ginger and spices from broth with a slotted spoon and discard, when return the shredded pork to the broth in slow cooker and continue to cook, covered, for 20 minutes.
Add spiralised daikon noodles to slow cooker along with white portions of bok choy, covering and cooking for a further 10 minutes. Uncover, stir through green portions of bok choy and serve. Add toppings of choice at the table.
Recipe by
@OmNomAlly
at https://omnomally.com/2016/11/02/slow-cooker-paleo-pork-noodle-soup-with-spiralised-daikon-noodles/