I've learnt this week that talking about copyright infringement on Facebook is an area fraught with danger. While Facebook fighting is a widespread and well-known issue, I'm honestly amazed by the vitriol I received after questioning a  group I'm in about the practice of copy-pasting from blogs, due to copyright concerns and Facebook terms of service issues. The situation has been resolved thankfully, but certainly wasn't an enjoyable experience as I sat back and watched some of our group members explode with rage at me.
My take-away from the heated reactions is that I need to adjust how I communicate concerns on social media, due to the propensity for volatility and the ease of miscommunication when using the written word. Seriously, wowzers… I've also realised that there's a LOT of misunderstanding about how to share other people's content in an appropriate and ethical manner and I think Louise Hendon and Dianne Jacob tackle the topic expertly. TL;DR: 1) if it's not you content, ask for permission, 2) if you want to share a blog/website, do so with a link and don't lift photos or content, 3) if you loved a recipe, changed it a bit and made it your own then always attribute, attribute, attribute – share the love!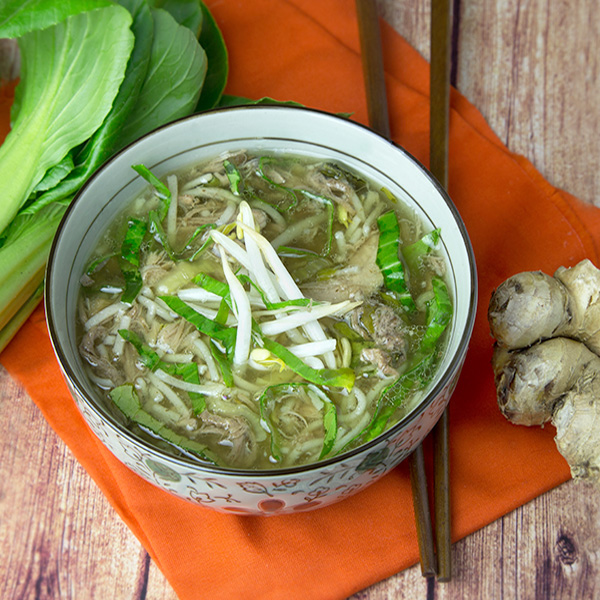 This particular recipe happens to be one from a second-hand Gooseberry cookbook I picked up at a garage sale,  and I've been making versions of it for a long time now. I've picked up a few of their recipe books secondhand and always get a good meal out of them, with a few tweaks along the way.
For this wondrous pork noodle soup, a pork shoulder is first simmered in a delicious broth flavoured with Asian spices in the slow-cooker until the meat melts and falls apart between two forks. The shredded pork is added back to the cooking broth and then combined with silky buckwheat soba noodles and Asian greens. It's a joy to come home too after a long day and a pleasure to eat due to it's slippery, gelatinous mouthfeel and aromatic spices.
My butcher tends to sell a pork shoulder roast with plenty of the external fat attached and this cut also has plenty of connective tissue marbled through the muscle. It's an inexpensive and tough cut of meat, making it a perfect roast for slow cooking and contributing to a high proportion of gut-healing and immune boosting gelatin in the final broth soup.
Slow Cooker Pork & Noodle Soup
Ingredients
3 cups chicken or vegetable stock
¼ cup coconut aminos (or tamari - not soy-free)
¼ cup Chinese cooking wine
2 tbsp coconut sugar (or other unrefined sugar)
1 medium brown onion, sliced
5cm piece of fresh ginger, peeled and finely sliced
2 pieces star anise, or 1 tsp ground anise
2 garlic cloves, thinly sliced
1 cinnamon stick
1 tsp chilli powder
1 tsp celtic sea salt
½ tsp whole black peppercorns
1.5kg boneless pork shoulder roast
1 200g packet 100% buckwheat soba noodles
2 medium bok choy, white and green parts sliced and separated
bean sprouts to serve
Instructions
In the bowl of a slow cooker, combine the stock, aminos/tamari, wine, sugar, onion, garlic, ginger and spices. Add the pork shoulder and cook on a low setting, covered, for 8 hours (or as per slow cooker instructions).
After cooking time has elapsed, remove pork shoulder from slow cooker and shred with two forks. Remove onion, garlic, ginger and spices from broth with a slotted spoon, return the shredded pork to the broth in slow cooker and continue to cook, covered, for 20 minutes.
Cook noodles according to packet directions and add to slow cooker along with white portions of bok choy, covering and cooking for a further 10 minutes. Uncover, stir through green portions of bok choy and divide soup into four bowls. Serve with bean sprouts.