I feel like such a let-down of a blogger lately. Ever since I started this blog I've been told I become very animated and excited when I talk about my little corner of the internet. But in 2014, life has gotten in the way of my favourite hobby and I've only been around in small fits and starts. I've actually noticed a few of my favourite bloggers have been scaling back their online presence this year; we all seem to want more of that elusive work-life balance and we all seem to feel a little guilty. I can't keep saying 'sorry' though, I can only show congruence with action.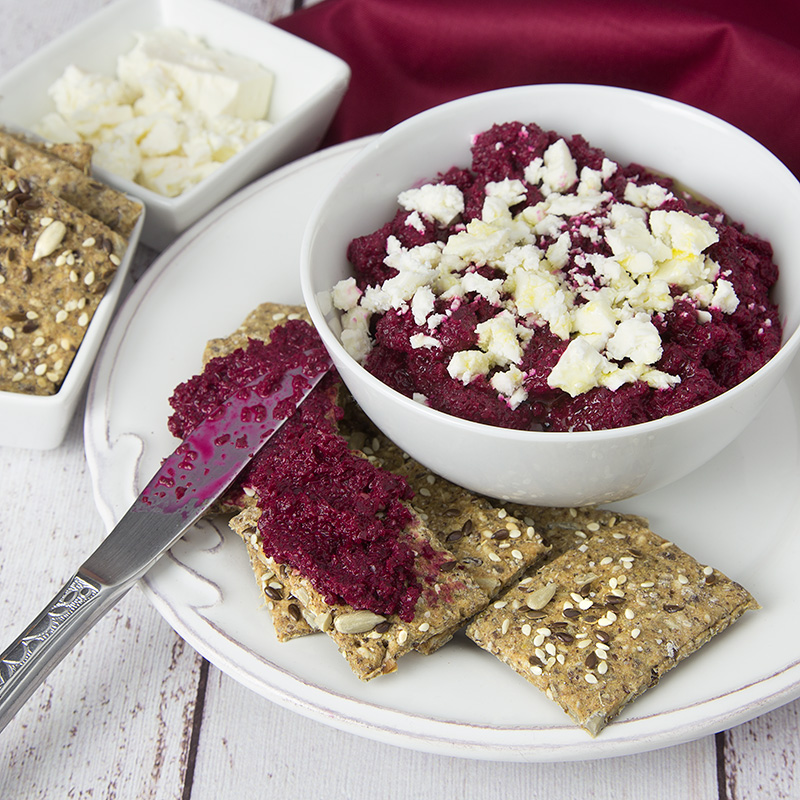 Undertaking a life coaching course this year has worked out a lot of these issues for me personally, and through that journey I'm becoming more certain that I want to treat this blog as a 'job' than a 'hobby'. I'm on a path to practice as a Naturopath, Spiritual Healer and Health & Wellness Coach shortly and I'm starting to think more about what I want to do with all these tools. As such, I've started creating content and haven't been around as much. There's my business website I'm in the process of building (Wellness Path) and lots of brainstorming on webinars/e-books/workshops I want to provide in the near-ish future. While here at Om Nom Ally we celebrate real food recipes and a homemade life, the new site will focus on personal growth and individualised strategies for increased health and wellbeing. I want them both to be wildly successful in their own right.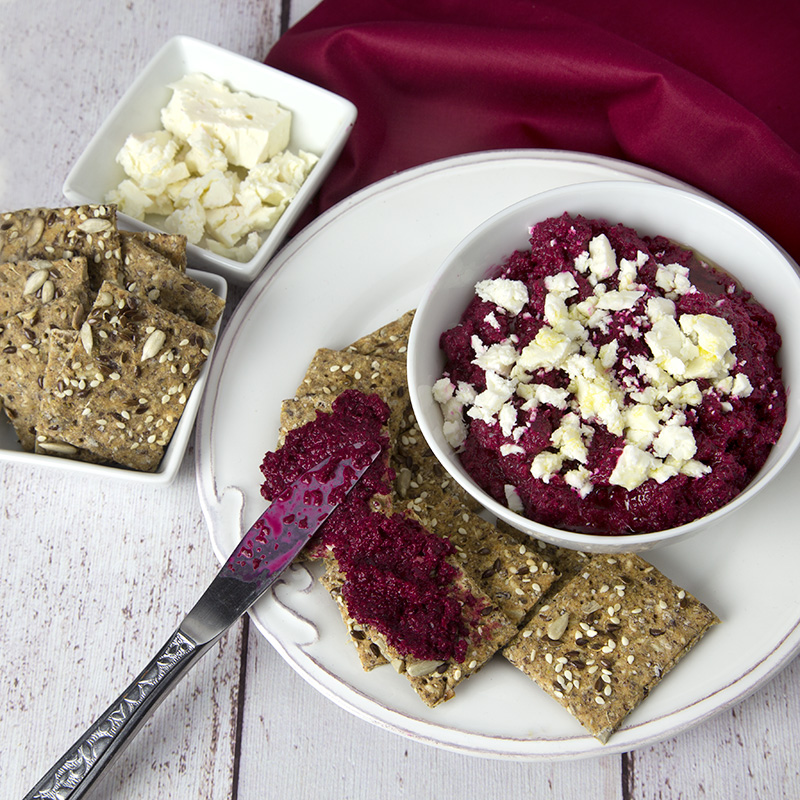 So here I sit this morning, mapping out some posts for the next few weeks and eating this pungent and fiery beetroot dip with homemade crackers. I've always looking for easy and healthy food while studying/working and this snack is no different. My local grocer sells fresh horseradish root, and I often grate it into yoghurt or cream for sauces with kick! I also buy it mixed with vinegar to keep on hand for when the desire to add some heat to meals strikes me. Pungent horseradish really lifts this ruby-red beetroot dip in this case however, and I like to think of it as spreadable borscht. Try it as a side or condiment with meals, or spread it on these savoury seeded crackers for a quick snack.
Fiery Beetroot Dip with Feta
Author:
Alison Murray @ Om Nom Ally
Recipe type:
Dips, Snacks
Cuisine:
Egg-fre, gluten-free, grain-free, nut-free, soy-free, wheat-free, vegetarian.
Ingredients
2 medium beetroot
1 head of garlic, cloves peeled
2-3 tbsp grated/minced horseradish (or 2 tbsp prepared horseradish) OR to taste
1 tbsp olive oil, plus extra for drizzling
⅓ cup Greek yoghurt
2 tbsp feta, crumbled
Instructions
Preheat oven to 200C. Trim tops and tails of beetroot and wrap in foil. Place wrapped beetroot in a baking tray with garlic cloves and roast for 50 minutes, or until softened. Remove tray from oven and allow beetroots to cool.
Wearing gloves, unwrap beetroots and peel. Skin should remove easily and slip away from the cooked beets. Roughly chop and add to bowl of food processor. Add all other ingredients except feta and process until desired texture or pureed. Taste dip and add more horseradish for desired heat level.
Spoon beetroot dip in a bowl with feta crumbled on top, serve with crudites or Salty Seeded Crackers, as below.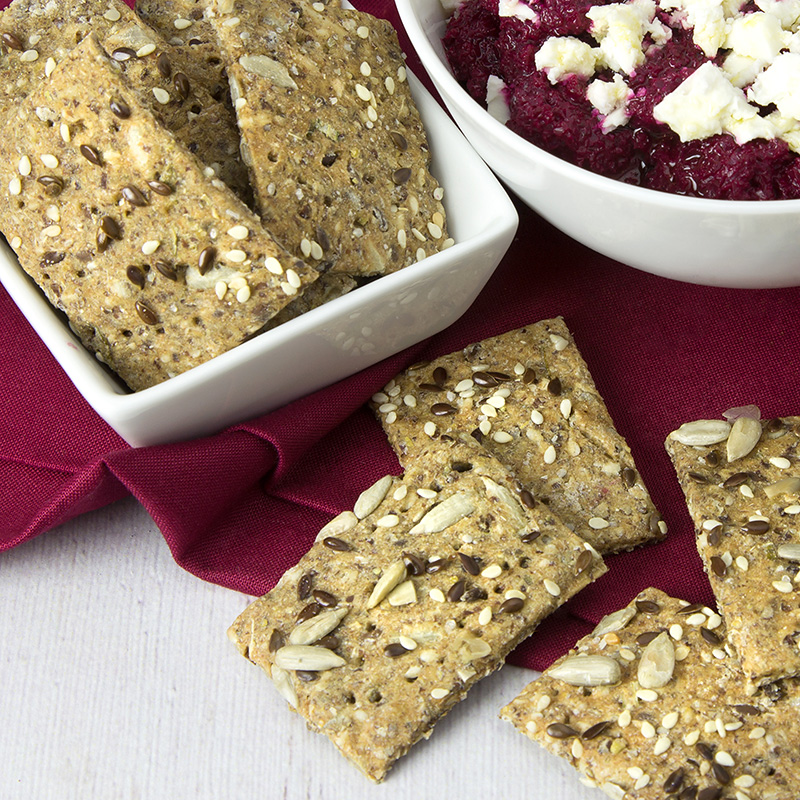 Still buying crackers? A good cracker recipe should one of the staples of any home recipe book, and this is my current favourite to make over and over. Give this easy, healthy and fibre-filled recipe a go and then start experimenting with different flavours – sundried tomatoes, dried/fresh herbs, spices… Go crackers with it!
Salty Seeded Rosemary Crackers
Author:
Alison Murray @ Om Nom Ally
Ingredients
Cracker Dough:
1 cups whole spelt flour (or whole wheat flour)
¼ cup buckwheat flour
¼ cup flax meal
½ tsp salt
½ tsp cracked pepper
½ tbsp dried rosemary
½ cup water
2 tbsp sunflower seeds
1 tbsp sesame seeds
1 tbsp flax seeds
Seed Topping:

1 tbsp water
2 tsp sunflower seeds
1 tsp sesame seeds
1 tsp flax seeds
¼ tsp salt
Instructions
Preheat oven to 180C. Line two baking sheets with baking paper and put aside.
Mix flour, salt, cracked pepper,seeds and rosemary in a large bowl. Make a well in the flour and add the water, stirring well to combine. Knead the dough gently to form a ball, If dough is very sticky, add a little more flour to form a soft, elastic dough.
Flour a large cutting board and a rolling pin, divide dough into two portions and roll out each portion as thin as possible. Transfer flattened cracker dough onto prepared baking trays and prick all over with a fork. Score each piece of dough into desired shapes with a knife and use a pastry knife to brush dough with a little water.
Mix remaining topping seeds and salt in a small bowl and then sprinkle liberally over the top of scored crackers. Bake for 20min, remove from oven and gently flip over on the parchment. Return to oven for a further 10min, then remove from oven allow to cool completely. Crack cooled crackers into scored shapes and enjoy.