Fiery Beetroot Dip with Feta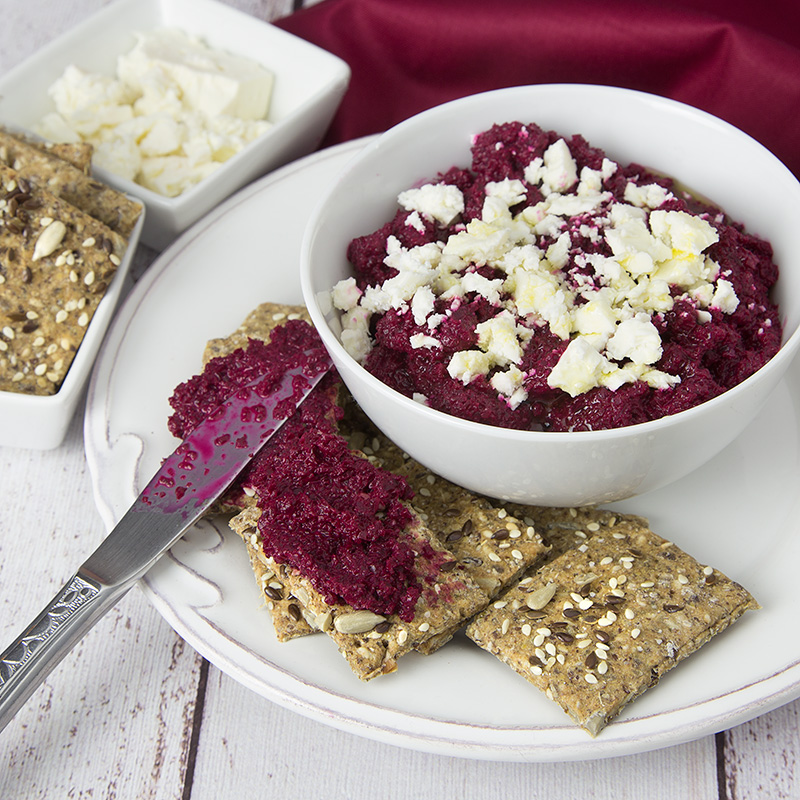 Author:
Alison Murray @ Om Nom Ally
Recipe type:
Dips, Snacks
2 medium beetroot
1 head of garlic, cloves peeled
2-3 tbsp grated/minced horseradish (or 2 tbsp prepared horseradish) OR to taste
1 tbsp olive oil, plus extra for drizzling
⅓ cup Greek yoghurt
2 tbsp feta, crumbled
Preheat oven to 200C. Trim tops and tails of beetroot and wrap in foil. Place wrapped beetroot in a baking tray with garlic cloves and roast for 50 minutes, or until softened. Remove tray from oven and allow beetroots to cool.
Wearing gloves, unwrap beetroots and peel. Skin should remove easily and slip away from the cooked beets. Roughly chop and add to bowl of food processor. Add all other ingredients except feta and process until desired texture or pureed. Taste dip and add more horseradish for desired heat level.
Spoon beetroot dip in a bowl with feta crumbled on top, serve with crudites or Salty Seeded Crackers, as below.
Recipe by
@OmNomAlly
at https://omnomally.com/2014/10/03/fiery-beetroot-dip-with-feta-salty-seeded-rosemary-crackers/