Salty Seeded Rosemary Crackers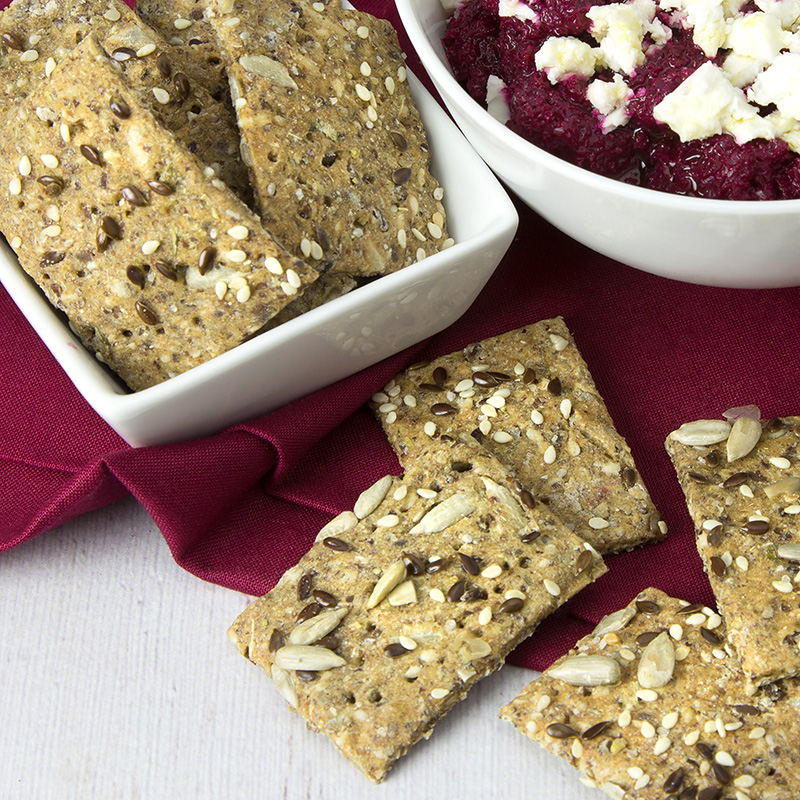 Author:
Alison Murray @ Om Nom Ally
1 cups whole spelt flour (or whole wheat flour)
¼ cup buckwheat flour
¼ cup flax meal
½ tsp salt
½ tsp cracked pepper
½ tbsp dried rosemary
½ cup water
2 tbsp sunflower seeds
1 tbsp sesame seeds
1 tbsp flax seeds
1 tbsp water
2 tsp sunflower seeds
1 tsp sesame seeds
1 tsp flax seeds
¼ tsp salt
Preheat oven to 180C. Line two baking sheets with baking paper and put aside.
Mix flour, salt, cracked pepper,seeds and rosemary in a large bowl. Make a well in the flour and add the water, stirring well to combine. Knead the dough gently to form a ball, If dough is very sticky, add a little more flour to form a soft, elastic dough.
Flour a large cutting board and a rolling pin, divide dough into two portions and roll out each portion as thin as possible. Transfer flattened cracker dough onto prepared baking trays and prick all over with a fork. Score each piece of dough into desired shapes with a knife and use a pastry knife to brush dough with a little water.
Mix remaining topping seeds and salt in a small bowl and then sprinkle liberally over the top of scored crackers. Bake for 20min, remove from oven and gently flip over on the parchment. Return to oven for a further 10min, then remove from oven allow to cool completely. Crack cooled crackers into scored shapes and enjoy.
Recipe by
@OmNomAlly
at https://omnomally.com/2014/10/03/fiery-beetroot-dip-with-feta-salty-seeded-rosemary-crackers/