There are certain things every home cook should probably know how to make from scratch. A great cake that doesn't come out of a box. A nice batch of scones for an impromptu afternoon tea and a bowl of steaming oats that doesn't come with a flavouring sachet. They are all easy to make and really do taste better when they come from your own kitchen using wholefood ingredients.
Something that's equally foolproof is home-made crackers. Full of wonderful flavours and nutrients, a huge range of crispy, crunchy or chewy crackers can be created with no artificial colours and preservatives. If you're looking to include more lignan-rich flax in your diet then this is a particularly handy cracker recipe with a satisfying crunch.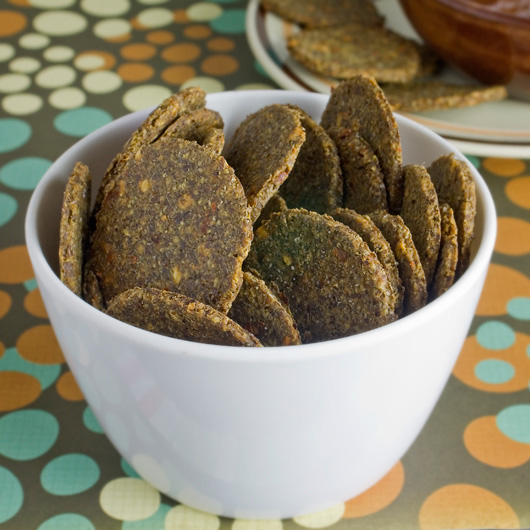 The ground flaxseed in these crackers is easier for your body to digest and can be bought pre-ground or you can get to work at home with a mortar and pestle or spice grinder. While many flax cracker recipes out there use whole seeds, whole flax may pass through your system undigested. This means you've missed out on all the nutrients!
There are also a lot of raw flax cracker recipes out there and while I do whip up a mean dehydrated cracker, this isn't one of them sorry. Snack food often has to be fast food and these are quick to go from mixing bowl, to oven, to your mouth. In just 25 minutes you too could have a high-fiber, crunchy, nutritious, and dip-worthy snack. With flax and eggs these crackers are high in protein and fibre, you can also make them with dairy (parmesan) or dairy-free (savoury yeast flakes). Superb either way, use whichever ingredient you have or as your diet dictates.
Now, what should we dip these in?
Fast Savoury Flax Crackers
Makes approximately 24 crackers.
Author:
Alison Murray @ Om Nom Ally
Cuisine:
Gluten-free, Grain-free, Nut-free, Soy-free, Vegetarian. Dairy-free with substitution.
Ingredients
1 cup flax meal
½ cup grated parmesan (or savoury yeast flakes)
1 tbsp dried chilli flakes
1 tsp salt
2 large eggs, lightly whisked
Instructions
Preheat oven to 180C. Line baking trays with silicone baking mats or baking paper.
Combine all ingredients in a bowl and mix well until all combined into a firm, sticky dough.
Roll out dough as thinly as possible (4 - 5mm). Use a small round cookie cutter to cut out cracker shapes. Lay on baking trays, closely together (crackers will not spread during baking).
Bake for 10 minutes, flip crackers over and bake for another 10 minutes. Cool on trays for 5 minutes and then transfer to wire rack to cool completely.