My beautiful family all road-tripped down to Melbourne recently for my 30th birthday. Celebrations aside, one thing I had really wanted was to cook for everyone. It didn't really end up happening though. We ate out a lot, accompanied with glasses of wine and beer. We ordered in takeaway over catch-ups. We explored Melbourne like the true tourists we (yes, including me) all are. I only really cooked one meal the entire time.
Something I really wanted to make that week was these pies. On Facebook, prior to the drive from Sydney, my brother had (jokingly?) requested I make him a "butter chicken pie". Filled with chicken, tender vegies and a home-made tikka masala paste, I think these are a much better idea (though I reserve the right to make an attempt on his suggestion at some point).
Enjoy one of the most popular (restaurant-borne) Indian dishes in the world…. in a pie!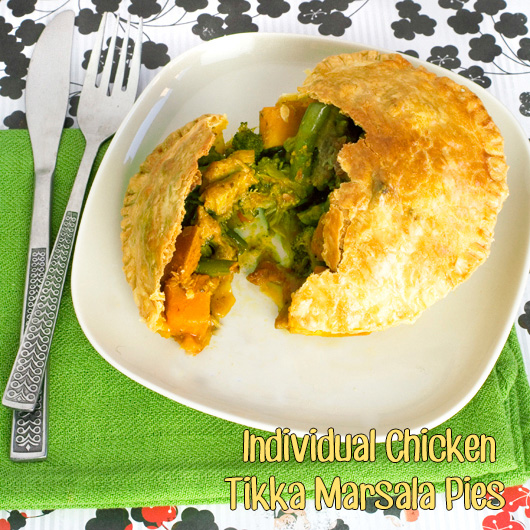 So, what's been fresh and fantastic this week?
I had a very refreshing week back at work, after a week off for my birthday.
I put my birthday money towards a fancy new Samsung Ultrabook – it's fabulous! No more scrambling to steal the PC from Kam to get study, blogging or bludging done 🙂
Returning to work also means I've been able to visit my favourite grocer daily. I've bought up on berries, bananas, stonefruit and end-of-season cherries for some delicious desserts over the weekend. Yum!
Individual Chicken Tikka Masala Pies
Enjoy one of the most popular (restaurant-borne) Indian dishes in the world.... in a pie!
Author:
Alison Murray @ Om Nom Ally | www.omnomally.com
Recipe type:
Baking, Mains, Pastry
Cuisine:
Dairy-free, Nut-free, Soy-free, Wheat-free
Ingredients
1 tbsp coconut oil
500g free-range or organic chicken thigh fillets, sliced or cubed
1 medium sweet potato (approx 250g), cubed
1 tbsp Tikka Masala paste (bought or homemade)
270ml can coconut milk
juice of 1 lime
2 tsp fish sauce
2 tsp coconut or rapadura sugar
100g green beans, trimmed and cut into small pieces
1 small head broccoli, cut into small florets
1 tbsp finely diced coriander
1 quantity Easy Spelt Pastry (recipe follows) OR 2 sheets shortcrust pastry OR 2 sheets gluten-free pastry
1 egg, lightly beaten (or a few tbsp of water)
Instructions
Heat coconut oil in a large saucepan. Add chicken and cook over medium high heat for 5 minutes or until browned.
Add sweet potato and tikka masala paste, cook for 1 minute or until fragrant. Add coconut milk,juice, sauce and sugar. Bring to a boil then reduce heat and simmer, uncover for 10 minutes or until sweet potato is tender. Remove from heat and stir in beans, broccoli and coriander. Set aside to cool for 30 minutes.
Preheat oven to 180C. Lightly grease 4 holes of a texas muffin tray or 4 individual pie tins. Proceed with making Easy Spelt Pastry recipe or cut pastry sheets into quarters. Reserve half the pastry amount. Roll out pastry to a few millimeters thickness and line tins, leaving a little overhang.
Divide chicken mixture between tins and brush edges of pastry with beaten egg or water. Place reserved pastry over filled pies and press down edges well to seal. Use a sharp, wet knife to trim excess around edges of pie. Brush tops with egg and use knife to cut a few holes on top of pie. Bake for 30 minutes or until pies are golden brown.
Notes
Easy Spelt Pastry
* 1½ cups spelt or plain flour
* ¼ tsp salt
* 125g cold, chopped butter
* 2tbsp cold water

1. Mix flour and salt in basin, rub in fat.
2. Using a knife to cut and stir, mix with cold water to form a stiff dough.
3. Turn dough on to a floured surface and knead lightly.
4. Divide into 8 portions and roll out into rounds to a few millimetres thickness.

Gluten-free: replace spelt flour with gluten-free all purpose flour.