Spring is finally here!
For a few weeks I was almost thinking I wouldn't survive this horrible Melbourne winter and I've been making up for it the last few days by swanning around in skirts and singlets, taking long bike rides and running around in the park with Kam and the (almost 1 year old) puppy. So lovely has this bout of sunshine and happiness been that I've already almost forgotten the terrible flu, frosty mornings and torrential rain I detested of late.  Almost.
High nutrient content and anti-cancer properties aside, broccoli and cauliflower are two classic cool weather crops for winter eating. While both can grow all year round, the cooler the weather in grows in the sweeter they tends to taste. This recipe is a nice way to wave goodbye to winter as it passes by then; it's the kind of comfort food that makes snuggling on the couch wearing every piece of clothing you own feel acceptable. I was never a Mac and Cheese craving kid, but I adore this more adult creation – it's the perfect way to use up any cruciferous vegies still lounging around in the crisper after making hearty winter soups and stews.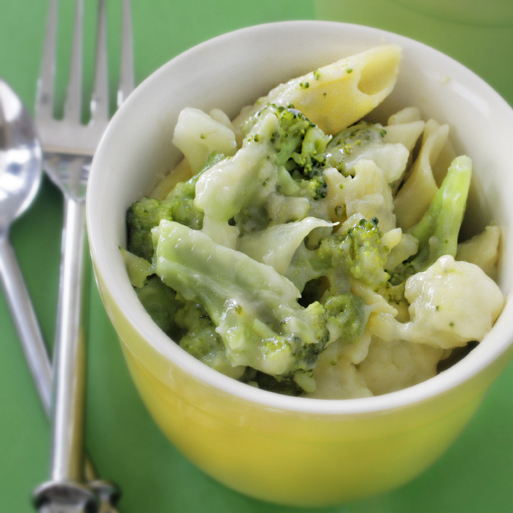 (dairy-free, egg-free, gluten-free, nut-free, soy-free, vegan)<br> This recipe is easily halved or quartered for less servings - i.e. to keep your comfort food all to yourself!
Author:
Alison Murray @ Om Nom Ally (Adapted from Go Dairy Free by Alisa Marie Fleming)
Ingredients
2 cups water
½ cup savory yeast flakes (nutritional yeast flakes)
½ cup arrowroot powder
1 tsp salt
2 tsp wholegrain mustard paste
¼ cup rice bran oil
½ cup non-dairy milk of choice
200g pasta (gluten-free, spelt or wholemeal)
1 large head of broccoli, cut into small florets
½ head of cauliflower, cut into small florets
Instructions
In a large saucepan, cook the pasta as per package instructions. Add vegetables to the pasta pot in the last 5 minutes of cooking time, then rinse and strain mixture at end of cooking and return to saucepan.
Combine water, yeast, arrowroot, salt and mustard in a blender or food processor and process for 30 seconds or until well combined.
Heat oil on medium-high in a medium saucepan, add blended mixture and whisk or stir for 5 minutes until it starts to thicken.
Pour in non-dairy milk and stir constantly until mixture is thickened and starts to pull away from sides of saucepan.
Pour sauce into large saucepan over pasta mixture and stir well to combine. Serve immediately (and try not to eat all 4 serves!)
Notes
Yeast Free/Vegetarian Option: Replace savoury yeast flakes, arrowroot, salt and mustard with your favourite cheese sauce recipe.