(Edit 27.02.13: New recipe photo, same great cornbread!)
Mmmmmm cornbread! I apologise that this is about the height of my descriptive prowess at the moment. If I were talking (instead of typing) you wouldn't be able to make out anything I'm saying as I've got a square of this amazing bread in my gob right now.
I adore this subtly sweet and savoury soul food called cornbread. Delectably mushy and soft, it's the perfect accoutrement for all things New Mexican or Tex-Mex (which we enjoy a lot of at home) and being baked in a large sheet pan means there's always bountiful leftovers. While the recipe "serves 8", I guess this depends on if you can stop eating it! I bake my cornbread in a square cake pan, and cut into 16 slices. If you wolf it all down, I won't give you snide looks. The best place to pop it though is right on top of a bowl of the  spiciest, richest chili you can handle so you can start digging in with a spoon!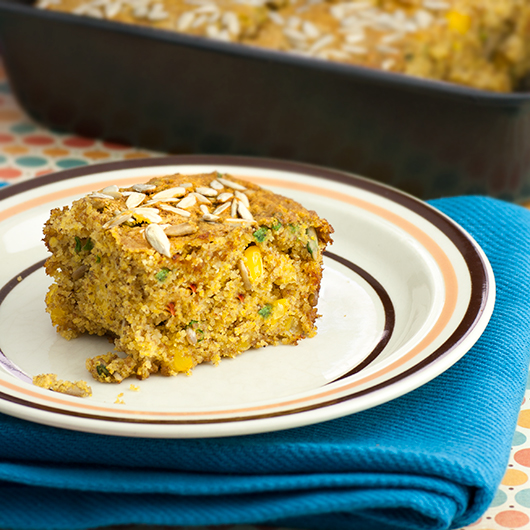 Vegan Sunflower Cornbread
(dairy-free, egg-free, nut-free, wheat-free, vegan; gluten-free and soy-free with substitutions)
Author:
Ally @ Om Nom Ally (Adapted from Moosewood Restaurant Cooking For Health)
Ingredients
1 cup whole spelt flour (see notes for gluten free)
1 cup yellow corn flour
1 tbs baking powder
½ tsp salt
1 tbsp apple cider vinegar
1 tbsp olive oil
⅛ cup agave syrup
1½ cup soy milk
½ cup sliced sping onions, white and green parts
½ cup red capsicum, chopped
½ cup corn kernels
¼ cup + 1 tbsp sunflower seeds
Instructions
Preheat oven to 180C. Line a square baking tray with paper or lightly spray with oil.
Sift flours, baking powder and salt into a mixing bowl. In a separate bowl whisk together vinegar, oil and agave then add the vegetables and ¼ cup sunflower seeds. Add wet ingredients to dry and mix until just combined.
Pour batter into square tray and smooth surface. Sprinkle remaining sunflower seeds over top. Bake for 35 minutes, until bread pulls away from sides of tray and toothpick inserted into middle comes out clean.
Notes
Soy-free: Use almond milk instead of soy.
Gluten-free: Replace spelt flour with gluten-free plain flour, quinoa or sorghum flour.