I always try to buy seasonal produce where possible. It's fresher, it's certainly cheaper and it supports local farmers (instead of eating imported and treated produced from goodness knows where). I don't remember this all off by heart, so I've collected a fair few resources over time.
At the moment we're right smack bang in apple season. Even though you can find them year round in the supermarket (did you hear about the Woolworths produce storage expose? or read about how produce is stored and sorted?), apples do have distinct growing seasons and here in Australia I'm about to say goodbye to my favourite Granny Smith apples to make room in my fruit bowl for gorgeous Pink Lady, Sundowner and Fuji apples.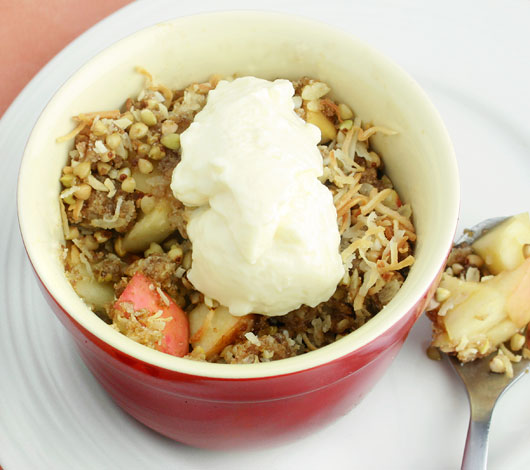 I had this gluten-free apple crumble for dessert two days in a row this week. I almost made it again for breakfast this morning because I was craving it. Crumbles are the easiest dessert; I bet you have most of the ingredients handy in your pantry already. They are also extremely customisable, if you don't like or don't have one of the ingredients just swap it for something similar! There's just two apple crumble rules:
Firstly, please don't peel your apples. That's the healthy bit, filled with pectin and antioxidants. It also gives you that satisfying crunchy 'snap' factor with every spoonful.
Secondly, cook and serve in individual containers – then there's no fighting over who got the biggest portion of this divine dessert!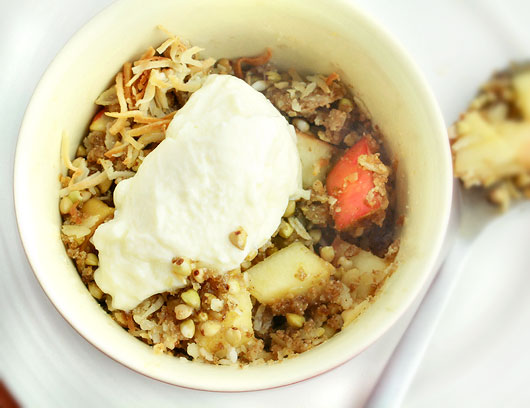 Coconut & Cinnamon Apple Crumble
(dairy-free, egg-free, gluten-free, nut-free, soy-free, vegan)
Author:
Alison Murray @ Om Nom Ally
Ingredients
2 pink lady apples, cored and chopped into 2cm cubes
1 tsp vanilla essence
1 tbsp dark agave syrup
½ cup quinoa flour
1 tsp ground cinnamon
½ cup coconut butter (solid)
¼ cup coconut or rapadura sugar
¼ cup raw buckwheat kernels
¼ cup rolled rice flakes
¼ cup shredded or flaked coconut
Instructions
Preheat oven to 180C. Combine chopped apples, agave syrup and vanilla in a medium bowl. Divide the mixture between 4 single serve ramekins.
To make crumble topping, combing flour, coconut butter and sugar in a bowl. Use fingertips to create a coarse breadcrumb texture and then stir in buckwheat kernels and rice flakes.
Sprinkle over apples in ramekin and then top with shredded coconut.
Bake for 20minutes or until coconut is toasted and browned and apples are tender. Serve with a big dollop of coconut milk yoghurt or natural yoghurt, ice cream or cream.
Notes
This crumble is 80% apple and 20% toppping. If you love a higher percentage of topping materials, double the amount of flour, coconut butter and sugar. Instead of quinoa flour, feel free to use buckwheat, spelt or plain gluten-free flour. Rolled oats or other grain can be used in place of rice flakes.
Some seasonal fruit/veg info
All Seasons Produce – picking seasons of major fruit crops (AUS)
Planning With Kids – Seasonal Fruit and Vegetables (AUS)
Pick Your Own – Apple information and seasonal availability (USA)
Gardenate – Sowing, growing and harvesting information by climate zone (AUS, NZ, USA, CAN)