Fresh from a fabulous recipe request, this week I have had the pleasure of doing a book review on a new vegetarian cookbook coming out by the Hot Knives duo, Alex Brown and Evan George.  From a hilariously alternative vegetarian food pyramid (p. 8 ) to their fun chapter names (think Taco Zone, Bro-tein or Pizza Pool Party) The Hot Knives Vegetarian Cookbook: Spring Blaze drew me in on the first page turn.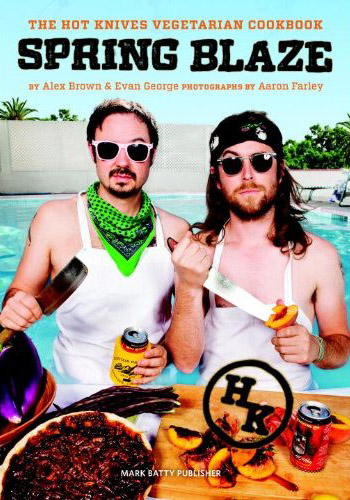 Written by two 'food blogging, former line cooks who cater blow-out parties' for all their friends, Spring Blaze sets itself up as the ultimate vegetarian party/get-together book for communal feasting. This isn't a book for your fussy dinner parties, hor dourves and fancy serviettes; sunny afternoons with spent with mates, cold beers and a fired up BBQ is where it's at. Self-described 'bearded, mezcal-swilling Martha [Stewarts], these boys know how to feed the partying masses and they do it with lots of cheese, lots of booze and lots of delicious fresh produce and do-it-yourself junk food.
 This book runs the gauntlet of appetisers, mains, snacks and sweets and on my first flick through it's glossy and photography rich pages, several recipes jumped out at me right away. First was the hand-rolled and then steamed HK Dogs, a mix of silken tofu, seitan and spices. The smoky, savoury, 'meaty" goodness passed the test for Kam with some onion and lashings of sauce; I found it needed a lot more flavour as I could taste the tofu and the wheat gluten too strongly.
Spiced Pecans were another hit when baked into a sticky-sweet pie and the recipe was later recreated as Spiced Walnuts for a snack. Kam was worried about the 2 tablespoons of paprika and the heap of cayenne I was mixing into the bowl, but they smelled much spicier and smokier than they actually tasted – and they tasted goooooood!
With perfect timing, a movie marathon at home called for some freshly-popped popcorn with both the Five-Spice and the Chile-Cheese offerings going down a treat. Also on the snack front were the Power Bars. While I wasn't brave enough for the strange sounding Peanut Butter, Banana and Pickle (?!) flavour, the Aztec Trailmix was fantastic. Sweet dates and smoky chili-chocolate flavours, it reminded me of my favourite Mexican Chocolate Snickerdoodles, but much more substantial with oats and flax seeds.
I didn't have room in my freezer (my Raspberry and Beetroot Ice-cream is still chilling out in there), but I've got my eye on the Hot Knives ice-cream and sorbet recipes. Then there's also a lot of boozy recipes to consider as well. While the Ale Dough and Beer Cheeses  intrigue me, the Booze Hole truffles with vodka were like little bites of pure giddiness. The breakfast offering of Butter-Beer Flapjacks looks to provides a delicious hair of the dog offering for the morning after whatever excess you might have found yourself amongst. There are even instructions on making your own vanilla extract for the less indulgent of us (like me).
 I fell in love with the Hoisin (p. 32) sauce in some san choy bau one night; the Devil Seeds sauce much more rich, spicy and complex than any plasticky tasting bottled ones you can buy. The Peach Ketchup  and the Summer Sauce (BBQ sauce) are next on my list.
Some other definites for my recipe to-do list? The sun cooked Ambient Nachos (doesn't that sound intriguing?) and the umami Cashew "Cream Cheese"  that includes Marmite and white miso as two of it's ingredients. On the dessert front there is still the Coconut Cream I'm dying to make desserts with and Kam is urging me to try out the Pop Tarts with a list of filling ideas he's been rattling off to me.
 After all these glowing words and recipe loves, I do have to share my gripe for the weird and wonderful ingredients. Many recipes were instantly removed as possibilities for being too tricky, though some substitutions were recommended or possible with a little ingenuity. Urfa biber? Try paprika or chilli powder for a 'close-enough' taste to it's raisin-like chili flavour. Corn fungus (huitlacoche)? Sounds… um… delicious?? Mayonnaise instead it is then! Keep in mind that while these hard-to-find ingredients may be off-putting for me, they may be available at every store in the US with my displeasure being uncalled for.
One other tiny note. I don't believe I'm the right demographic for this book, but I really appreciate it's greatness nonetheless. As Kam commented succinctly – "Finally, a vego book for men!"; I completely agree with that statement and from my descriptions so far you may have had the same inkling. I feel the book is more aimed at young guys who enjoy a good time, a beer in hand while enjoying a tasty feed. It has an unabashed blokey-ness, with fun quips and cheeky language (e.g. 'Pineapple Escabeche – Makes a s@!#load'). If this book were a man, he would have a definite swagger and a lot of attitude.
I've seen books with wine pairing suggestions, but beer and music selections, an index by beers and one by music tracks (in addition to the standard recipe index)? I love the idea, and I had a lot of fun previewing tracks in Amazon for the dishes I prepared. But I don't drink beer and the music actually isn't my style. Dismissing the target audience issue is easy enough though as I thoroughly enjoyed the recipes I tried. It's the kind of book I'll whip out when that proposed (but never planned) low-key but slammin' dinner party happens.
The upside again; Spring Daze is incredibly fun to read. It has a great layout with striking graphic design and  lots of vibrant party-chow photos.  It's easy to follow, the instructions for each recipe simple and not too involved for a beginner cook. At the time of writing, it's also available in hardcover for preorder with 43% off for $14.32. Nevermind being well priced for a hardcover to begin with, I don't think you need to be worried about your pocketbooks with this one – it's funny, vibrant and most importantly has lots of delish recipes. It's the kind of book to consider for when you have people dropping by or for the fussy hubby or boyfriend who's unsure of your usual vegetarian concoctions.